Both headlining stamped blades, Cutco and Global are two popular brands often pitted against each other. If the variety of options and pricing matter to you like these do to most people, Global has the edge.
A Japanese brand, they have an array of modern-looking Japanese knives like Santoku's and Nakiri's and they offer their wares at an incredibly lower price.
At first glance, it would seem that Cutco and Global are completely different from each but these two are quite similar to each other mainly because of the manner of knife construction they use – blade stamping.
Cutco
Global
Headquarters
Oleans, New York, USA
Tsubame, Japan
Steel Used
440A Stainless steel
CROMOVA 18
Knife Construction
All stamped
Stamped
Premier Series
Ultimate Set in Pearl
UKON, SAI
Best Asset
'Forever Guarantee' and other

warranty offers

All steel construction

Pricing

Price Point
Expensive
Value for money

Quality is as good as Shun, Wusthof but better-priced
Cutco – An Overview
Cutco has been around since 1949 when it was founded by the Alcas company.
The company originally got its name from Alcoa and Case Cutlery, which were its two founding brands.
Later on, Alcoa ended up taking full control of Alcas and changed its name to Vector Marketing Company in 1985.
But in 2009, they changed their name to Cutco, which was the primary brand of the company.
The Cutco brand is a set of kitchen cutlery that is known for being incredibly sharp and having an amazing guarantee.
One thing that set them apart from the start was the fact that they marketed directly to customers.
There were no middlemen and you couldn't find Cutco products in stores.
Instead, you could only buy them directly from Cutco sellers who were famous for their at-home demonstrations that fully convinced customers of their product's quality.
And today, the company works in about the same way.
They still don't stock up in stores and market directly to customers, which gives the brand the personal touch that many people experience through their sellers.
Global – An Overview
Global was founded by Mino Tsuchida, a Japanese man who had a strong affiliation for high-quality tools.
The brand was born in 1985 when he teamed up with an industrial design named Komin Yamada to release the first set of Global Kitchen Knives.
Global quickly grew in popularity because of their ergonomic and innovative designs.
Their first set of blades had an all-stainless-steel design, which hadn't been seen before at the time.
The knives made by Global were known for having incredible balance, a very sharp edge, and top-quality performance in the kitchen.
Presently, the brand still makes blades that are reminiscent of their first collection.
They still have the sleek, all-stainless-steel design that put them on the map in the first place and still release high-quality knives at an affordable price.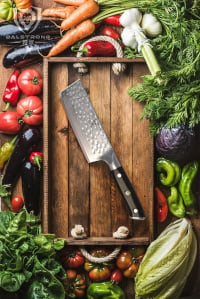 Want FREE Knives?
We give these knives a quick twirl and review, and then we pass them on to a few lucky home chefs!
By subscribing, you agree to get emails from me, Ryan Leavitt. I'll respect your privacy and you can unsubscribe any time.
Cutco Vs. Global – Which Is The Better Brand For Your Kitchen?
Notable Collections
Global keeps things simple.
Instead of having a complex and wide variety of knives, they only have three collections.
These are the Classic, SAI, and UKON.
Each of these collections still boasts the same stainless steel design that put the brand on the map, and each has its own set of benefits.
The Classic collection features the original Global design that has remained relatively unchanged since the 80s.
It is one of the most ergonomic kitchen knives out there, and considering the collection boasts over 60 different models and sets, this would be a great place to start with Global.
The SAI is the newest collection of the brand, and it is inspired by the design of Samurai swords.
It's a very modern blade built for modern kitchens.
The UKON collection is the sharpest knife that Global has to offer.
In fact, they are known to be up to 10% sharper than the other models of the brand, which is what makes it a favorite among chefs.
Cutco only has one collection, and it is the one that has kept them in the game for so long.
These knives are known for being very sharp and ergonomic, and because of Cutco's lifetime guarantee, they can be hard to resist.
Construction
One of the key characteristics of Global knives is that they are handmade.
This means that expert crafters pay close attention to detail to ensure that every Global product is up to par with company standards.
However, what a lot of people don't know is that these knives are stamped and not forged.
This means that the blades are cut out of a single sheet of stainless steel, which is then treated, sharpened, and honed to the right specifications.
All the handles of Global knives are equipped with dimples that make them non-slip and much easier to grip.
The brand uses a steel blend called CROMOVA18, which is known for being affordable and also very hard.
This allows their edge to stay sharp for a very long time.
Depending on the collection, Global knives can have certain distinct features.
For example, the Classic collection is available with a Granton edge, while the SAI collection has a hammered finish, which all have their own set of benefits.
Cutco knives are also stamped out of high-carbon stainless steel.
Cutco products are known for having a very sharp edge right out of the box and an ergonomic design.
Their knives come with either a straight edge or a double-D-edge.
The Double D Edge allows for a much smoother cutting experience and is a favorite among home cooks.
Guarantee
While Global guarantees that their products are free from defects, their warranty is fairly limited.
It only lasts two years and it doesn't cover damage from misuse, accidents, and rust.
This is the common guarantee offered by most other brands.
Cutco, on the other hand, has a very famous Forever Guarantee.
Even if you aren't the original purchaser, you can always send your Cutco products back for a replacement for just about any reason.
On top of that, they also offer Free Lifetime Sharpening for all Cutco products.
So, if your blade eventually dulls out and you aren't that skilled with a whetstone, you can simply send it back to the company and they will professionally sharpen the knives for you.
And this is all for free!
Conclusion
Cutco and Global each have their advantages and disadvantages.
Global knives are a bit more affordable and are very ergonomic and modern pieces for any kitchen.
They are also considered the sharper and more professional option over Cutco.
But while Cutco models will be more expensive, they do come with a Lifetime Guarantee and free sharpening program.
So, if you're worried about needing to replace damaged knives or you aren't too keen on sharpening your blades yourself, then Cutco might be the way to go.
But for a modern, ergonomic, and razor-sharp set of kitchen blades, Global would be a great brand to check out.
Ryan Leavitt
Hi my name is Ryan Leavitt a Marine Corps Veteran and currently an over the road trucker (Long Haul). I am no expert chef but am enjoying preparing my own meals on the road and testing all the different knives.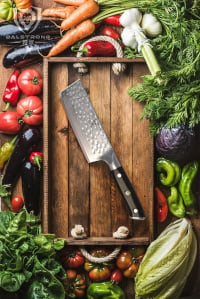 Want FREE Knives?
We give these knives a quick twirl and review, and then we pass them on to a few lucky home chefs!
By subscribing, you agree to get emails from me, Ryan Leavitt. I'll respect your privacy and you can unsubscribe any time.