Cutco and Rada are well-known All-American brands, headquartered in Olean, New York, and Waverly, Iowa, respectively.
The two are quite similar as they both offer stamped knives individually and in sets. The biggest difference between the two – a feature which matters to a lot of consumers – is their price points. Cutco is quite pricey while Rada offers their pieces at amazingly low prices.
It is admittedly difficult to choose a knife that suits you well when there are hundreds of brands to choose from. But knife shopping is made easier if you have a feature that you deem important.
If cost is your only issue, Rada would win over Cutco.
But if you're interested to know more about these two, read on…
Cutco
Rada
Headquarters
Oleans, New York, USA
Waverly, Iowa
Steel Used
440A Stainless steel
T420 High Carbon Stainless Steel
Knife Construction
All stamped
Stamped
Premier Collections
Ultimate Set in Pearl
Starter Gift Set
Best Asset
'Forever Guarantee' and other

warranty offers

Cost
Price Point
Expensive
Incredibly low-priced

Good set goes for less than $100
An Overview Of Cutco
Cutco was founded by the Alcoa and Case Cutlery company back in the 1940s.
The company's original name was Alcas, which is a combination of the names of two founding companies.
In the 80s', Alcoa bought Case Cutlery out and changed the name to Vector Marketing.
It was only in 2009 that the company changed its name to Cutco, which is their most famous brand.
Cutco knives are known for being sold through direct sellers who conduct at-home demonstrations of the product.
With Cutco, there's no middleman and they don't stock up in shops, the only place to get them is through recognized sellers.
Their knives grew in popularity because of their superior quality over a lot of home kitchen brands.
Cutco products also come with a Forever Guarantee which allows users to return and replace their products anytime, for whatever reason.
The brand also has a lifetime sharpening program where customers can send their dull Cutco knives back to the company and have them professionally sharpened for free.
An Overview Of Rada
Rada is an American-based cutlery company, and it's known as one of the better American blade manufacturers out there.
They are based in Iowa in 1948 and were originally known for selling surplus military knives.
However, as time went by, the company began producing its own high-quality kitchen cutlery that can be found in a wide variety of kitchens around the world.
The key characteristic of these blades are the aluminum handles that allow for a very ergonomic grip and can last a very long time.
Rada blades are hollow-ground, which gives them great edge retention that is hard to match in their price range.
So, if you've been looking for a quality set of cutlery for your home kitchen, Rada could be just the right pick for you.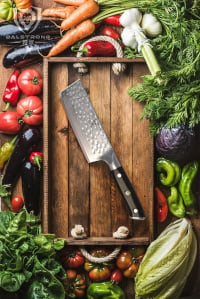 Want FREE Knives?
We give these knives a quick twirl and review, and then we pass them on to a few lucky home chefs!
By subscribing, you agree to get emails from me, Ryan Leavitt. I'll respect your privacy and you can unsubscribe any time.
Cutco Vs. Rada – Which Is The Better Pick?
Notable Collections
Cutco is known for only having one collection of cutlery.
This simple approach helped them gain the popularity they have today.
Currently, there are two types of edges you can find on a Cutco knife, the straight edge and double-D edge, which we'll get into later.
Shopping for Cutco products is made very easy as you aren't bombarded with a wide list of options that can be confusing at times.
Rada, on the other hand, offers two separate collections.
They have a standard line, which is available with either their signature aluminum handles or a stainless steel resin handle.
The brand also has the Anthem Wave collection, which is known for being very ergonomic and easy to use.
Either way, both collections from the brand are known for being great choices for home kitchens and could be just the tool you're looking for.
Construction
Both of these brands utilize a stamping method in making their blades.
A stamped blade is laser cut or "stamped" out of a large sheet of stainless steel, which makes production much easier and affordable.
These blades will not be as strong as their forged counterparts, but they are more than capable of handling the stress of a modern kitchen.
Rada is known for using recycled scrap metal in its blades.
This allows them to be more environmentally friendly, and since they make sure to get the highest quality of scrap metal possible, their knives are very strong and durable.
Cutco, on the other hand, uses high-carbon stainless steel in its construction.
This is the ideal steel for knives, as it allows them to hold their edge for much longer and be incredibly sharp right out of the box.
As mentioned earlier, Rada handles are either made out of stainless steel resin or aluminum.
This allows for a very durable build and a comfortable grip when slicing.
Cutco uses thermo-resin for their handles, a smooth and durable material that is dishwasher friendly.
Guarantee
Another highly sought-after quality of Cutco products is their lifetime guarantee.
Even if you weren't the original buyer, you can send back your Cutco products at any time and for whatever reasons.
If you do, you will get a replacement product entirely for free!
This is something that isn't usually seen with other brands and is one of Cutco's main selling points.
Cutco also has a lifetime sharpening program, so in the event your blade gets dull, you can send it to Cutco for free professional sharpening.
Rada also has a lifetime guarantee on their products, so if it's defective or you aren't satisfied with it, you can send it back and get a replacement.
This is a testament to how both brands can stand by their products and is also one of the reasons they are considered top American cutlery brands.
Price
While they are a bit more expensive than your standard kitchen knife, Rada models are fairly cheap.
You can find them for under $75, which is a very decent price considering the quality of the products.
Cutco, on the other hand, is known for having a pretty high price tag.
This is because their blades are very high-quality and come with a lifetime guarantee and free sharpening program.
Either way, both of these brands are generally in a more affordable range than most professional kitchen cutlery in the market, which is what makes them a great choice for home cooks.
Conclusion
And there you have it.
Both of these brands are more fit for a home kitchen than a professional one, which is one of the reasons home cooks love them so much.
As either of the brands will come with their own set of benefits and disadvantages, the decision relies mostly on your own personal preferences.
So, before you go out buying a knife, make sure to ask yourself what you need in your kitchen.
And once that is figured out, you'll find that finding the right blade for your kitchen is actually a very easy task!
Ryan Leavitt
Hi my name is Ryan Leavitt a Marine Corps Veteran and currently an over the road trucker (Long Haul). I am no expert chef but am enjoying preparing my own meals on the road and testing all the different knives.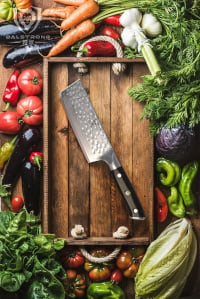 Want FREE Knives?
We give these knives a quick twirl and review, and then we pass them on to a few lucky home chefs!
By subscribing, you agree to get emails from me, Ryan Leavitt. I'll respect your privacy and you can unsubscribe any time.