Cutco and Victorinox knives often find themselves being compared to each other.
On one hand, you have Cutco, one of the best American knife manufacturers.
On the other hand, you have Victorinox, a Swiss brand with a rich knife-making history.
But which one is the better pick?
Ask most chefs, and they will say that Victorinox knives are the better pick as they are professional-grade kitchen tools available on a budget.
However, Cutco still has some unique features that make it a great option for some home cooks.
And in this Cutco vs Victorinox comparison, we look at the features and benefits of both brands to help you figure out the best fit for your kitchen.
Read on to learn more.
| | | |
| --- | --- | --- |
| | Cutco | Victorinox |
| Price | $$$ | $$ |
| Construction | Stamped | Forged & stamped (depends on the model) |
| Most famous model | Cutco Chef knife | Victorinox Fibrox |
| Main features | Lifetime Guarantee and Free sharpening | Affordable, professional-grade knives |
| Sharpness | 15-degrees on both sides | 15-degrees on both sides |
A Brief History Of Victorinox
This brand can trace its roots further back than Cutco.
It began in 1884 in Switzerland, when Karl Esner put of his cutlery workshop with the avid support of his mother, Victoria.
The company came up with the Swiss Army Knife in 1897, which is what began to put them on the map.
From that point on, the brand just kept growing, and it's one of the most popular brands out there today.
Currently, they have products in five different categories which are Swiss Army knives, Household and Professional Knives, Watches, and Travel Gear and Fragrances.
A Brief History Of Cutco
Cutco had its beginnings all the way back in 1949, in New York.
Though at the time, they were still known as Alcas, which was a combination of the names of its parent companies, Alcoa and Case Cutleries.
Case Cutleries' share of the company was bought by Alcoa in 1972, and in 1982, Alcas purchased Alcoa's shares, giving the brand more freedom.
And in 1985, they acquired the Vector Marketing Corporation, which is the company's main subsidiary now.
In 2009, the company finally changed its name to Cutco, which is a combination of the first letters of the Cooking UTensil COmpany.
They have made a name for themselves by selling through door-to-door salespeople who do demos at the home and by offering a warranty that's very hard to refuse.
With all the work they have done over the years, it should be no surprise that the brand is so well-known in the cooking community today.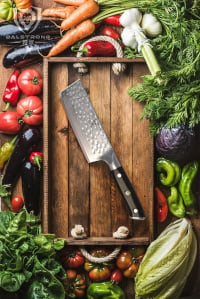 Want FREE Knives?
We give these knives a quick twirl and review, and then we pass them on to a few lucky home chefs!
By subscribing, you agree to get emails from me, Ryan Leavitt. I'll respect your privacy and you can unsubscribe any time.
Cutco Vs Victorinox – A Head To Head Comparison
Construction
Cutco knives are known for not being the most durable blades out there, but they are also known to perform well, as long as they aren't overused.
A lot of this is because of the way they are built.
Cutco uses stamped blades in their knives.
This means that they cut the blade from a large sheet of stainless steel using a laser.
After doing that, the blades are then heat-treated, buffed, ground, and then coated with a protective coating.
This process results in a fairly sturdy blade, just not as durable as forged ones.
Victorinox blades vary in construction, but their flagship line of kitchen cutlery, the Fibrox series is known to have a forged construction.
This means the entire blade is forged from a single piece of stainless steel, which is then treated with the brand's unique tempering process and sharpened to a 15-degree angle.
This will result in a very durable blade that will last you for years on end.
Sharpness
Now it's time to talk about how sharp these blades are.
As mentioned earlier, Victorinox blades are sharpened to a 15-degree angle per side.
This is about as sharp as any professional-level blade you will find on the market today.
And since the blades are forged the edge will stay sharp for a fairly long time, which is one of the reasons their knives are so popular.
Right out of the box, your Cutco knife will be very sharp.
And as long as it isn't subjected to an abnormal amount of use, it will keep that edge for a long time.
Stamped products don't last as long as forged ones, but luckily, Cutco has a warranty that solves that issue.
But more on that in the next section.
Warranty
One of the main selling points of Cutco products is their Forever Guarantee.
This means that if ever you find anything unsatisfactory with their knives, you can send them back and have the issue corrected.
And they aren't joking when they say forever.
Even if you weren't the one who bought the knives and they were just handed down or gifted to you, if the knife chips, you can get a replacement for free.
This also goes for sharpening, if you find that your knives get dull, you can send them back to Cutco for free sharpening.
However, you will have to pay a shipping fee which varies depending on where you are.
Victorinox, on the other hand, has a more standard warranty.
It will guarantee that all your knives will arrive in pristine condition.
If ever you find something wrong with the manufacturing or craftsmanship of your knife, you can always contact the company for a replacement.
That being said, the warranty does not cover normal wear and tear, misuse, and abuse.
Pros & Cons Of Cutco
Pros:
Forever Guarantee
You can have the knives sharpened for free
Knives will arrive razor-sharp
Ergonomic
Highly functional
Cons:
Not the most durable set out there
Pros & Cons Of Victorinox
Pros:
High-quality blades
Respected by professional chefs
Ergonomic
Functional designs
Razor-sharp
Cons:
Knives may be too small for some people
Our Verdict – Which Is The Better Brand For You?
If you're looking for straight-up quality, then you can't go wrong with Victorinox.
It is a very affordable brand that is respected and held in high regard by professional chefs all around the world.
In fact, it should come as no surprise if they have one or two of these blades in their everyday knife roll.
But if you have larger hands and you're on the hunt for a knife with a better warranty and one that you can have sharpened for free, then we recommend Cutco products.
They are very useful in a home kitchen, and maintenance is much easier since you won't have to sharpen them yourself and they are dishwasher friendly.
Regardless of what brand you choose though, make sure that you enjoy using them and are happy with the knives.
And if that happens, then you really have the best brand for you.
Ryan Leavitt
Hi my name is Ryan Leavitt a Marine Corps Veteran and currently an over the road trucker (Long Haul). I am no expert chef but am enjoying preparing my own meals on the road and testing all the different knives.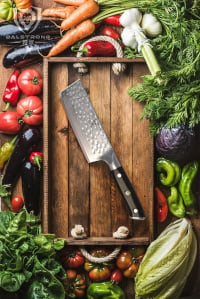 Want FREE Knives?
We give these knives a quick twirl and review, and then we pass them on to a few lucky home chefs!
By subscribing, you agree to get emails from me, Ryan Leavitt. I'll respect your privacy and you can unsubscribe any time.