Anyone familiar with knife brands will know that Wusthof and Cutco are two companies that rest in the top tier.
But when shopping for knives, which brand is the better option?
Many chefs and knife enthusiasts will instantly point to Wusthof as the better brand as these knives are simply much higher-quality than Cutco knives.
On top of that, you'll be getting more value for your money when investing in a Wusthof set.
However, Cutco's Forever Guarantee and Lifetime Sharpening program are benefits that some home chefs would really enjoy.
In this article, we'll be comparing Cutco and Wusthof to help you figure out which brand is for you!
Keep reading to learn more.
| | | |
| --- | --- | --- |
| | Cutco | Wusthof |
| Price | $$$ | $$$ |
| Lifetime Guarantee | Yes | No |
| Construction | Stamped | Mostly Forged (depends on the model) |
| Is it used by professionals? | No | Yes |
| Edge | 15-degrees on both sides | 14-degrees on both sides |
| Free Sharpening | Yes | No |
A Brief Overview Of Cutco
The company began in 1949, in New York.
The Cutco name comes from getting the first letters of the phrase Cooking UTensil COmpany.
Unlike most of the other brands in the market, Cutco knives are sold solely through the company's own salespeople.
This gives a more personal touch to the brand that customers really appreciated.
The brand is one of the biggest producers of kitchen cutlery in the United States and Canada.
In fact, they are considered one of the most reputable brands from the region because of their high-quality, ergonomic, and very functional knives.
They are also very well-known for their Forever Guarantee, which will allow you to return your Cutco product and get a replacement if you find any issue with it whatsoever, but more on that later.
A Brief Overview Of Wusthof
There aren't too many brands in the world of kitchen cutlery that are as iconic and popular as Wusthof.
This is because the family-owned brand has been around for over 200 years.
The brand was established by the Wusthof family in Germany, in Solingen, which is also known as the "City of Blade" all the way back in 1814.
The city is well-known for producing some of the best blades on the planet, and it's also where the brand's biggest competition is based.
Since 1814, Wusthof has been supplying chefs with very high-quality blades made of the best materials, created with expert craftsmanship, and last a long time in the kitchen.
The brand is known for being on the more premium side of things, costing a bit more than the average kitchen knife.
But considering the sheer quality of their products, it's a price worth paying.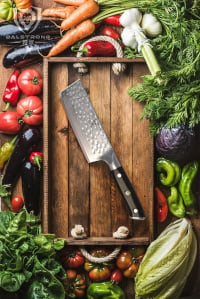 Want FREE Knives?
We give these knives a quick twirl and review, and then we pass them on to a few lucky home chefs!
By subscribing, you agree to get emails from me, Ryan Leavitt. I'll respect your privacy and you can unsubscribe any time.
Cutco Vs Wusthof – A Side By Side Comparison
Knife Sharpness of Cutco And Wusthof
The first feature of these brands we'll be comparing is their sharpness.
After all, this is probably the most important feature of any knife or knife set out there.
While both of these brands will provide you with knives that are incredibly sharp right out of the box, there are some differences to consider.
There are three types of knives you will encounter with the Cutco brand and these are the Double-D Edge, the Straight-Edge, and a Santoku.
While these are all very different blades, they all have very sharp edges, and if they get dull (which they will eventually do), you can simply send them back to Cutco to have them sharpened and restored for free.
Just be ready to shell out a bit of cash when the items are shipped back to you, but it will still be significantly cheaper than having your knives sharpened professionally.
Wusthof knives, on the other hand, are sharpened to an angle of 28 degrees (14 degrees per side).
This is one of the sharpest and most precise edge angles you can find in the market today, and it's just a testament to Wusthof's close attention to detail and overall quality.
To keep your blades as sharp as possible, it is recommended to hand wash and immediately dry your knives after every use.
Materials Used for the Knives (Cutco vs the Single Piece Construction)
Now it's time to talk about how these products are made and what materials are used in their construction.
Cutco knives are stamped.
This means that the blades are laser cut from a large sheet of stainless steel the heat-treated, buffed, ground, and treated to get them very sharp and functional.
From there, the thermo resin handle is attached to the blade with three nickel silver rivets.
Wusthof knives, on the other hand, are forged from a single piece of high-quality stainless steel.
The company uses a 40-step process that has been perfected over the past 200 years.
Having a forged knife will give you more durability and a sharper blade as compared to a stamped knife.
That being said, forged blades tend to be much more expensive than stamped ones.
To solve this issue, Wusthof also offers two cheaper collections that have stamped blades as opposed to forged ones.
The handles of the knives largely depend on what collection you're shopping from.
Some models have wooden handles while some will have handles made out of polyoxymethylene.
Since Wusthof is a more premium brand, they do use higher-quality materials than Cutco, but that also makes them a bit more expensive.
Warranty Comparison (Wusthof vs the Forever Guarantee)
When it comes to warranty, not a lot of other brands can beat Cutco's amazing deals.
One of the most popular features of Cutco knives is that they come with a Forever Guarantee.
This means that even if you received the knife as a wedding gift, or if it was handed down to you by your grandmother if you find something that doesn't satisfy you, you can contact the company and let them know.
From there, they will send a sales representative to you to either correct the issue or even give you a replacement product.
You can also send your Cutco knives back to the brand for free sharpening and the only fee you'll have to pay is the shipping.
Wusthof assures that all their blades are in prime condition upon purchase and they do not cover any damage or defect that was caused by overuse or even by normal wear.
They do offer to sharpen your knives, however, you will have to pay a fee per product you are getting sharpened.
While Wusthof is a great premium brand for kitchen cutlery, Cutco takes the cake when it comes to a better warranty deal.
Pros & Cons Of Cutco Knives
Pros:
Forever guarantee
You can send your knives back for free sharpening
Unique designs
Their knives have multiple uses
Dishwasher safe blades
Cons:
Fairly expensive for what they are
Pros & Cons Of Wüsthof
Pros:
Premium kitchen cutlery
Made with expert craftsmanship
Razor-sharp blades
Great edge retention
Very classy and professional designs
Cons:
Expect to pay a premium price for a premium product
Our Verdict – Should You Buy Them For Your Kitchen?
If you are on the hunt for the best possible set of kitchen cutlery you can get your hands on, we highly recommend you go for Wusthof products.
It is considered by most to be a highly professional brand and one that is ideal for culinary students, chefs, or simply home cooks who take their equipment very seriously.
That being said, you can expect to shell out a bit of extra money for these knives.
But if you are looking for a great warranty and free sharpening of your knives, then we recommend Cutco for you.
On top of their warranty, their products are also dishwasher friendly, which makes them a bit more convenient and ideal for the home cook.
Regardless of what brand you choose, what's most important is making sure that your knives can handle whatever task you throw at them and you're very comfortable using them in the kitchen.
And that's how you know that you have chosen the best brand for you.
Thanks for reading our Wusthof vs Cutco guide.
Ryan Leavitt
Hi my name is Ryan Leavitt a Marine Corps Veteran and currently an over the road trucker (Long Haul). I am no expert chef but am enjoying preparing my own meals on the road and testing all the different knives.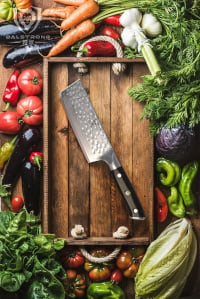 Want FREE Knives?
We give these knives a quick twirl and review, and then we pass them on to a few lucky home chefs!
By subscribing, you agree to get emails from me, Ryan Leavitt. I'll respect your privacy and you can unsubscribe any time.