When talking about quality kitchen cutlery, chances are, you've stumbled upon the Cutco & Zwilling brands.
Cutco is known as one of the top American knife brands, while Zwilling models are used by top chefs worldwide.
So, which is the better option?
For most chefs, Zwilling is the obvious pick because of its high-quality blades and innovative designs.
With that said, Cutco still offers a couple of benefits for some home cooks.
If you've been trying to choose between these two brands, you've come to the right place.
In this Cutco vs Zwilling comparison, we're putting the two brands up head to head, so if you've been trying to figure out which is the right brand for you, you've come to the right place.
Read on to learn more.
| | | |
| --- | --- | --- |
| | Cutco | Zwilling |
| Price | $$$ | $$$ |
| Sharpness | 15-degrees per side | 15-degrees per side |
| Construction | Stamped | Forged |
| Are there box sets available? | Yes | Yes |
| Lifetime Guarantee? | Yes | No |
| Materials | High-carbon stainless steel | High-carbon German steel |
A Brief History Of Cutco
This company began all the way back in 1949, in New York.
Though back then, they were known as Alcas, which was a combination of the names of their parent companies, Alcoa and Case Cutlery.
It was only in 2009 that the company changed its name to Cutco, which is also the name of its signature products.
The brand was known all around America for being one of the only quality knife brands from the United States that was considered to be high quality.
They're also known for only selling their products through the company's own sellers, which proved to be a significant quality of the brand along with their Forever Guarantee, but we'll talk more about that later.
Nowadays, Cutco is one of the top brands that people go to when looking for great kitchen cutlery for their home with a great warranty.
A Brief History Of Zwilling
Zwilling, on the other hand, can trace its roots back a bit further.
The company traces its roots back to 1731 when Peter Henckels established his knife workshop in Solingen, which is also known as the "City of Blades".
This brand is one of the oldest knife, scissor, cookware, and flatware manufacturers out there, and it doesn't seem like they'll be slowing down any time soon.
They are known for supplying chefs and home cooks all around the world with high-quality kitchen wear that will be razor-sharp and hyper-functional right out of the box.
These knives are also known for being able to last years upon years, especially if they are maintained properly.
This brand is often confused with Henckels, which is completely understandable, as they share the same parent company.
However, it should be noted that Zwilling knives are usually considered as the more premium option as compared to Henckels since these are blades designed to be used by professionals, which is also why they come with a higher price tag.
While Zwilling blades are known to fetch a fairly hefty price tag, just about any chef out there will vouch for their quality and testify that the knives are worth every penny spent.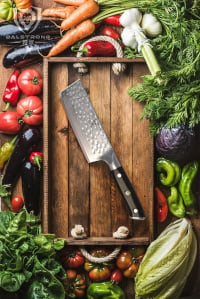 Want FREE Knives?
We give these knives a quick twirl and review, and then we pass them on to a few lucky home chefs!
By subscribing, you agree to get emails from me, Ryan Leavitt. I'll respect your privacy and you can unsubscribe any time.
Cutco Vs Zwilling – A Head To Head Comparison
Construction
The first thing we'll be comparing is how both of these brands build their products.
We'll start off with Cutco.
The knives have stamped blades.
This basically means that they are laser-cut from a large sheet of stainless steel and they are then heat-treated, buffed, ground, and treated with a protective coating before being attached to the handle.
Cutco knives are full-tang, which means the blade will run throughout the entirety of the knife, giving it a better balance and making it more durable overall.
Zwilling blades are also full-tang and usually attached to the handle with three rivets.
However, these models are forged rather than stamped.
That means that the entire blade is forged from a single piece of stainless steel, which makes it much more durable and long-lasting than stamped ones.
So when it comes to construction, Zwilling takes the cake.
Warranty
Cutco is probably most famous for its warranty deal that is hard to come by, especially in the world of kitchen cutlery.
All products from this brand have a Forever Guarantee, which means that if you find something unsatisfactory with them, you can contact Cutco and have the problem corrected.
This will usually mean a sales representative will come over and try to fix whatever issues you've encountered, or the company will simply send you a replacement.
And when they say forever, they mean it.
So even if your Cutco products were handed down from your father decades ago, you can still have avail of the warranty.
This also covers the regular wear and tear of the blade, so if you find that it has gone dull over time, you can simply send the knives back to Cutco to have them sharpened for free.
Zwilling, on the other hand, doesn't have as good of a warranty deal.
Their warranty covers all of their products and assured that it will arrive to you in tip-top condition.
So if you find a chip on your Zwilling product upon delivery, you can contact them and have the issue fixed.
However, this doesn't cover the normal wear and tear that comes with regular use, so make sure to take good care of these products.
Sharpness
The last thing we're going to cover is the sharpness of the knives.
Home cooks from all over have said that Cutco blades can last a fair amount of time.
And if ever you find that the knife isn't cutting like it used to, you can always send them back to the company for free sharpening, all you'll have to take care of is the shipping fee.
While they aren't the sharpest products out there, they are definitely good enough to handle any home cooking job you throw at it.
Zwilling knives are made for professionals and people who take cooking and the culinary arts very seriously.
This is why their blades are sharpened to a precise 30-degree angle (15 degrees on each side).
Having them sharpened this fine will allow you to glide through just about any ingredient you can think of, making regular kitchen prep work a dream.
Who Are These Knives For?
These are two very different brands.
Cutco is more suitable for home cooks and hobbyists since they have a Forever Guarantee, are dishwasher-safe and are very easy to take care of.
They will not be ideal for professionals since they might not be able to handle the stress of a hot kitchen.
So if you're a professional looking for tools to put in your knife roll, it's more recommended to go for the more professional brands such as Zwilling.
Cutco Pros & Cons
Pros:
Comes with a forever guarantee
You can have your blades sharpened for free
Dishwasher-safe
Easy to use
The blades are relatively low maintenance
Cons:
Not ideal for a professional kitchen
Zwilling Pros & Cons
Pros:
High-quality
Suitable for professional use
Razor-sharp
Very functional and ergonomic designs
One of the most respected brands on the market
Cons:
Conclusion
So there you have it – a head-to-head comparison of two very different knife brands.
While both of these companies offer great brands, they are for very different cooks.
Zwilling products are ideal for chefs and culinary students who need products of the highest quality while Cutco products are more fit for a home kitchen.
But whatever brand you choose, as long as you are comfortable using their blades and are happy with how they work in the kitchen, then you definitely chose the best brand for you.
Ryan Leavitt
Hi my name is Ryan Leavitt a Marine Corps Veteran and currently an over the road trucker (Long Haul). I am no expert chef but am enjoying preparing my own meals on the road and testing all the different knives.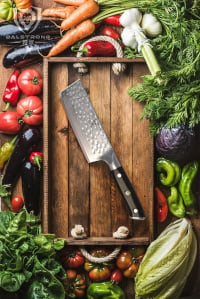 Want FREE Knives?
We give these knives a quick twirl and review, and then we pass them on to a few lucky home chefs!
By subscribing, you agree to get emails from me, Ryan Leavitt. I'll respect your privacy and you can unsubscribe any time.