Did you know?
Unlike most knives that double as all-purpose blades in the kitchen, a boning knife is a special blade designed for a specific task.
This tool is perfect for quartering chickens and removing bones from pork, fish, and beef.
These cutting equipment come with blades whose lengths range between 5" and 7" and feature varying flexibility.
The Dalstrong Boning Knife is one of the top boning blades in the market.
Pros
Well balanced
Comfort and firm handle
Excellent edge retention
Curved edge for easy maneuverability
High-carbon steel blade with 55+ Rockwell Hardness
Cons
Its use is limited to boning only
We earn a commission if you make a purchase, at no additional cost to you.
Related reviews:
High-carbon Japanese steel
Just like in other Dalstrong knives, this 6-inch curved boning knife is made using high-carbon Japanese AUS8 steel. This steel is nitrogen cooled and expertly tempered for unique hardness with an HRC 58+ Rockwell Hardness. As such, the blade is designed to last for long while resisting the impact of constant wear and tear. This makes the blade ideal for both home and commercial use.
The tempering and nitrogen cooling of this steel blade provides for an ultra-sharp factory edge that lasts for long without losing its sharpness. In addition to this, the blade is easy to sharpen using simple sharpeners such as whetstones, sharpening rods, and electric sharpeners. What is more, to note about the design of the blade is that it features a one solid piece construction that runs from the hand to the tip of the cutting edge.
Professionally styled and designed handle
The most fascinating aspect about Dalstrong as a brand is that the company only uses experts who are well versed in blade making to design and construct their knives. True to this, the ergonomic handle in this boning knife by Dalstrong is professionally designed for the comfort and convenience of holding. The handle is D-shaped and features hand-polished fiber resin that fits perfectly onto the hand's palm for excellent control, ergonomic hand placement, and maneuverability.
The military-grade G-10 handle boasts of excellent water and moisture resistance properties. As such, the handle is not affected by the moisture it may be exposed to in the kitchen. The handle is flexible to hold for differently-sized hands. Additionally, the handle is impervious to heat and other extreme temperature changes in the kitchen.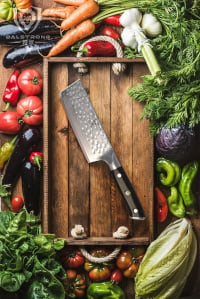 Want FREE Knives?
We give these knives a quick twirl and review, and then we pass them on to a few lucky home chefs!
By subscribing, you agree to get emails from me, Ryan Leavitt. I'll respect your privacy and you can unsubscribe any time.
Reliable performance
The ruthlessly razor-sharp edge of this boning knife ensures that the blade cuts through different meat types effortlessly. The edge is professionally finished to 15 degrees (per side) by expert blade smiths using the ancient 3-step Honbazuke method. The enhanced flexibility of the blade allows you to move the blade easily around bones when removing meat without tearing the meat.
The pointed tip of the blade enables you to pierce and tear through meat easily especially when dealing with tough meat such as beef. For chicken, fish, and other soft meats, the edge makes clean incisions easily without requiring you to use extensive force.
Exceptionally finished
The finishing on this Dalstrong boning knife is as good as its finishing. For starters, the knife boasts of a Shadow Black series that gives it a unique and outstanding look. The knife has a Titanium Nitride coating which is non-reflective and also improves the robustness and corrosion resistance properties of the blade. Moreover, the coating enhances the non-stick properties of the knife.
The handle is textured for purposes of providing non-slip properties, especially when applying great force to the knife especially when working on beef. This, in turn, ensures that the knife does not pose any safety hazard or injury risk to the chef. The blade also comes with a PerfectFit sheath for safe storage when not in use.
Overall customer feedback
Generally, Dalstrong blades enjoy a massive following due to their uniqueness and reliability. Likewise, for this Boning Knife by Dalstrong, most people who own and use it love its efficiency and ease of use. The shadow black finish on the blade is one of the things that most chefs like about the blade since it stands out from other knives in the kitchen. The flexibility of the blade is yet another aspect that most chefs love about this high-end knife.
For most chefs, finding a knife that comes with added chromium for efficient stain resistance and a textured handle for a firm grip is not an easy thing to find. However, chefs say that with this Dalstrong boning knife, they can enjoy more than they pay. This is because the blade delivers beyond their expectations in terms of performance, reliability, and incredible robustness.
Some chefs cannot get enough of the razor sharpness that the blade comes with when new. This is because it enables them to use the blade right from its packaging without any need for sharpening or honing.
Conclusion
When you are looking for a boning knife that will be worth every penny you spend and give you more than you pay for, you should settle on this Dalstrong Boning knife. The peak performance in this knife will ensure that you prepare your meals with great ease and convenience. If you are looking for a boning blade that is built to last, then this is the ideal knife for you.
Ryan Leavitt
Hi my name is Ryan Leavitt a Marine Corps Veteran and currently an over the road trucker (Long Haul). I am no expert chef but am enjoying preparing my own meals on the road and testing all the different knives.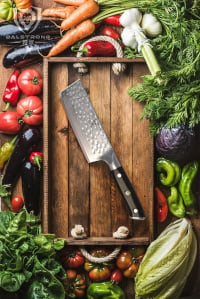 Want FREE Knives?
We give these knives a quick twirl and review, and then we pass them on to a few lucky home chefs!
By subscribing, you agree to get emails from me, Ryan Leavitt. I'll respect your privacy and you can unsubscribe any time.