You know what?
If you are shopping for a versatile multi-purpose meat cleaver that boasts of unique craftsmanship, then you should look no further than at the Dalstrong cleaver.
The brand is popular for using sophisticated cutting-edge technology and premium quality materials.
The cleaver guarantees peak performance, reliability, ease of use, and durability.
Pros
Incredible razor sharpness
Outstanding edge retention
Comfortable handle for a firm and secure grip
Ideal for a wide range of meat types in the kitchen
A multi-purpose edge that comes in handy in the kitchen
Premium quality high-carbon steel for excellent longevity.
Cons
Slightly heavy for young chefs such as children hence handling may be tricky for them
We earn a commission if you make a purchase, at no additional cost to you.
Related reviews:
Great overall design
One of the reasons why most top chefs and cooking enthusiasts like using Dalstrong blades is because of the creativity and skillfulness employed in designing the blades.
True to this, the Dalstrong cleaver prides itself on a catchy design. The cleaver has a satisfying heft, a comfortable handle, and a solid blade.
The luxury (black) pakkawood handle in the cleaver is D-shaped and features a comfortable and flexible for maneuverability.
What is more unique about the handle is that it is laminated and polished thereby cushioning it against rust, corrosion, or other damage due to water and moisture.
The handle is perfectly sized so that it is neither too big nor small for average hand sizes.
Superior engineering
This Dalstrong clever is also popularly known as a powerhouse cleaver.
This is because of its masterfully elegant blade that is perfectly balanced and boasts of razor sharpness. This Phantom Series boasts exceptional performance due to its superior design, build, and engineering that are all done to perfection.
This cleaver perfectly combines power, beauty, and purity to give rise to a functional blade that is ideal for daily kitchen cleaving, chopping, and smashing needs.
The cleaver is suitable for slicing, mincing, chopping, and dicing meat and tough vegetables. The blade is ideal for breaking down (cutting) smaller slices of boneless meats and poultry.
Due to the unique capabilities and features of the cleaver, it is perfect for home cooks, pitmasters, knife enthusiasts, and serious chefs.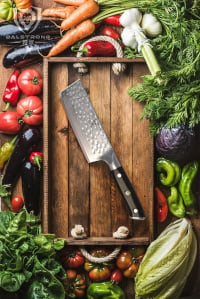 Want FREE Knives?
We give these knives a quick twirl and review, and then we pass them on to a few lucky home chefs!
By subscribing, you agree to get emails from me, Ryan Leavitt. I'll respect your privacy and you can unsubscribe any time.
Classic performance
The Phantom series clever by Dalstrong has a mercilessly sharp edge.
This ensures that you apply little effort when cutting or chopping food items with the cleaver. The edge is honed superbly by pro craftsman to 13-15 degrees.
In addition to this, it is nitrogen cooled for purposes of enhanced hardness, corrosion resistance, and flexibility.
What is more unique about the blade is that it is expertly tapered to provide minimal drag when cutting. The best thing about the agile blade in the Phantom series cleaver provides for swift and precise cuts with little effort.
This makes it easy to use the blade even for inexperienced and amateur cooks.
The Dalstrong touch
There is no Dalstrong knife that is complete without the Dalstrong Touch.
This finish guarantees that the blade will hold well against normal wear and tear throughout the life of the knife.
In line with this, the Phantom series cleaver is precision forged using one-piece ice-tempered & high-carbon Japanese (AUS-8) steel with 58+ Rockwell hardness.
The Phantom series cleaver by Dalstrong prides itself in having exceptional sharpness, strength, durability, and edge retention.
The cleaver is beautifully engraved and the blade has a hand-polished spine as well as an ergonomic bolster shape that gives a natural and smooth grip.
Satisfaction for customers
One of the things you can always be assured of when investing in a Dalstrong knife is that the blade will exceed your expectations.
Therefore, when you buy the Phantom Series Cleaver by Dalstrong, you are guaranteed that the blade will be of reliable and dependable use in the kitchen.
The engineering, design, and construction of the blade are done professionally to address the needs and preferences of all cooks.
Overall feedback
It is no secret that Dalstrong blades and knives enjoy a massive following due to their uniqueness and sophistication.
Most chefs and cooks, especially those who work in busy kitchens rate the cleaver as one of the must-have blades in any kitchen setting.
This is the go-to knife in a commercial kitchen due to its multi-purpose capability and great performance.
The lightweight but solid feel of the cleaver is one of the reasons why most chefs love using the blade.
Some chefs and cooks base their preference of the cleaver on its balanced feel, easy control, and comfortable handle. There are no complaints about the handle since it has a universal design that makes it comfortable for all hand sizes.
Also, cooks who are new to using cleavers find the Phantom Series cleaver quite easy to use, handle, and control. The fact that the cleaver is razor-sharp right from its packaging is yet another advantage according to most customers.
Conclusion
If you are in the market for an all-round meat cleaver that you can use interchangeably in the kitchen for different tasks, then the Phantom Series cleaver by Dalstrong is your best bet.
This is a cleaver that you will take pride in and will arguably be an excellent addition to your knife collection.
Ryan Leavitt
Hi my name is Ryan Leavitt a Marine Corps Veteran and currently an over the road trucker (Long Haul). I am no expert chef but am enjoying preparing my own meals on the road and testing all the different knives.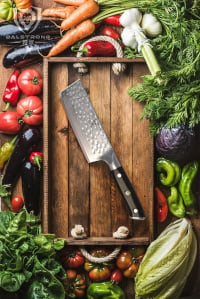 Want FREE Knives?
We give these knives a quick twirl and review, and then we pass them on to a few lucky home chefs!
By subscribing, you agree to get emails from me, Ryan Leavitt. I'll respect your privacy and you can unsubscribe any time.