You know what?
For chefs and cooks who prefer owning knives and blades with outstanding craftsmanship and elegant performance, the Dalstrong Crixus is the ultimate knife for them.
Like other Dalstrong blades, the Crixus boasts of cutting edge technology and peak performance.
Therefore, with this cleaver, you are guaranteed to enjoy a razor-sharp cutting throughout it's life.
Pros
Ultra-sharp cutting edge
Unique design with a satisfying heft
Luxurious and quality feel handle
Ideal for different meat types, vegetables, and fruits
Stain-resistant blade
Cons
Controlling it may be a bit tricky for beginners
We earn a commission if you make a purchase, at no additional cost to you.
Related reviews:
Conventional blade design and handle
Dalstrong puts great emphasis on the design of their blades and in line with this, the Crixus prides itself in an expertly developed design. The design features a sharp tip that tears through meat carcasses with great ease. The blade is wide for a large cutting surface, especially when preparing massive meat slices. In addition to this, it comes with a hole near the tip of the cutting edge for hanging it on a nail when not in use.
The handle, just like the rest of the knife is also expertly designed for a comfortable and luxurious feel. The triple-riveting on the black pakkawood handle ensures that the handle is firm for a tight and secure grip. The handle is well designed for enhanced control and maneuverability of the knife. The polishing and lamination on the handle provide excellent water and moisture resistance.
Engineered for different meat types
The Crixus knife is engineered for different meat types. With this blade, you can chop and slice any type of meat including tough and hard meats. In addition to this, you can also use the cleaver for slicing other food types beyond proteins including vegetables and fruits. This is because it is versatile with its 56+ Rockwell Hardness. The blade features a decorative hand polished satin finish.
The Crixus blade is carefully tapered to provide improved hardness, minimal slicing resistance, and flexibility. Additionally, the tall blade height creates a useful knuckle clearance for limitless options when using it.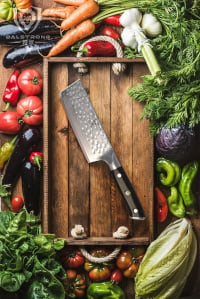 Want FREE Knives?
We give these knives a quick twirl and review, and then we pass them on to a few lucky home chefs!
By subscribing, you agree to get emails from me, Ryan Leavitt. I'll respect your privacy and you can unsubscribe any time.
Curved blade profile and sheath
The Crixus blade is designed for the best and most reliable performance in all its uses. This is so that users of the cleaver not only enjoy convenience when using the knife but also advance their cutting, slicing, and chopping skills. In line with this, the knife features a curved blade profile that allows for clean and perfect slices through meat, sinew, and skin. The weighted front half provides for easy portioning and sectioning.
The German steel edge is hand polished and sharpened at 14-16 degrees (per side). This ensures that it is razor-sharp when new and retains the sharpness for long. What is more amazing about it is that it is stain resistant. Additionally, the cleaver comes with a sheath for easy and safe storage.
Easy care and maintenance
When owning and using the Crixus meat cleaver, you are not likely to incur financial burdens when maintaining it. For starters, the knife is easy to sharpen by hand using a sharpening rod, electric sharpener, or even a whetstone.
This 8" cleaver is easy to wash by hand using detergent and running water. It is recommendable that you never wash it in a dishwasher. Since it is stain resistant, you need not worry about it becoming discolored or damaged in any other way.
Customer feedback
Dalstrong blades are popular for their superior designs and exceptional performance. The Crixus blade is not different since it enjoys a solid reputation and following on the market.
Most chefs and cooks like the ultra-sharpness that allows them to chop and slice up meat with great ease. Additionally, they note that the precise tempering enhances the durability so that it lasts for a long time without breaking apart.
Other chefs like the comfort and luxurious feel in the pakkawood handle. This allows them to enjoy holding the handle in the hands for a perfect and firm grip. This, in turn, they say that helps in guaranteeing their safety when using the cleavers. However, chefs and blade experts say that care should be exercised when using it since the ultra-sharp edge can inflict serious injuries when mishandled.
Other people like the fact that it comes with a sheath and a hole on it for easy storage when not in use. The cleaver's decorative finish will enhance the overall décor of your kitchen.
Conclusion
With a blade thickness of 3mm and a length of 8", you can be assured that it will be perfect for your meat tasks in the kitchen. From slaughtering a goat to chopping and slicing poultry, the Crixus is the perfect meat chef knife-meat cleaver hybrid for a typical kitchen. If you are an experimental chef, then this is the ultimate meat cleaver for you.
Ryan Leavitt
Hi my name is Ryan Leavitt a Marine Corps Veteran and currently an over the road trucker (Long Haul). I am no expert chef but am enjoying preparing my own meals on the road and testing all the different knives.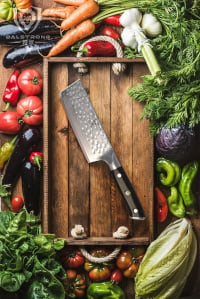 Want FREE Knives?
We give these knives a quick twirl and review, and then we pass them on to a few lucky home chefs!
By subscribing, you agree to get emails from me, Ryan Leavitt. I'll respect your privacy and you can unsubscribe any time.