Did you know?
Dalstrong is a notable brand when it comes to superior knives, blades, and other cutting equipment.
The brand has over the years continually designed top-quality blades that are pacesetters in the market.
The Crusader series is an 18-piece knife set that also comes with a block.
Ideally, the set has all the knives you will need to use in your kitchen for typical food preparation.
Pros
Razor-sharp cutting edges
Ultimate performance and functionality
Versatile collection
Comes with a block for storing the knives
Stunningly elegant blades
Stain-resistant
Cons
The blades are single-sided and not double-sided hence limiting their usability
We earn a commission if you make a purchase, at no additional cost to you.
Related reviews:
Professionally designed
All the knives in this collection are stunningly designed thereby bearing an unobtrusive beauty while offering the best aesthetic experience.
From the handles, right to the tip of the blade, these knives come with exclusive designs that complement the ease of use of the knives.
The fluidity between the handles and the blades guarantees that chefs and cooks use only minimal force when cutting/slicing.
The classic design provides perfect matching and rhyming between the knives and any décor in the kitchen.
This comes in handy for chefs and cooks who prefer uniformity in the kitchen.
The shiny surfaces add a reflective appearance in the kitchen.
Excellent performance and functionality
One of the things you can be assured of when using this Crusader set by Dalstrong is that each is as efficient as you would wish them to be.
For starters, the styled groove that stretches along the knife provides additional benefits of improving balance, lightening the knife, and reducing friction.
This, in turn, ensures that you do not need to use too much force and effort when cutting through food.
Additionally, the glove ensures that no food gets stuck after cutting.
The full-tang blades in these knives enhance the robustness and added strength.
This makes them ideal for cutting through foods with tough surfaces.
The tapered design accounts for flexibility thereby allowing you to maneuver easily through foods such as meat.
The polished spine facilitates a comfortable and firm pinch grip.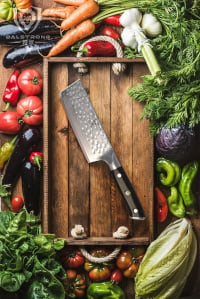 Want FREE Knives?
We give these knives a quick twirl and review, and then we pass them on to a few lucky home chefs!
By subscribing, you agree to get emails from me, Ryan Leavitt. I'll respect your privacy and you can unsubscribe any time.
Razor-sharp steel
The X50crmov15 German steel in the Crusader series delivers an exceptional performance with its 58+ Rockwell Hardness.
They are painstakingly hard sharpened (to 16- 18 degrees for each side) thereby maintaining an ideal balance between maximum resilience and ultra-thin slicing.
The sharply drawn profile lines on the steel blade indicate a classy modern design.
The most unique feature about the steel in this collection is that its sleek and seamless transition from the chromium steel handle and the stainless steel blade provides an aggressive forward stance when cutting.
This, in turn, leads to smooth and accurate cuts when cutting through any food item.
Decorative block
Just like the knives, the design and construction of the block in this Crusader series are also handcrafted.
The block features beautiful acacia wood with naturally wear-resistant properties.
The handcrafting guarantees that each block is unique with room for customizing.
This gives the block a look that is specific to your inner chef attributes.
The block is heavy, solid, and strong and features water-resistant properties.
These properties provide extensive durability and reliability of the block.
Ideally, it is cushioned against any damaging effects such as moisture that it may be exposed to in the kitchen.
There are matching steel Dalstrong plates strategically placed on each side of the block for a distinctive look.
Overall customer feedback
The Dalstrong Crusader series enjoys a solid reputation and massive following from thousands of people who use the knife set.
Most people like the set due to its wide selection of blades from normal blades like the chef knife to specialty blades like Santoku and utility blades.
With this collection, you are guaranteed to get a knife for any task in the kitchen.
The super sharpness and rust-resistant properties are some of the features that most chefs like most about the collection.
Chefs and cooks note that they can use these knives freely in the kitchen without having to worry about the blades getting stained or damaged by acidic foods.
The comfortable handles in these knives guarantee that you can use the knives for long sessions without any strains or fatigue whatsoever on your wrist muscles.
The overall lightness also provides for convenient handling and precision use.
Conclusion
If you are looking for a knife collection that will come in handy in the kitchen, look no further than at the Dalstrong Crusader series.
From a compact knife block to high-end knives, this knife series has all the blades you will need for a typical day in your kitchen.
What is more unique about this knife set is that it is easy to sharpen and wash.
Therefore, you will not need any professional help to maintain the blades.
Ryan Leavitt
Hi my name is Ryan Leavitt a Marine Corps Veteran and currently an over the road trucker (Long Haul). I am no expert chef but am enjoying preparing my own meals on the road and testing all the different knives.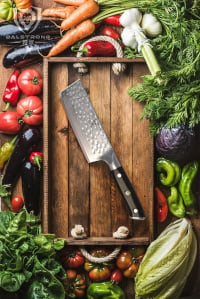 Want FREE Knives?
We give these knives a quick twirl and review, and then we pass them on to a few lucky home chefs!
By subscribing, you agree to get emails from me, Ryan Leavitt. I'll respect your privacy and you can unsubscribe any time.