You know what?
This Dalstrong blade is a mix of state-of-the-art technology, quality materials, and stylish design to give you a stunning experience in the kitchen.
All these for a very good price that fits your budget.
Whether you're a professional chef or just a culinary enthusiast, this model makes your cooking easy and efficient.
Find out how by reading to the end.
Pros:
Quality German steel with high carbon for strength and durability
Full-tang construction for weight balance and enhanced strength
A razor-sharp edge that hones easily for efficient paper-thin slices and peels
Rust, corrosion, and stain resisting blade for easy maintenance and longer life
Cons:
The wooden handle requires extra care
We earn a commission if you make a purchase, at no additional cost to you.
Related:
Full-Tang Construction
A well-balanced knife makes cutting precise and effortless.
The Dalstrong Gladiator achieves great balance from its full-tang design.
The blade runs all the way through the handle to help create weight balance.
With this design, cutting through veggies or fruits with it would be as easy as slicing through butter.
You use less force, and you still end up achieving precision, even for foods that are hard.
See more: How to choose the best chef knives for your kitchen
Quality German Steel for the Blade
This piece of cutlery derives its sturdiness and durability from the quality German steel that makes the blade.
The steel resists corrosion, rust, and breakage.
It makes the knife not only efficient at cutting into hard foods but also long-lasting.
You will not find it hard to keep this cutlery piece clean.
It remains shiny always due to the stain resisting property of its blade.
Once you've finished using it, all you need to do is wash it in water and wipe it clean for storage.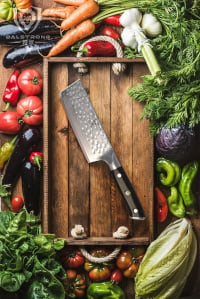 Want FREE Knives?
We give these knives a quick twirl and review, and then we pass them on to a few lucky home chefs!
By subscribing, you agree to get emails from me, Ryan Leavitt. I'll respect your privacy and you can unsubscribe any time.
Triple-Riveted Wooden Handle for Durability
The handle of this model is pakkawood, a type of wood that gives the handle style and longer life.
With a gloss finish, it's easy to maintain.
Also, it doesn't crack due to moisture, and you can wash the knife in water without causing any damage.
The handle is specially made to be easy on your hand, with an ergonomic shape.
With this handle design, you can work with the knife for long hours without feeling tired.
If you're a chef, you cannot afford to have your hand hurt because that would interfere with your food preparation.
The Dalstrong Gladiator's handle ensures that it doesn't occur.
Super-Sharp Edge that Hones Easily
The cutting edge of this product is hand-polished to give it a precise angle of sharpness.
The super-sharp edge ensures you achieve effortless slicing, dicing, and mincing.
The edge only needs you to give it some sharpening touches once in a while to restore sharpness.
Also, because the steel is high carbon, the blade sharpens easily.
It ensures you never have a dull cutting tool that comes in the way of your food preparation.
The knife will always remain sharp since all you have to do is give the edge a few strokes of the sharpening rod or any other honing tool.
High Handle for Knuckle Protection
You won't be banging your hands on the cutting surface when using this piece of kitchenware, even if your hands are large.
It comes with a high-handle design.
Whenever you're cutting into food, there's always an ample space between your fingers and the cutting board for safety.
Bolstered Handle for Balance and Safety
To weigh down the handle to balance weight, this chef's cutting tool features a bolster.
It makes maneuvering it as you go about your slicing and mincing easy.
The bolster also protects your fingers by screening them from the blade, improving the knife's safety.
Conclusion
The Dalstrong Gladiator is an all-purpose cutting tool that brings sophistication to your kitchen.
It helps you work on foods with ease and in a precise way.
It's easy to maintain, with a blade that cleans easily and an edge that hones quickly.
With a length of 8 inches, it provides you with adequate leverage to make breaking into bones and cutting hard vegetables possible.
If you're yearning for a knife that will transform your cutting tasks to be more comfortable, try out this option.
It will help bring out the best of your food preparation skills.
Get one today to witness a change in the way you prepare meats, fruits, and vegetables.
Ryan Leavitt
Hi my name is Ryan Leavitt a Marine Corps Veteran and currently an over the road trucker (Long Haul). I am no expert chef but am enjoying preparing my own meals on the road and testing all the different knives.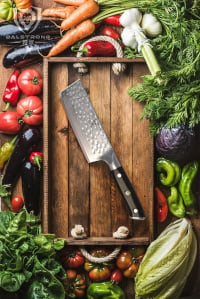 Want FREE Knives?
We give these knives a quick twirl and review, and then we pass them on to a few lucky home chefs!
By subscribing, you agree to get emails from me, Ryan Leavitt. I'll respect your privacy and you can unsubscribe any time.