While they may be relative newcomers to the game, Dalstrong has already made significant waves in the knife game.
When shopping for Dalstrong knives, it's easy to get overwhelmed by all their different collections.
That's why I've done the research on two of the more popular Dalstrong collections out there: the Gladiator and the Shogun Series.
So, which is the better option?
When it comes to quality, the Shogun series is the better option for most chefs and home cooks.
But that doesn't mean the Gladiator series doesn't have its perks.
In this Dalstrong Gladiator vs Shogun comparison, we're taking a close look at their features to see which collection is the right one for your kitchen.
| | | |
| --- | --- | --- |
| | Dalstrong Gladiator | Dalstrong Shogun |
| Price | $$$ | $$$ |
| Construction | Forged, full-tang | Forged, full-tang, Damascus steel |
| Knife Steel | German ThyssenKrupp steel | AUSV10 |
| Handle | G10 | G10 & Rosewood |
| Sharpness | 16-18 degrees per side | 8-15 degrees per side |
A Quick Look At Dalstrong
While a lot of people think Dalstrong is a Chinese company, they actually aren't.
The brand is a Canadian company that manufactures its knives in China.
They first came into the market in 2012, claiming to be a brand that produces professional-grade knives that are as innovative as they are functional.
This is in part because of their foreman and his team, who are all trained in the craft of Japanese knifemaking which traces its roots back many centuries.
Currently, the brand has seven different collections of expertly crafted chef knives designed to be used in a professional kitchen, all with their own unique qualities and perks.
Gladiator Series – A Brief Overview
The Gladiator series is one of the brand's most popular collections, and it's easy to see why.
The series toes the line between professional cutlery and affordable cutlery very well.
In fact, a lot of people who have gotten their hands on these blades are very surprised when they find out how well they work in the kitchen for the price.
This is a collection of well-crafted, forged blades that will fit in your home kitchen as well as a professional knife roll.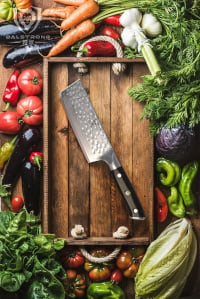 Want FREE Knives?
We give these knives a quick twirl and review, and then we pass them on to a few lucky home chefs!
By subscribing, you agree to get emails from me, Ryan Leavitt. I'll respect your privacy and you can unsubscribe any time.
Shogun Series – A Brief Overview
If the Gladiator Series is one of the brand's most popular, the Shogun Series is Dalstrong's most respected collection.
This is because it has an immense catalog with a whole bunch of different knives, crafted with precision and close attention to detail.
This is a series of Damascus knives, so you can expect a beautiful pattern on the face of the blade and great edge retention.
The Shogun Series is a testament to the abilities of Dalstrong to create high-grade and top tier knives.
Chefs from all around have praised this collection for being one of, if not the best that the brand has to offer.
And while it might be asking for a higher price as compared to some of Dalstrong's other products, it is an investment that is very worthwhile.
Dalstrong Gladiator Series Vs The Shogun Series – A Head To Head Comparison
Construction
One of the best things about Dalstrong knives is that all of them are forged and full-tang.
This means that the knives are crafted from a single piece of high-quality stainless steel, either from Germany or Japan before they are treated, sharpened, and attached to the handle.
That being said, there are still some differences in the way these two collections are made.
Gladiator knives are made with German ThyssenKrupp steel which has a Rockwell hardness rating of 56+.
The handles are made out of G10, and the blade is attached with three rivets, giving the knife a lot more stability than others in its range.
The Shogun Series, on the other hand, is created using AUSV10 steel with a hardness rating of 63+, much tougher than most others in its range.
It's created in the Damascus tradition, meaning multiple layers of steel are hammered over each other to create the blade, and in the case of this series, there are 67 layers that were used.
The result of this process is a very tough knife with a great edge-retention.
On top of that, Shogun knives have well-crafted handles made of a combination of G10 and Rosewood, and certain models even have a Japanese-style octagonal handle which gives you a much more ergonomic grip.
Sharpness
One of the main reasons the Shogun Series is so well-respected is because of its sharpness.
Upon arrival, the blade will be sharpened to an angle of 8-15 degrees on either side.
This is even finer than most of the German knives out there made by brands that have been around for years.
These blades will cut through just about any ingredient thrown at them with ease, making them ideal for professionals who go through a lot of prep in the kitchen.
The Gladiator Series, on the other hand, since it is the cheaper collection isn't sharpened to as fine of an edge.
All of the blades in this collection are sharpened to an angle between 16-18 degrees on each side.
While that isn't as sharp as the Shogun, it is still very sharp and would serve anyone well in the kitchen.
Functionality
The Gladiator Series is a very lightweight set, which is why they are ideal for everyday use in the home kitchen.
Since it is full-tang, meaning the blade runs throughout the entirety of the knife, it's very balanced and easy to use.
Though it should be mentioned that the heel of the knife has a pretty weird angle, which can make some tasks a bit tougher to do.
The Shogun Series is a bit heftier, but that actually results in a bit more balance when chopping.
And since it's considered the premier series of the brand, it is a true workhorse that can take a whole lot of use in the kitchen.
However, since this is a knife designed for professionals, it might be a bit tougher to use for beginners, so if this is your first chef knife, make sure that you take the time to learn how to use it properly so you don't end up risking an accident.
Our Verdict
If you're looking for quality, then without a doubt, the Shogun Series takes the cake.
While it's one of Dalstrong's more expensive products, it is still cheaper than a lot of other knives out there with the same quality.
This is an ideal pick for a beginner chef looking for their first set of high-quality kitchen cutlery.
However, if you are simply looking for everyday knives that you can use at home, then I recommend you go for the Gladiator Series.
It is more affordable, and if you aren't going to be working in a professional kitchen, these blades will definitely hold their edge and quality for years to come.
It's also a great pick for students who are looking for good quality knives on a budget.
Everyone has different preferences and needs in the kitchen, so make sure that whichever brand, collection, or knife you choose that you are comfortable using it and are satisfied with its performance.
And that is the best way to ensure that you have the best knife for you!
Ryan Leavitt
Hi my name is Ryan Leavitt a Marine Corps Veteran and currently an over the road trucker (Long Haul). I am no expert chef but am enjoying preparing my own meals on the road and testing all the different knives.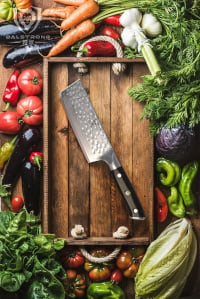 Want FREE Knives?
We give these knives a quick twirl and review, and then we pass them on to a few lucky home chefs!
By subscribing, you agree to get emails from me, Ryan Leavitt. I'll respect your privacy and you can unsubscribe any time.