Did you know?
This knife is designed to offer you unrivaled performance and improve your work in the kitchen.
From excellent cutting capabilities, safety features, to quality materials, the product stands out from the others in its category.
It's also made to be easy to use.
Read on to find out what benefits you get from using it.
Pros:
Sharp edge for effortless and safe cutting
Bolstered handle for weight distribution and finger protection
Full-tang design for improved strength and weight balance
Ergonomic handle for comfort and fatigue-free usage
High-quality materials for durability
Cons:
You may find the knife a little too heavy if inexperienced
We earn a commission if you make a purchase, at no additional cost to you.
Related:
Razor-Sharp Edge
This chef knife goes into foods with ease, even on hard ones such as vegetables.
Its blade is a manually polished Japanese steel with an edge so sharp that it cuts with the utmost ease.
The steel is specially treated to withstand corrosion and wear, so the knife retains the sharp edge for a long time.
With the edge retention this knife offers, you're assured of uninterrupted food preparation.
What's more, the ultra-sharp edge means you won't need any other cutting tool for tougher work; the Dalstrong Kiritsuke is enough for them all.
Strong Comfortable Handle
The handle of this model is wooden and triple-riveted to improve its hold onto the blade.
The construction ensures it remains strong for long, and that subjecting it to tough cutting jobs doesn't result in a wobbly piece of kitchenware.
The handle is also ergonomically designed to fit any hand, and comfortably so.
It improves the knife's maneuverability.
It also makes it possible for you to use it for extended periods without tiredness.
If you have a busy kitchen, the comfortable grip you get from this model suits the situation.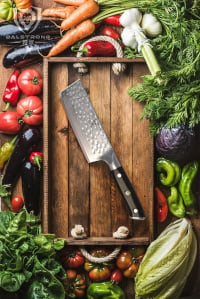 Want FREE Knives?
We give these knives a quick twirl and review, and then we pass them on to a few lucky home chefs!
By subscribing, you agree to get emails from me, Ryan Leavitt. I'll respect your privacy and you can unsubscribe any time.
Stainless and Wear-Resistant Blade
The blade of the Dalstrong Kiritsuke is made from premium quality steel.
The steel is sturdy enough to resist the wear that comes with repeated use or from cutting acidic foods.
It extends this model's lifespan as well as help with the retention of sharpness.
The blade cleans easily to make maintaining it not much of a task.
You will not have to go to great lengths to keep it looking sparkling clean; just some water and soap and the blade is as clean as new.
Full-Tang Construction for Increased Strength
When preparing hard foods, you need a blade that runs into the handle as one piece.
Otherwise, you may end up with a blade that's detached from the handle.
This product features a full-tang design, with the blade fixed onto the handle by three rivets.
With this construction, you're assured of strength and you can cut away at foods without worry.
Apart from the full-tang design, the material of the blade is a tough kind of steel.
The steel makes the knife sturdy enough to be used on any food type.
It also makes it resistant to corrosion, making it highly durable.
Safety-First Design
To help keep your hands safe and avoid accidents when using this knife, it comes with a bolstered handle.
The bolster protects your fingers from coming into contact with the blade while you're busy working on foods.
It enables you to work quickly without endangering yourself.
Also included in the safety design is a knuckle clearance feature.
The handle is made to be higher than the edge when it's held in a cutting position.
The space underneath the handle protects the knuckles of your fingers from accidentally hitting the cutting board.
Conclusion
The Dalstrong Kiritsuke ranks high both in design and for quality materials.
It features a bolster and full-tang construction for enhanced strength, safe cutting, and balanced weight.
The blade features premium Japanese steel which makes the knife robust enough and long-lasting.
It's a piece of cutlery that's easy to maintain due to the non-staining nature of the steel that makes it.
A good knife improves the way you prepare food in your kitchen.
It allows you to slice, dice, mince and chop skillfully. It also shortens the time it takes you to finish tasks.
This model will help you to work quickly and produce precise slices and minces.
Buy it today to give your work in the kitchen a look of skill and ingenuity.
Ryan Leavitt
Hi my name is Ryan Leavitt a Marine Corps Veteran and currently an over the road trucker (Long Haul). I am no expert chef but am enjoying preparing my own meals on the road and testing all the different knives.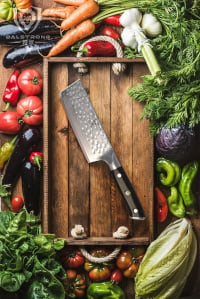 Want FREE Knives?
We give these knives a quick twirl and review, and then we pass them on to a few lucky home chefs!
By subscribing, you agree to get emails from me, Ryan Leavitt. I'll respect your privacy and you can unsubscribe any time.