Did you know?
If you are one of the chefs and cooks who prefer knives with fiberglass handles and not wood, you will find the Dalstrong Omega knife to be a worthy investment.
The craftsmanship and skills employed in the design and consequent development of this blade are impeccable.
This multi-purpose knife comes with a strong and solid blade that cuts through food items effortlessly and with great ease.
Pros
Cleans easily
Boasts of enhanced blade flexibility
Comfortable and corrosion-resistant handle
Scalpel-like sharpness
Comes with a leather sheath for easy storage
Cons
The extra-sharpness of the blade may pose a safety hazard for inexperienced chefs and cooks
We earn a commission if you make a purchase, at no additional cost to you.
Related reviews:
Designed for multi-purpose use
The 8.5" Kiritsuke Chef Knife by Dalstrong is arguably the one you need for any kitchen; whether domestic or commercial.
This is because it is multi-purpose and hence ideal for different cutting tasks in the kitchen.
Ideally, the blade is an essential workhorse for chefs and cooks who are keen on advancing their food preparation skills.
The chef knife is always dependable and complements your style by being brutally effective at all times.
With this Omega Series blade, you can cut through different food items including vegetables, fruits, and bread among other items.
Since the blade is sufficiently finished, you can use it to cut acidic foods without the blade getting damaged.
It comes with an acacia wood stand that is hand-made with an exclusive grain pattern.
Unique "LiquidMetal" blade pattern
Dalstrong never stops at anything when it comes to enhancing the efficiency and reliability of their knives.
True to this, the Kiritsuke Omega Series knife features a one-of-a-kind "LiquidMetal" pattern.
The pattern increases efficiency by reducing drag.
This, in turn, allows the blade to glide through food easily in smooth and consistent cuts.
It features an ultra-premium (American forged) BD1N-VX hyper steel blade that is hard, flexible, and tough.
The steel blade is treated using vacuum-heat treatment to attain a 63HRC hardness for astonishing performance and an extremely sharp edge.
In addition to this, the blade is finished to 8-12 degrees (for every side) using a 3-step Honbazuke sharpening method by pro bladesmiths.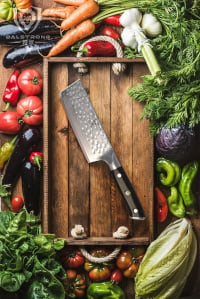 Want FREE Knives?
We give these knives a quick twirl and review, and then we pass them on to a few lucky home chefs!
By subscribing, you agree to get emails from me, Ryan Leavitt. I'll respect your privacy and you can unsubscribe any time.
Comfortable and stylish handle
The military-grade G10 fiberglass handle in this Omega Series blade is resistant to moisture, cold, and heat.
As such, you can comfortably grip the handle in any environment including in a hot kitchen setting.
The handle bears a midnight black theme with subtle dark red finishing.
The best thing about the handle is that it is not damaged by water as a wooden handle would.
There is an ornate copper & brass mosaic centered on the handle and creates a distinctively striking appearance.
The ornate goes a long way in impacting the overall appearance of it.
The ergonomics of the handle are done professionally to allow for a firm and secure non-slip grip for different sized hands.
It is worth noting that the handle provides chefs with excellent control for precision cutting.
Comes with a PU leather sheath
It is usually challenging to store a knife especially if you do not have a magnetic strip or a knife block.
However, when you buy this Omega Series knife by Dalstrong, storage does not need to be a concern.
This is because it comes with a stylish black leather sheath that has a button clip for enclosing it in the sheath.
The black leather sheath has a decorative red-stitching.
With this sheath, you can be guaranteed that your safety, as well as the condition of it, are safeguarded at all times.
The exceptional design of the blade and the storage sheath makes it a perfect choice for chefs looking for an all-round blade that they can easily carry from one point to the other.
The stunning elegance and supreme function combination of it are attributes you are not likely to get in any other brand.
Overall customer feedback
The reception that this Omega Series knife enjoys in the market is nothing short of amazing and unique.
Most people rate the blade as the best knife type, they have ever worked with in their daily cutting tasks in the kitchen.
The ease of handling and control of it is some of the best aspects according to most online reviews.
Career chefs and cooks laud it for being a helpful addition to their knife sets.
This is primarily because they can use the blade with different food items without damaging the cutting edge.
What is more about it is that since it is a multi-purpose knife, chefs appreciate the fact that they can use it for different tasks including slicing meat, vegetables & fruits, and specialized tasks like transferring ingredients from the chopping board to the cooking pot.
Seasoned chefs and cooks who are always busy in the kitchen are fond of using this blade since they say it is easy to clean.
As such, they do not have to spend minutes washing the blade instead of focusing on the cooking process.
With this Kiritsuke knife, you only need a few seconds and running water to handwash it.
Conclusion
It is not a secret that Dalstrong makes impressive knives with fancy features and cutting capabilities.
In line with this, the omega series knife boasts of effective and outstanding features that greatly influence your cooking experience.
This is it to invest in if you want a satisfying food preparation and cooking experience in the kitchen.
Ryan Leavitt
Hi my name is Ryan Leavitt a Marine Corps Veteran and currently an over the road trucker (Long Haul). I am no expert chef but am enjoying preparing my own meals on the road and testing all the different knives.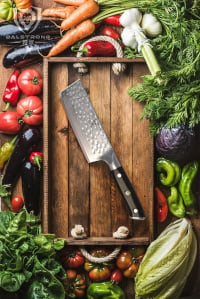 Want FREE Knives?
We give these knives a quick twirl and review, and then we pass them on to a few lucky home chefs!
By subscribing, you agree to get emails from me, Ryan Leavitt. I'll respect your privacy and you can unsubscribe any time.