If you've been on the hunt for quality knives for your kitchen, you've probably stumbled upon the Dalstrong brand more than once.
And when shopping for Dalstrong knives, most people end up choosing between the Dalstrong Omega and Shogun collections.
But which one is the best pick for your kitchen?
Many chefs prefer the Omega collection as it's a fusion between Western and Japanese-style knives, making it easier to use for chefs who have never tried Japanese blades before.
However, the Shogun still has some benefits that many chefs would love.
That's why in this Dalstrong Omega vs Shogun article, I'll be explaining the key features of two of the brand's more popular options so you can figure out which one better suits your needs.
So read on to learn more.
| | | |
| --- | --- | --- |
| | Dalstrong Omega | Dalstrong Shogun |
| Price | $$$$ | $$$ |
| Sharpness | 8-12 degrees per side | 8-12 degrees per side |
| knife's weight | 0.69 lbs | 0.60 lbs |
A Brief Overview Of Dalstrong
What a lot of people don't know about this brand is that it's actually a Canadian company that manufactures its knives in China.
The company came to be in 2012, and while they are fairly new to the game, they have already taken the knife world by storm with their innovative and high-quality products.
The reason that this brand produces such great knives is that the foreman and his team have been trained in the ancient art of Japanese knifemaking that can be traced back centuries.
And this tradition of crafting blades is used by the company to make sure that every single piece that leaves their factory is ready for any kitchen, be it a fancy restaurant, or a simple home set up.
The brand has gained the respect of a lot of people all around the world, from professional chefs to home cooks, which is why it's a brand well worth considering if you've been on the hunt for the best chef knife you can get.
What Is The Omega Series?
The Omega Series is one of the brand's most popular collections.
It is one of the more expensive products in their catalog, but it is well worth the investment, especially if you're looking for top-quality knives.
Omega knives will have a beautiful liquid metal finish that's reminiscent of the Damascus patterns you'll find on some of their blades.
This pattern has a very eye-catching look which just adds to the very professional and classy aesthetic.
This is a series designed to be used by professionals, which is also why it fetches a pretty high-price, but a premium price for a premium product seems like a very fair deal.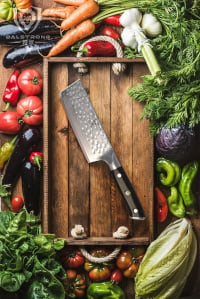 Want FREE Knives?
We give these knives a quick twirl and review, and then we pass them on to a few lucky home chefs!
By subscribing, you agree to get emails from me, Ryan Leavitt. I'll respect your privacy and you can unsubscribe any time.
What Is The Shogun Series?
The Shogun Series is one with a whole lot of knives, and it's probably the first Dalstrong collection that most people will hear about.
It has a hammered Tsuchime finish, which is a Japanese technique that creates a beautiful pattern on the blade and it reduces the amount of food that will stick to it when in use.
The knives in this series are some of the best that the brand has to offer, which is why it makes for a great gift for a budding chef.
It's also made of some very premium materials, making it one of the best collections of knives on the market today.
Dalstrong Omega Vs Shogun Series – A Head To Head Comparison
Knife Steel
The first thing we're looking at is the steel used in making these knives.
The Omega series uses an American HyperSteel that is a pretty tough and resilient material that isn't used by a lot of other companies.
This steel has a Rockwell hardness rating of 68+, which is much better than a lot of the knives in the same price range.
This is a material that will be very tough and keep its edge for a pretty long time, and as we all know, these knives are an investment, so getting one that is built to last is very important.
The Shogun Series, on the other hand, uses AUS-V10 steel, which is one of the most popular and reliable materials in today's market.
It has a Rockwell hardness rating of 63+, which isn't as hard as the Omega, but it's still a lot better than most other knives out there that only have a rating of 55+ to 58+.
Sharpness
Now it's time to look at how sharp these knife collections are.
Both of these collections have their blades sharpened to an angle of 8-12 degrees per side.
For comparison, most German chef blades out there are only sharpened down to 15 degrees per side.
This makes for knives that are incredibly sharp right out of the box.
Whether you're using the Omega or Shogun series, you can rest assured that they will be able to slice through just about any ingredient you can think of with ease.
Having the blades this sharp also makes for a safer cutting experience as it reduces the likelihood of an accident.
Construction
All of Dalstrong's knives are forged and full-tang, but there are still some differences that lie in their construction.
The Omega Series, as mentioned earlier has a liquid metal finish, which is stamped onto the blade after it is forged.
It also has a G10 handle that is a strong material that feels very comfortable in the hand, which is one of the reasons chefs love these knives.
The stamped pattern on the blade also reduces the amount of food that sticks to the knife when you're using it.
Shogun knives, on the other hand, may vary slightly in construction depending on the knife you get.
Some of these models will have a Japanese-style octagonal handle, while some will have Western-style ones.
One isn't better than the other, though most people will have a preference as to which one they prefer.
The handles are made out of G10 and Red Rosewood, which makes for a very classy aesthetic and comfortable grip.
These knives are made by hammering multiple layers of high-quality steel on top of each other to produce a beautiful Damascus pattern as well as create a blade that is very tough at the core, very sharp, and will last you a very long while.
Conclusion – Which One Is Best For Your Kitchen?
And that ends our comparison, so which one is the right series for you?
Well, that will mostly depend on your own needs in the kitchen.
If you prefer using Japanese-style knives with octagonal handles and you find that Damascus blades are more your style, then we highly recommend the Shogun Series.
However, if you want a knife that is a fusion of both Asian and Western styles with a unique pattern and balanced build, then our recommendation is the Omega.
But at the end of the day, what's most important is that you choose a knife that is comfortable in your hand and also suits all the needs you will have in the kitchen.
And if your knife fits those two categories, then you definitely have the best knife for you!
Ryan Leavitt
Hi my name is Ryan Leavitt a Marine Corps Veteran and currently an over the road trucker (Long Haul). I am no expert chef but am enjoying preparing my own meals on the road and testing all the different knives.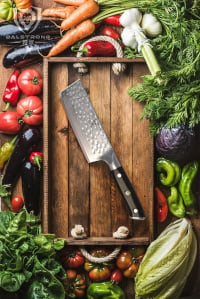 Want FREE Knives?
We give these knives a quick twirl and review, and then we pass them on to a few lucky home chefs!
By subscribing, you agree to get emails from me, Ryan Leavitt. I'll respect your privacy and you can unsubscribe any time.