This chef knife makes a good choice if you're looking for a knife that will help make you a great chef.
It's an efficient, balanced, and safe cutlery to have in your kitchen.
With the qualities it possesses, your food preparation is bound to come out well.
And in this review, I'll tell you why it could be an excellent choice for you.
Pros:
Ergonomic handle for more comfort and safety
Quality Japanese steel for the blade and durable pakka wood for the handle
Full-tang blade and bolstered handle for weight balance
A sturdy blade that resists staining, rusting, and wear
Cons:
The wooden handle requires more care
The extra weight added by the bolster may not be useful when slicing light foods
We earn a commission if you make a purchase, at no additional cost to you.
Related:
Long-Lasting Materials
This chef's cutting tool is made to last for long, with materials that ensure durability, and construction that assures strength.
The blade is made of premium Japanese steel that is corrosion-resistant to give you a long-lasting cutting tool in your kitchen.
The handle is made out of pakka wood.
Cared well, this type of wood can last and last.
To further provide for durable cutlery, the blade is full-tang, running the whole length of the handle.
Three rivets ensure the blade is firmly fixed to ensure it doesn't come off loose any time soon.
See more: Great chef knives for your kitchen
Safety
The knife you use in the kitchen needs to be safe enough so that you don't end up cutting yourself.
The Dalstrong Phantom comes with safety features to guard you against accidents.
On the handle is a bolster that protects your hand from reaching the blade.
The handle also features an allowance beneath it to safeguard your knuckles when you hold it to work on foods.
It ensures you don't repeatedly hit the cutting board with your fingers as to cause you discomfort or even injury.
The wood that makes the handle is slip-resistant for your safety and to prevent damage to the food you're cutting.
It remains resistant to slip even in wet conditions.
To further enhance safe usage, this model comes with a knife pocket where you can carefully tuck it, so it doesn't lie about bare and dangerous.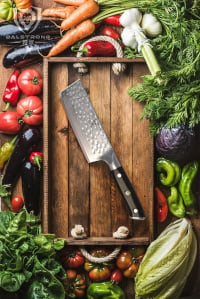 Want FREE Knives?
We give these knives a quick twirl and review, and then we pass them on to a few lucky home chefs!
By subscribing, you agree to get emails from me, Ryan Leavitt. I'll respect your privacy and you can unsubscribe any time.
Sturdy Blade for Versatility and Longer Life
With the Dalstrong Phantom, you shouldn't fear cutting up hard foods, not even the infamous butternut squash.
The blade is sturdy enough to withstand tension and won't break that easily.
The Japanese steel with high carbon and a touch of chromium is well known for the strength it gives to blades.
The cutting edge is hand-polished to give it a precise and razor-like sharpness.
The edge retention the high carbon steel allows ensures you finish your tasks without having to do some honing work.
With the ever-sharp edge, your work becomes not only effortless but also quicker.
Ergonomically Shaped Handle for Fatigue-Free Cutting
A poorly constructed handle can make you get tired too quickly before you even finish your tasks.
Worse still, it can result in a hurting hand.
You won't experience that when using the Dalstrong Phantom.
Its handle is designed with an ergonomic mind, giving it a comfortable grip.
The ergonomic design combined with the soft feel of pakka wood makes this knife so comfortable.
You can use it for long without getting your hand numb.
It doesn't even matter the size of your hand; small and big ones will wrap around this model's handle perfectly.
Low-Maintenance Blade
Because knives have to be cleaned manually, chefs usually pick the ones that are easy to maintain.
With a blade that resists rust, corrosion, and discoloration, the Darlstrong Phantom makes a cutting tool that's easy to maintain.
Apart from the handle, the other parts don't require much care; they will clean or sharpen easily.
FAQ's
Is this knife made for left-handed people?
Unfortunately, no.
You can only use this if you're a right-handed chef.
How should I sharpen this knife?
You can use traditional whetstones or any other knife sharpeners for this task.
Can I buy just the sheath of the knife?
The answer is no.
You will need to buy the whole package.
Is this knife stain-resistant?
Yes, the knife is stainless-steel, therefore, it's resistant to stains.
What is the weight of this knife?
This model weighs 190 grams.
A bit lighter compared to chef knives from other Dalstrong's series.
Conclusion
With a comfortable handle, a sturdy blade, and a super-sharp edge, the Dalstrong Phantom is a piece of cutlery you will feel proud to own.
Its weight is superbly balanced, allowing you clear cuts without having to use force.
If you're a serious chef looking for a knife that will make your work in the kitchen swift, I would recommend that you get this model.
It will accord your agility without exposing your fingers to danger, and change the way you prepare food.
Get it today and become the real chef that you are.
[toc]
Ryan Leavitt
Hi my name is Ryan Leavitt a Marine Corps Veteran and currently an over the road trucker (Long Haul). I am no expert chef but am enjoying preparing my own meals on the road and testing all the different knives.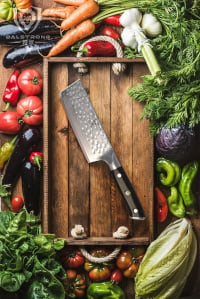 Want FREE Knives?
We give these knives a quick twirl and review, and then we pass them on to a few lucky home chefs!
By subscribing, you agree to get emails from me, Ryan Leavitt. I'll respect your privacy and you can unsubscribe any time.