You know what?
This Dalstrong chef knife features excellent craftsmanship and quality materials to make an all-purpose cutting tool in your kitchen.
It's uniquely designed with safety, efficiency, and style in mind.
It's a product you will find unmatched in the way it complements your culinary skills.
Read my review for more about this multipurpose kitchenware.
Pros:
Excellent weight distribution for improved handling and ease of use
Blade made from quality Japanese steel that withstands wear resists rusting and cleans easily
Hammered tsuchime finish for a stylish look and to prevent food from sticking to the blade
Handle made from G-10 material for a firmer grip and durability
Ergonomic and bolstered handle for comfort and safety
Cons:
If you're used to light knives it's heavier weight may feel too much for you
We earn a commission if you make a purchase, at no additional cost to you.
See more:
Comfortable and Durable Handle
You will not only love the design of this model's handle but also feel its benefits.
It's made from G-10 material.
This material is highly resistant to damage caused by temperature extremes, giving you a durable piece of cutlery.
Even in high or low-temperature conditions, the material will neither expand nor contract, and the handle remains intact for long.
The G-10 material is also impervious to water.
Therefore, moisture won't damage the handle.
You can wash the knife in the sink without fear that its handle will soak in water and crack.
The material also allows for a firm grip even when working with wet hands, assuring you of safety.
For comfort, the handle is built ergonomically.
It allows you to use the knife for long without hurting your palm or feeling wrist fatigue.
You will also find the ergonomic construction useful when working on tough foods and you have to increase your grip.
Easy-to-Maintain and Sharp Edged Blade
With this model, you will not mind cutting into colored foods anymore.
The blade won't get discolored, being made from stainless steel.
It also cleans instantly, making this kitchenware easy to maintain.
Because knives require that you clean them manually, having the Dalstrong Shogun relieves you the burden of having to keep scrubbing the blade.
This versatile blade takes on tough cutting tasks with ease.
It's made from high-strength Japanese steel that not only resists breakage but also features a super-sharp edge.
The edge will allow you effortlessly slicing, dicing, and mincing for any food.
Maintaining the sharp edge of this kitchenware is pretty easy.
The steel, being high-carbon, sharpens easily.
You only need to arm yourself with a honing rod or other material made for knife sharpening.
The high-carbon material also assures you the blade retains the sharp edge for long enough.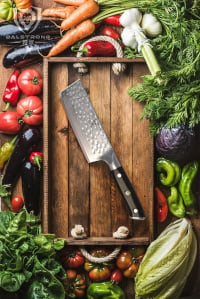 Want FREE Knives?
We give these knives a quick twirl and review, and then we pass them on to a few lucky home chefs!
By subscribing, you agree to get emails from me, Ryan Leavitt. I'll respect your privacy and you can unsubscribe any time.
Excellent Weight Balance
You will find this product's weight well balanced to give a solid feel when working with it.
It features a bolster and a full-tang construction to add weight to the handle.
As a result, the handle's weight balances that of the blade.
This construction improves the knife's maneuverability so you can use it with ease and precision.
Hammered Tsuchime Finish
The blade of this Shogun series chef knife from Dalstrong features a hammered pattern to produce a tsuchime finish.
The design gives it a cool and unique look.
Most importantly, it allows you to cut large foods such as potatoes or pumpkins and not have pieces stick on the blade.
The pattern creates tiny pockets of air that cause the food being cut to fall off easily.
Knuckle Clearance Space For Safety
This model is designed to provide enough space under the handle for safety when working in your kitchen.
Set a little bit higher than the cutting part of the blade, the handle adequately raises your hand to secure your knuckles.
It allows the fingers to stay clear of the cutting board to avoid injury.
Conclusion
The Dalstrong Shogun is an excellent piece of kitchenware to use for all your cutting needs.
It combines proven knife-making technologies to produce a product versatile enough to handle all kinds of fruit, vegetables, and meats.
From the blade to the handle, this model offers excellence in the way you prepare food.
Whether a professional or just looking to improve the way you perform when preparing food, this option will help bring out the chef in you.
The benefits it offers are many, and you will also like its rugged look.
Buy it today and make your food preparation effortless.
Ryan Leavitt
Hi my name is Ryan Leavitt a Marine Corps Veteran and currently an over the road trucker (Long Haul). I am no expert chef but am enjoying preparing my own meals on the road and testing all the different knives.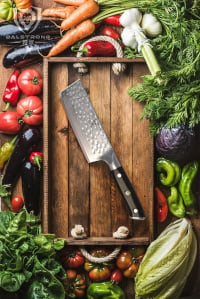 Want FREE Knives?
We give these knives a quick twirl and review, and then we pass them on to a few lucky home chefs!
By subscribing, you agree to get emails from me, Ryan Leavitt. I'll respect your privacy and you can unsubscribe any time.