The Dalstrong Shogun Slicer is an extra-long long precision instrument designed for slicing mastery.
This slicing blade is specially designed for roasts, briskets, turkey, ham, and sides of salmon among other meat types.
The long blade in the knife provides for uniform slices with just a single stroke.
Since all Dalstrong products feature the best construction materials, you need not get worried about the quality of the Slicer blade.
Pros:
Strong and reliable performance
Effortless cutting motion thanks to the curved blade
Ultra-sharp edge which is hand sharpened
Beautiful, ergonomic G10 Garolite handle
Trusted by many professional chefs & home cooks
Cons:
Not a budget-friendly choice, but you get what you pay for
We earn a commission if you make a purchase, at no additional cost to you.
Engineered for performance
The most fascinating aspect of this Dalstrong knife is that despite it being ultra-long at 10 inches, it is designed for an excellent performance.
Therefore, with this knife, cooks not only get a reliable slicer but also a blade without any limitations whatsoever.
The cutting edge is curved to provide chefs with the leverage of making complete and smooth slices in single cutting motions without sawing.
The crafting of this Slicer blade is done expertly such that it slices through flesh, pierce through cartilage, and trimming the fat from pork, beef, fish, poultry, and other types of meats.
The superior engineering of the knife also provides for its flexibility so that it maneuvers around bones easily without damaging the steak.
Legendary Dalstrong power
Dalstrong stops at nothing when it comes to designing and constructing blades for practical kitchens.
True to this, the blade in this Shogun Slicer is improved further by rock-hollow divots on the blade.
These divots minimize adhesion thereby preventing the likelihood of food getting stuck on the blade.
Additionally, the divots also provide a seamless cutting experience by reducing friction.
The long length of the ultra-sharp edge has a functional property in that it allows you to slice game meat that would otherwise be impossible to slice using standard slicing cleavers.
The blade is also ideal for portioning as it slides through meat effortlessly thereby giving you clean and proportional slices.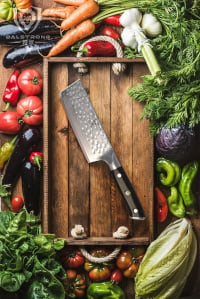 Want FREE Knives?
We give these knives a quick twirl and review, and then we pass them on to a few lucky home chefs!
By subscribing, you agree to get emails from me, Ryan Leavitt. I'll respect your privacy and you can unsubscribe any time.
Expertly designed handle
Handling and controlling a long blade is not an easy task especially if you want to make precise cuts.
This is why Dalstrong has designed an ergonomic handle for the Shogun Slicer blade.
The beautiful and ergonomic handle in this blade features mosaic and engraving for decoration as well as uniqueness.
The G-10 Garolite handle is waterproof and exhibits unique resistance against heat and hence lasts long.
What is more important to note about the handle is that it is triple-riveted with a full tang for durability and strength.
The handle conforms well to the shape of the palm for a comfortable, firm, and stable grip.
Consequently, this ensures that you can maintain a consistent path when slicing meat into fine slices.
Superior steel construction
The Shogun Slicer Series blade boasts of a precision forged Japanese AUS-10V steel construction with 66 folded steel layers.
This single-piece steel construction is solid, strong, and resilient for easy cutting and slicing through a variety of meats.
The steel is vacuum treated through nitrogen cooling for added strength, sharpness, and ultimate performance.
Like other Dalstrong blades, this Shogun Slicer is hand sharpened at 8-10 degrees (per side) for ultra-sharpness and excellent wear resistance.
As such, when you invest in this blade you need not worry about sharpening it for the first few months.
This is because it comes extra-sharp when new and the sharpness lasts for long. You only need to hone it after every few uses.
Japanese blade making skills
The Dalstrong Shogun Slicer makes a perfect blend of ancient Japanese blade making methods and cutting-edge technology to provide an efficient and beautiful slicer.
Additionally, the blade comes with a sheath for safe storage when not in use.
Customer feedback
While there are hundreds of brands and makes of knives in the market presently, Dalstrong knives seem to command a massive following.
This is because the blades boast of a solid reputation that is characterized by superior designs and constructions.
The Slicer Series by Dalstrong is a favorite option for budding chefs and cooks who wish to make their food preparation processes fun and exciting.
Chefs and cooks laud this blade for its sharpness, ease of handling, and precise control.
Others say that the blade is well balanced and hence they do not tire or strain their wrist muscles in any way when using the blade.
The razor sharpness of the blade seems to be a common liking of most chefs since they only use negligible force when slicing.
However, chefs have it that this stunning knife can be a safety hazard when mishandled.
This is because poor handling of the blade can inflict serious cuts on the fingers.
Conclusion
Dalstrong makes the best blades for each category.
In line with this, this slicer from Dalstrong is designed to last a lifetime while ensuring that it consistently gives the best service to chefs and cooks.
The durability, efficiency, and reliability of this blade will not only ensure that you have a perfect slicer at all times but also gives you value for money.
Get this blade today to take your slicing skills to a new level.
Ryan Leavitt
Hi my name is Ryan Leavitt a Marine Corps Veteran and currently an over the road trucker (Long Haul). I am no expert chef but am enjoying preparing my own meals on the road and testing all the different knives.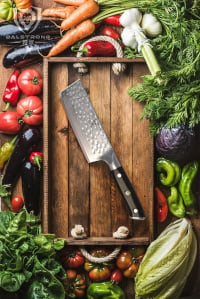 Want FREE Knives?
We give these knives a quick twirl and review, and then we pass them on to a few lucky home chefs!
By subscribing, you agree to get emails from me, Ryan Leavitt. I'll respect your privacy and you can unsubscribe any time.