Deciding on which brand one should get when shopping for kitchen cutlery can be tough.
Should you go for a brand that has been around for a while, or should you go for a relative newcomer to the game?
Two brands that usually come in conversations are Dalstrong and Shun.
Most chefs recommend the Shun brand over Dalstrong, especially if you prefer using Japanese-style knives.
Shun has been around for longer, making it the more trusted brand for most chefs.
With that said, Dalstrong still has some useful benefits.
So if you've been trying to decide between Dalstrong and Shun, you've come to the right place.
We put these two brands up head to head in this Dalstrong vs Shun comparison.
| | | |
| --- | --- | --- |
| | Dalstrong | Shun |
| Price | $$$ | $$$ |
| Knife Steel | American Hypersteel, AUS-V10, ThyssenKrupp Steel (depends on the model) | VG-10 or SG2 (depends on the model) |
| Sharpness | 8-15 degrees per side | 16 degrees per side |
| Handle | G10 & Rosewood (depending on the model) | Wood, PakkaWood, PP |
| Design | Western and Japanese Style | Japanese style |
A Brief Overview Of Dalstrong
Dalstrong made its way to the knife game in 2012.
They are a company built on innovation, as their aim is to make sure that all the knives they deliver are of the highest quality and have something unique.
The company builds their knife under the guidance of their expert foreman and his team who were carefully trained in the art of Japanese knife-making, one of the most lauded and respected styles of knife-making out there.
They use a variety of techniques in building their knives, which is part of the reason why they are loved and respected by a lot of professional chefs and knife enthusiasts all over the world.
Dalstrong has a lot of different collections to choose from, and each of them has a unique feature or characteristic that makes them stand out amongst the crowd.
And while they are a young brand, they are definitely not one that should be overlooked.
A Brief Overview Of Shun
Shun is a brand under the KAI Group.
This is a cutlery company established in Japan in 1908 that has spent a whole lot of time providing chefs and home cooks with kitchen cutlery built to last.
But while the KAI Group's origins go way back, the Shun brand itself has only been around since 2002, when it was introduced to the Western market.
Shun still takes a lot of its inspiration from the products that the KAI Group has supplied numerous people with for over a century, which is why it didn't take long at all for them to rise up in the ranks of the knife world.
Nowadays, Shun is a brand that is very highly thought of by knife enthusiasts all over, consistently coming up with razor-sharp products that are a dream to use in the kitchen.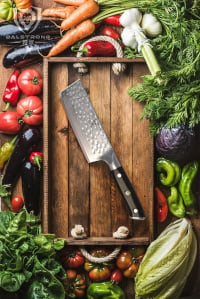 Want FREE Knives?
We give these knives a quick twirl and review, and then we pass them on to a few lucky home chefs!
By subscribing, you agree to get emails from me, Ryan Leavitt. I'll respect your privacy and you can unsubscribe any time.
Dalstrong Versus Shun – Knife Comparison
Notable Collections
The first thing we'll be looking at is the premiere collections of each brand.
Let's start off with Dalstrong.
Dalstrong Shogun Series X
The Shogun Series X is the flagship model of Dalstrong, which has knives with the most premium materials, and one of the most respected products of the brand.
It's made from AUS-10 steel, has a G10 handle, Damascus cladding, and a G10 handle.
The knives are painstakingly made over 60 days and sharpened to an incredibly 8-12 degrees angle on each side to ensure that the knives are of the highest quality.
This is the collection that most people point to when talking about Dalstrong, and it is a great introduction to what this brand has to offer.
Shun Premier
Now let's take a look at Shun's most popular collection: the Premier.
These knives are made in the Japanese Tsuchime style.
This is a hammered finish on the knives that gives it a very unique texture, a lot of strength, and makes for a very sharp blade.
Premier knives also have a mirrored blade polish, which gives them such a classy and professional aesthetic.
These blades will have a swirled Damascus pattern on them as well as a PakkaWood handle that adds a whole lot to their overall aesthetic.
It may be one of their more expensive options, but it is definitely one of the best sets Shun has to offer.
Construction
Construction of Shun knives will vary greatly depending on which collection you're shopping from.
If you're getting an entry-level collection, you can expect a stamped construction.
This means that blade is cut from a large sheet of stainless steel before it is treated, buffed, and ground to the right edge.
These knives will be less expensive, but they are also not as sharp and durable as the more expensive knives.
If you get the more premium options from Shun, you can expect a forged construction.
And depending on the collection, you might even find a blade constructed in the Damascus tradition with intricate patterns on the face of the blade.
Dalstrong, on the other hand, prides itself in having all its knives forged in different ways.
This makes for a very durable blade that is built to last a long while with great edge-retention.
Having high-quality edge retention means that you won't have to sharpen the knives too often, especially if taken care of properly.
Both Dalstrong and Shun will have knives sharpened to very fine angles, ranging from 8-15 degrees on each side.
For comparison, most Western kitchen knives are only sharpened to a 15-17 degree angle on each side, making for a duller blade.
Design
The design of Dalstrong and Shun knives will mostly take a lot of inspiration from the Japanese knife-making tradition.
This means their knives aren't as durable as their Western counterparts, but it is made up for in sharpness and functionality.
For starters, both these brands sharpen their knives to a much finer edge than Western brands, making them cut and slice much easier.
Most Shun handles will have a Western-style handle, meaning they get the best of both worlds.
Dalstrong products will generally be the same, however, they also have certain collections such as the Shogun Series S, which has a Japanese-style handle that's more suited for the precision needed when prepping Asian cuisine.
Depending on which collection you get, too, you might also have a different finish on the blade itself.
Both of these brands offer knives with a Damascus finish on them, which adds a bit of extra flavor to the aesthetics of the knives.
But don't worry, if that isn't your style, the brands also have knives with plainer and simpler finished on them.
Dalstrong Pros & Cons
Pros:
Relatively affordable for a professional-grade kitchen knife
A lot of collections to choose from
Made with expert craftsmanship
Made with high-quality materials
Your knives will be razor-sharp right out of the box
Cons:
Might be too heavy for some
Shun Pros & Cons
Pros:
Incredibly sharp knives
A lot of choices to select from
Classy and professional designs
Very functional and easy to use
Some models come with a beautiful wooden handle
Cons:
Maintenance for these knives can take some getting used to
Our Verdict – Which Is The Right Brand For You?
While both of these brands will be suitable for a professional kitchen, there are some differences that will make them ideal for different people.
Shun knives are on the more expensive side, which is expected since they are the older brand.
While the price might be a bit higher, this is an investment worth making since the brand is so highly respected around the world and consistently delivers top-tier kitchen products.
But if you're looking to save on money but still get a quality kitchen knife, then we recommend you take a look at Dalstrong products.
They are less expensive than Shun and provide knives that are about the same in quality.
Regardless of whether you choose Shun or Dalstrong, though, just remember that as long as you're comfortable with the blades in your knife roll and you enjoy using them, then you have already chosen the right brand for you!
Ryan Leavitt
Hi my name is Ryan Leavitt a Marine Corps Veteran and currently an over the road trucker (Long Haul). I am no expert chef but am enjoying preparing my own meals on the road and testing all the different knives.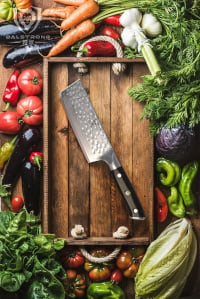 Want FREE Knives?
We give these knives a quick twirl and review, and then we pass them on to a few lucky home chefs!
By subscribing, you agree to get emails from me, Ryan Leavitt. I'll respect your privacy and you can unsubscribe any time.