While not a lot of people know about the Dalstrong brand since they are relative newcomers to the game, the company has already made waves with their high-quality knives that come at an affordable price.
A lot of people would point to this brand as a great choice if you're looking for professional-grade kitchen knives at a lower price point than most.
On the other hand, Victorinox as a brand has been around making a wide variety of knives for a long time.
So, which is the better option?
If you need a sharp, reliable, and professional-grade kitchen knife, we highly recommend going for the Dalstrong brand as they have a wide selection of top-quality knives.
With that said, Victorinox is cheaper, so it might be the better option for some chefs and cooks out there.
In this Dalstrong vs Victorinox review, we'll be comparing the two head to head to help you figure out which brand is worth your money.
| | | |
| --- | --- | --- |
| | Dalstrong | Victorinox |
| Price | $$$ | $$ |
| Edge | 8-15 degrees per side | 15 degrees per side |
| Knife steel | AUS-V10, American Hypersteel, ThyssenKrupp steel (depends on the model) | 50CrMoV15 high-carbon steel |
| Handle | G10 and Rosewood (depends on the model) | Fibrox, Wood, PP (depends on the model) |
| Are there box sets available? | Yes | Yes |
| Lifetime Guarantee | Yes | Yes |
A Brief Overview Of Dalstrong
As mentioned earlier, Dalstrong is a newcomer to the knife game.
The company was only established in 2012, but they have put the work in to climb to the top tier of kitchen cutlery since then.
The brand's driving force is innovation and it's very evident in their knives that seamlessly fuse together Japanese and Western styles of knifemaking.
Their expert foreman and his team on top of the manufacturing process were trained in the ancient art of Japanese knife making, and it was that knowledge that was used in creating the Dalstrong blades used by chefs all over the world.
Currently, the brand has numerous collections of full-tang, forged knives made by expert craftsmen that customers can easily choose from.
A Brief Overview Of Victorinox
This brand has been around since the 1800s, and it started out as a small cutler's workshop.
But nowadays, they have grown greatly.
The company currently has five product categories: Swiss Army Knives, household and professional knives, watches, travel gear, and fragrances.
Their collection of kitchen cutlery includes a line of butcher's knives, forged knives, stamped knives, chef knives, and pastry knives.
On top of all that, you can also get a complete set of blades for your kitchen from the brand.
They are considered one of the best budget knife brands out there, especially for home cooks or professionals starting out.
If you've been scouring the market for a great brand for your kitchen cutlery, then Victorinox is one worth checking out.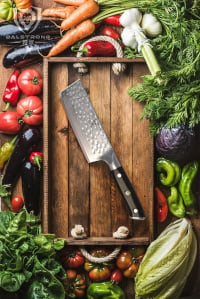 Want FREE Knives?
We give these knives a quick twirl and review, and then we pass them on to a few lucky home chefs!
By subscribing, you agree to get emails from me, Ryan Leavitt. I'll respect your privacy and you can unsubscribe any time.
Dalstrong Vs Victorinox – A Head To Head Comparison
Construction
All of Dalstrong's blades are forged.
This means that the entire blade is made from a single piece of stainless steel that is tirelessly shaped, heat-treated, cold-rolled, and annealed (depending on the collection) to produce a product that will cut through just about anything with ease.
On top of that, forged blades are much more durable than their stamped counterparts.
Dalstrong employs expert knifemakers who have been trained in the art of Japanese knifemaking to ensure that their products are sharp, functional, and exquisitely made.
The steel used to make the blades comes from either Germany or Japan, which are some of the best places on earth to get knife materials.
They are then sharpened to a very fine edge of 8-15 degrees per side, which is a lot sharper than most Western brands out there.
Victorinox, on the other hand, uses a variety of techniques in making their products.
But generally, they are either forged or stamped.
A stamped blade is one that is laser cut from a large sheet of stainless steel before being treated, sharpened, and attached to a handle.
The company makes sure that all the steel used is high-carbon, which ensures that the blade will be sharp and have great edge retention.
And while stamped blades are generally not as high-quality as forged ones, if they are made well, like Victorinox blades, they can easily hold their own against the competition.
Sharpness
As we mentioned earlier, Dalstrong blades are sharpened to a very fine edge.
For comparison, Victorinox blades are sharpened to a 15-20 degree angle on both sides.
While this is far from the sharpness of Dalstrong, it is still very sharp.
And the materials used in the construction, as well as the design, ensure that you can easily cut through just about any ingredient out there.
Having the fine edges of a Dalstrong blade is great, especially if you're looking for precision in your blades.
However, that also means they are more prone to damage and require extra maintenance.
That's why Victorinox blades are more recommended for home cooks while Dalstrong products would be better suited for professionals who know how to properly maintain a knife and need the extra sharpness.
Notable Collections
Now that we've taken a look at the basic construction that the two knives used in their knives, it's time to look at their notable collections.
Dalstrong Gladiator Series
This is by far the favorite Dalstrong series of most knife enthusiasts.
The blade is made of German stainless steel that will last you for years to come.
This steel is also ideal for sharpening down to very fine edges, which is a feature that the brand is known for.
All the products in this collection are full-tang, which means that the steel runs throughout the entirety of the knife, making for a sturdier and more balanced feel when cutting.
The blades are fairly tall, which is great for those with large hands as it gives you more space and can also allow your knuckles to guide the knife easily.
Dalstrong also added chromium, which gives it stain-resistance, so you don't risk staining or tarnishing the beautiful finish on these blades.
While they may be one of the more expensive collections from the brand, the Gladiator Series is arguably one of the best on the market today.
Victorinox Fibrox
The Fibrox series is one of the most popular products from Victorinox, but what most people don't know, is that the Fibrox term refers to the handle material and is not exclusive to the brand.
All that aside, this is one of the best knives you can get your hands on if you're on a tight budget.
The Victorinox Fibrox knife is a favorite of home cooks, and it also gets a lot of praise from professionals.
This is because it is an affordable, yet highly functional and razor-sharp knife that will serve you well in the kitchen.
Customers have praised how functional and flexible this blade is.
Because of the way it's sized, you can use it for a variety of kitchen tasks, and you'd be surprised to find that their Fibrox models can actually be the only knife you have in the kitchen.
Dalstrong Pros & Cons
Pros:
Premium products
A wide selection of knives
Razor-sharp
Comfortable to use
Made out of high-quality materials
Cons:
Victorinox Pros & Cons
Pros:
Relatively affordable
Highly functional and flexible knives
Great value
Comfortable to use
Some of their products are dishwasher friendly
Cons:
Might be too small for some people
Our Verdict – Which Brand Should You Go For?
These are two different brands designed for different people.
If you are on the hunt for a budget knife that packs a punch, or if all you need is a simple kitchen cutlery set for your home, then you might be better suited to going for Victorinox.
However, if you're a professional or someone looking to become a professional chef and you need a set of knives that will last you years and perform to the highest standard, then it might be time to invest in a Dalstrong set.
But regardless of which brand you end up buying, make sure that you are comfortable with the knife and it can handle all your kitchen needs.
Because that's the only way to ensure that you have the best brand for you!
Ryan Leavitt
Hi my name is Ryan Leavitt a Marine Corps Veteran and currently an over the road trucker (Long Haul). I am no expert chef but am enjoying preparing my own meals on the road and testing all the different knives.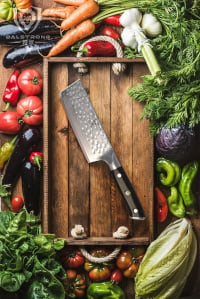 Want FREE Knives?
We give these knives a quick twirl and review, and then we pass them on to a few lucky home chefs!
By subscribing, you agree to get emails from me, Ryan Leavitt. I'll respect your privacy and you can unsubscribe any time.