Anyone looking to become a professional chef or start to take cooking more seriously would need a quality set of knives.
After all, they are the most important tools a chef will ever have.
In the world of kitchen cutlery, Dalstrong and Wusthof are some of the best brands out there.
Both of these brands are ideal for professionals, but they both have unique features, benefits, and very different histories.
But which is the better option?
Chefs who need high-quality Western-style knives will find that Wusthof models fit the bill perfectly.
Wusthof is one of the oldest and most trusted brands in the market, so you can't go wrong with one of their knives.
But Dalstrong offers great Asian and Japanese-style knives that would be the best pick for other chefs.
If you've been trying to choose between these two brands, you've come to the right place, because in this Dalstrong vs Wusthof comparison, we're putting both these brands up head to head.
| | | |
| --- | --- | --- |
| | Dalstrong | Wusthof |
| Price | $$$ | $$$ |
| Design | Western and Japanese style | Western-style |
| Knife steel | AUS-V10, American hypersteel, and ThyssenKrupp steel (depends on the model) | X50CRMOV15 steel |
| Sharpness | 8-15 degrees per side | 14-degrees per side |
| Are there box sets available? | Yes | Yes |
A Brief History Of Dalstrong
Dalstrong is a newcomer to the game, only coming in 2012.
But just because the company is young, that doesn't mean that it should be underestimated.
The company is based in China and is focused on innovation and providing professionals and hobbyists alike with reliable and affordable kitchen cutlery.
And although they only began in 2012, the company has already made waves in the world of kitchen knives, as they are considered one of the top brands in the industry today.
All the craftspeople who work on their knives are expertly trained in the art of Japanese knifemaking, which is considered one of the best knife-making processes in the world as very close attention is paid to detail.
While a lot of people are wary about this newcomer, Dalstrong should not be underestimated and anyone looking for a relatively affordable and high-quality set of kitchen tools should not be scared to try this brand out.
A Brief History Of Wusthof
Now it's time to talk about Wusthof, one of the oldest and most respected players in the game today.
They started all the way back in the 1800s in Solingen, Germany, which is considered by a lot of people to be the "City of Blades".
And up until this day, they are still a family-owned business!
Most of the brand's most famous knife collections have been around for a really long time and have been used by professionals all over the world.
The brand has a signature process in treating their steel, which makes for very durable, sharp, and long-lasting blades.
While they are fairly expensive, they are still considered to be one of the best brands any chef or culinary student can get their hands on.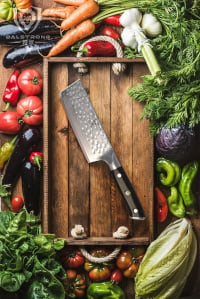 Want FREE Knives?
We give these knives a quick twirl and review, and then we pass them on to a few lucky home chefs!
By subscribing, you agree to get emails from me, Ryan Leavitt. I'll respect your privacy and you can unsubscribe any time.
Dalstrong Vs Wusthof – A Head To Head Comparison
Sharpness
Now that we've had a brief overview of the brands, it's time to look at their features.
Let's start with how sharp these blades are.
Dalstrong is known for sharpening its blades to a very fine angle.
Depending on what collection you're looking at, Dalstrong knives will be sharpened anywhere from 8-15 degrees per side.
For comparison, most knife brands out there will have their blades sharpened to a 15-17 degree angle per side.
This is about fitting for a brand that prides itself in making Japanese-style kitchen knives, as they are known to be much sharper and precise than their German counterparts.
As mentioned earlier, German knives will be sharpened to a less fine angle, and considering that Wusthof is a German brand, it's about expected that their blades aren't as sharp right out of the box.
All Wusthof blades will be sharpened to a 15-degree angle on each side, which is not as sharp as some Dalstrong collections, but will serve you very well in the kitchen just the same.
Construction
Wusthof is known for its 40-step process in constructing its knives.
While going through the steps one-by-one will simply be impractical, we can take a quick look at how it's done.
Most Wusthof knives are forged, which basically means that the entire blade is expertly constructed from a single piece of stainless steel.
Forged knives are sharper, more durable, and higher-quality as opposed to stamped blades, but that also means they are more expensive.
So if knives constructed in this manner aren't in your price range, you might want to consider Wusthof's Gourmet line, which is their cheapest collection that has stamped blades.
These products are also full-tang, which means the steel runs throughout the entirety of the knife, giving you much more balance.
All Dalstrong are forged and are also full-tang, which means that they are highly durable and very easy to use.
Dalstrong blades are made in China by experts who use steel that's important from either Japan, America, or Germany, depending on which collection you're shopping from.
The knives are also cold-rolled, heat-treated, and annealed depending on the design.
This makes for a very good blade that is fit for a professional kitchen as well as a home kitchen.
Who Are These Knives For?
Both of these brands are fit for professionals and home cooks alike.
They are incredibly high-quality blades, fit for just about any cutting, slicing, or dicing job you can think of in the kitchen.
You won't find too many complaints out there from customers of either brand as they will usually say that a set of either Dalstrong or Wusthof blades is worth every penny.
That being said, both Dalstrong and Wusthof products come with a pretty hefty price tag.
And while Dalstrong knives are a bit more affordable, the difference isn't too grand.
This is why these brands are recommended for experienced cooks since beginners might not be able to afford them.
But if you're willing and able to make the investment, rest assured that you will be buying some of the best blades on the market today.
Since Dalstrong knives use Japanese-style techniques in their construction, they are more recommended for people who need extra precision, which will be needed in a lot of different styles of cooking, especially Asian and French cuisine.
However, if you're more comfortable with the German construction and you don't want to make the switch, the Wusthof is the right way to go.
Dalstrong Pros & Cons
Pros:
Ground to an incredibly sharp and precise angle
A bit more affordable than other brands in its range
High-quality and reliable knives
Durable
Fit for a professional kitchen
Cons:
Wusthof Pros & Cons
Pros:
One of the oldest and most reliable brands on the market today
Tried and tested knives
Ideal for professionals
It will be razor-sharp right out of the box
Uses a unique 40-step process in constructing their knives
Cons:
Our Verdict
And that concludes our comparison.
While Dalstrong is considered a newcomer to the knife game, it can easily stand up to its long-time competitors.
And Wusthof is one of the most tried, tested, and trusted brands in the culinary world today.
Both of these brands will ask for a fairly expensive price tag, especially if it's your first set of knives.
But that does not mean that you aren't going to be getting your money's worth.
Considering that Dalstrong and Wusthof are used by professional chefs all over the world, it should be no secret that they are worth the money.
So if you're a professional chef or a young cook starting out their culinary journey and you're willing to make a very worthwhile investment, then you can't go wrong with either of these choices.
Just make sure to remember that the best knife brand for you is the one that you are comfortable with and enjoy using in your kitchen.
Ryan Leavitt
Hi my name is Ryan Leavitt a Marine Corps Veteran and currently an over the road trucker (Long Haul). I am no expert chef but am enjoying preparing my own meals on the road and testing all the different knives.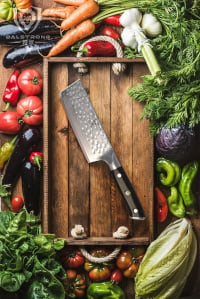 Want FREE Knives?
We give these knives a quick twirl and review, and then we pass them on to a few lucky home chefs!
By subscribing, you agree to get emails from me, Ryan Leavitt. I'll respect your privacy and you can unsubscribe any time.