You know what?
Sharpening and honing your blades often is one of the best ways of ensuring that the knives remain in pristine condition throughout.
The Dalstrong Premium Whetstone is one of the best sharpeners to use in the kitchen since it is well-designed for ease of use.
The whetstone will make it effortless for you to have a lasting scalpel-sharp edge.
Pros:
Ideal for use with a wide variety of blades and knives
Easy to use
Large sharpening surface
Nice wood base
2 separate sharpening stones (400 grit & 1000grit)
Cons:
Manually operated hence labor-intensive
We earn a commission if you make a purchase, at no additional cost to you.
Other product reviews:
Incredible value for money
When you invest in this Dalstrong Whetstone, you get two sharpening stones for the value of one.
This sharpening set offers two individual whetstones that provide precision sharpening.
The 400 coarse-grit sharpening stone is designed to sharpen extremely dull or damaged stones.
The 1000 gritstone is an all-purpose surface that is ideal for finishing and polishing a screamingly sharp edge.
This premium quality whetstone is constructed using top-grade aluminum oxide (corundum).
This surface is resistant to wear and tear and provides the best sharpening surface.
The whetstone is large and thick for providing an increased sharpening surface area.
This makes the sharpener ideal for different sizes of blades including long blades.
Reliable performance
One of the best things about this Dalstrong Whetstone is that its performance is reliable and dependable.
Unlike other sharpeners that seem to break down in a few months, this whetstone remains efficient throughout its life.
With the right sharpening angle and technique, you will transform your blade from a dull and unreliable one to a sharp and efficient blade within a few minutes.
For the best performance and results using this whetstone, you should always follow the manufacturer's provisions. For starters, you should avoid cross-contamination of the grits.
The Dalstrong Whetstone set comes with a user manual that guides you on how to use the sharpener in the best way that guarantees its performance.
This will lead to uneven finishes.
The nice wood base in the whetstone guarantees that the sharpener remains stable when in use.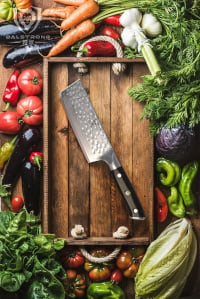 Want FREE Knives?
We give these knives a quick twirl and review, and then we pass them on to a few lucky home chefs!
By subscribing, you agree to get emails from me, Ryan Leavitt. I'll respect your privacy and you can unsubscribe any time.
Expert design and construction
All Dalstrong products are designed expertly using superb craftsmanship.
Similarly, this whetstone features award-winning craftsmanship and inspirational designs.
This combination gives rise to a high-end whetstone that is suitable for regular use in the kitchen.
Ideally, Dalstrong makes products that are specially designed to meet the needs of its users.
This Dalstrong Whetstone is handcrafted for elegance, functionality, and dependability.
The handcrafting ensures that there are no errors or faults in the sharpening surface.
Consequently, this helps in guaranteeing that the sharpening surface not only sharpens the edges but also repairs and hones them for a straight cutting edge.
Ideal for different types of blades
If you are looking for a whetstone that you can use with all your knives, then this Dalstrong Premium Whetstone is the best choice for you.
From simple knives such as a chef's knife to special blades like Santokus, Nakiris, boning and paring knives, the whetstone is perfect for sharpening the edges in these blades.
What is more unique about the sharpener is that you can also use it for sharpening serrated edges such as bread knives.
Generally, this whetstone by Dalstrong is designed for use with Japanese and German-style knives.
This means that with this stone sharpener, you do not need to invest in an alternative sharpener.
The most amazing aspect of the sharpener is that it is cheap to maintain.
You only need to oil and store it accordingly for it to remain in the best working conditions.
Customer feedback
Dalstrong products seem to enjoy a good reputation and recognition in the market.
This is primarily because the products feature the best qualities and are built to last.
Likewise, this premium whetstone by Dalstrong seems to be a favorite sharpener for most chefs and cooks.
Most people note that the sharpener is quite easy and effortless to use without prior experience.
This simplicity is why most chefs and cooks prefer the whetstone over other sharpeners.
Additionally, the two stones in this whetstone set allow chefs to sharpen and hone their knives as they would wish.
Other chefs and cooks have the view that the large sharpening surface of the sharpener makes sharpening easy even for people without prior experience.
The acacia wood base seems to be yet another great addition in the sharpener according to chefs and cooks.
They say that the base provides stability and firmness when using the sharpener.
FAQ's
Are these water or oil-based stones?
These are water-based stones.
So, you need to soak them up before using them.
Where are these stones made?
They are made in YangJiang, China, which is a city renowned for its 1500-year long of knife-making history.
Can I purchase these stones separately?
No, that's no possible.
You will have to buy the whole package.
Is aluminum oxide toxic at all?
Yes, BUT only if you inhale dry, fine aluminum oxide particles.
So, if you soak the stones first before using them, there wouldn't be any issues.
What are the actual dimensions of the 6000 gritstone?
The #6000 grit stone's dimensions is 3.54″ x 0.90″ x 8.81″.
Conclusion
It is undoubtedly true that you can never go wrong with Dalstrong products.
Therefore, when you invest in this whetstone, you can be assured that you will not only get value for your money but also a dependable and efficient stone sharpener.
This whetstone will complement your knife collection and ensure that it sharpens them perfectly.
[toc]
Ryan Leavitt
Hi my name is Ryan Leavitt a Marine Corps Veteran and currently an over the road trucker (Long Haul). I am no expert chef but am enjoying preparing my own meals on the road and testing all the different knives.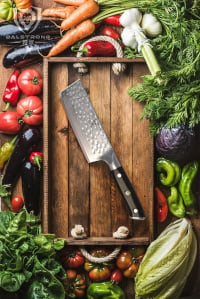 Want FREE Knives?
We give these knives a quick twirl and review, and then we pass them on to a few lucky home chefs!
By subscribing, you agree to get emails from me, Ryan Leavitt. I'll respect your privacy and you can unsubscribe any time.