While the Shun brand is fairly young, only hitting the market officially in 2002, it has made waves in the culinary world.
In fact, the brand has won the knife of the year award nine times since their inception, and today, we'll be taking a close look at one of their best lines: The Shun Premier.
This is a collection that contains some of the brand's best knives, and we'll be taking a close look at them in this Shun Premier review.
If you've been looking to learn more about the specific characteristics of the blades in this line and whether or not they're worth the investment, you've come to the right place.
Read on to learn more.
We earn a commission if you make a purchase, at no additional cost to you.
Pros:
VG-Max core blades
Beautiful Damascus finish on the blade
Classy pakkawood handle
Very sharp
Light and easy to control
Cons:
Fairly expensive
Needs to be hand-washed
Key Features Of The Shun Premier Line
The Knives
While each of the individual Shun Premier knives is well-worth taking a close look at, we'll be looking at them as a set today.
The full, 15-piece block set hosts a collection of blades to help you accomplish any kitchen prep job you can think of.
It has a 4" paring knife, a 5.5" nakiri, a 6" utility knife, a 6" fillet knife, a 6.5" utility knife, 7" santoku, 8" chef knife, 9" bread knife, a 9.5" slicing knife, four steak knives, honing steel and an angled knife block for easy storing.
All of these blades are well made, very sharp, and have an excellent finish, but we'll get into those details a bit later.
The knife block has 17-slots, so it will allow you to store a couple of other tools that you have in the kitchen.
As a set, this is one of the most complete and high-quality ones you can get your hands on.
And now that that's done, it's time to take a close look at the work that goes into making these blades.
Construction
All the blades are made with a tough VG-Max steel core and 34 layers of high-carbon stainless steel on each side.
This equates to a total of 68 layers of steel forged in the Damascus tradition.
The result of this construction is a collection of blades that look great, are incredibly tough, are razor-sharp, and will retain their edge for a long time.
The knives in this line were made using the Japanese Kasumi method that directly translates to mist.
This is because of the soft and "misty" exterior of the blade and the very tough core that make it very durable and sharp.
Design
As mentioned earlier, the knife has a "misty" look to it.
This is probably because of the finish of the Damascus steel blade.
On the upper half of the blades, you'll notice a hammered Damascus finish, and towards the edge, you get a swirly Damascus pattern.
The finish on this blade is one of the main reasons it's loved so much by chefs all over.
And on top of that, it comes with a beautiful Pakkawood handle with a dark finish and brass ring at the end that rounds off the classic look of Premier models.
Having that type of handle not only adds to the aesthetic but also allows you to grip the knife more comfortably.
This combination of functionality and style in their designs is just one of the reasons Shun is at the very top of the market right now and is loved by a bunch of different chefs all around the world.
The Edge
It's no secret that these knives are on the more expensive side of things, which is why it's about expected that they have sharp edges.
On top of the Damascus steel used in the blade, the edges are sharpened to a very precise 16 degrees.
For comparison, most Western chef knife brands only sharpen the edges to around 22 degrees.
Because of the superior steel that Shun uses in their construction, they can sharpen the blades to a very sharp edge without worrying about it losing any durability.
Both of the sides are ground to 16-degrees, which means they are double-beveled.
Not only are these knives sharper and easier to use, but they can also be used by both right and left-handed chefs without any problem.
Overall Customer Reviews
Another thing to take into account when reviewing a knife is to see how other customers reacted to the product.
After searching for Shun Premier reviews on the internet, I found that most of the customers who bought knives in this line were very satisfied.
They were quick to praise how sharp the knives were right out of the box and how beautiful the box set looks with the wooden storage block and well-designed handles.
Some people complained that these were expensive, but considering the sheer quality of the blades, it's worth the investment.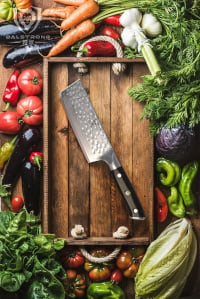 Want FREE Knives?
We give these knives a quick twirl and review, and then we pass them on to a few lucky home chefs!
By subscribing, you agree to get emails from me, Ryan Leavitt. I'll respect your privacy and you can unsubscribe any time.
Conclusion
The Shun Premier line is one of the best the brand has to offer.
That being said, it's one of the more expensive ones on the market today.
So if you're on a budget and not too keen on making a big investment, this may not be the one for you.
But if you've been looking for high-quality Damascus steel knives that are designed well and perform well, then the Premier line will suit your need very well.
So if you think that a Shun Premier knife is the right way to go in your culinary journey, the only thing left to do is get one for yourself.
And before you know it, you'll be slicing away in the kitchen like a true professional.
Further reading
7 Healthy Cooking Tips For Beginners
Ryan Leavitt
Hi my name is Ryan Leavitt a Marine Corps Veteran and currently an over the road trucker (Long Haul). I am no expert chef but am enjoying preparing my own meals on the road and testing all the different knives.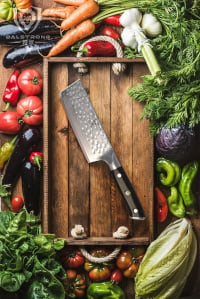 Want FREE Knives?
We give these knives a quick twirl and review, and then we pass them on to a few lucky home chefs!
By subscribing, you agree to get emails from me, Ryan Leavitt. I'll respect your privacy and you can unsubscribe any time.