A sharp blade is every chef's dream cutting tool.
There are conflicting ideas on the best sharpener to use in the kitchen.
But, pull-through knife sharpeners do not receive the appreciation they deserve.
Ideally, they are easy to use and come with guaranteed results.
Unlike sharpening steel that requires intense manual input, pull-through sharpeners on the other hand require minimal input.
But, do they really work?
Well, they are efficient and reliable for all your sharpening needs.
As such, they work efficiently when it comes to grinding your knives, blades, and other cutting tools.
However, electric pull-through sharpeners tend to remove too much metal from the blade's surface.
Therefore, they may have a damaging effect on your blades.
Related: Knife sharpener types you should know about
How do these sharpening tools work?
Essentially, they are quite straightforward to use.
Their simplistic designs are flexible such that they can be used for sharpening a wide variety of blades and cutting tools.
They feature V-slots where you place the blade in readiness for grinding.
When grinding your blade using them, all you need to do is position the blade into the slots.
Then pull the blade at a constant speed to grind the cutting edge.
For manual versions, you will need to pull the blade manually.
On the other hand, electric pull-through versions feature automated operations.
You only need to position the blade in the slots and press the power-on button.
The sharpener does the sharpening work for you.
The slots are set at a standard grinding angle, thereby making the them ideal for different types and lengths of blades.
Pros:
Compact design
Easy to store
Efficient and reliable sharpener
Flexible and versatile
Easy to use
Quick and fast sharpening
Cons:
Eats away too much metal from the blade
How to choose a good one?
There are tons of pull-through knife sharpeners in the market.
As such, choosing the right sharpener for your blades can be quite confusing especially for beginners.
So, what are you supposed to put into consideration when you are looking to buy the best pull-through sharpener?
Brand
There are lots of brands to choose from.
Some brands are reputable while others are known to make poor quality sharpeners.
Such products fall apart within no time.
Therefore, you should undertake detailed research on the best brand to settle for.
Check reviews online on the durability and reliability of the brands of interest.
Budget
How much are you willing to spend?
The budget should be influenced by your financial capabilities.
Ideally, the price varies from one brand to the next.
Manual sharpeners are considerably cheap and only cost a few dollars.
On the other hand, electric devices are quite pricey with some models costing over $50.
When checking the price, you should consider both upfront and maintenance costs.
Size
How much storage space is available in the kitchen?
Some are bulky while others are compact.
However, the ideal sharpener to invest in should be compact as such sharpeners are easy to carry around.
Also, they are easy to use due to their simplistic designs.
Number of sharpening slots
Most pull-through models come with more than one grinding slot.
The greatest setback about single slot sharpeners is that the performance is limited to one blade at a time.
Settle for models with at least two or more slots.
Such sharpeners are versatile and allow for flexibility in their use.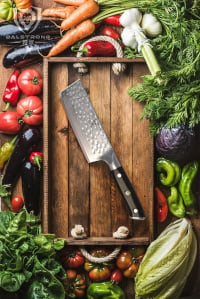 Want FREE Knives?
We give these knives a quick twirl and review, and then we pass them on to a few lucky home chefs!
By subscribing, you agree to get emails from me, Ryan Leavitt. I'll respect your privacy and you can unsubscribe any time.
A bonus tip
Whichever brand and model of pull-through knife sharpener you buy, it is paramount that you accord the sharpener the best care and maintenance.
This goes a long way in ensuring that the appliance lasts for a long time while providing you with the best and most reliable performance.
Follow the manufacturer's provisions on using and maintaining the sharpener.
Is a pull-through knife sharpener right for you?
If you are the kind of chef who is always looking for a quick and fast sharpening gadget, then this is the right sharpener for you.
The designs and efficiencies vary widely to accommodate everyone's needs and preferences.
Conclusion
Pull-through knife sharpeners are lifesavers in all kitchens; from small ones to complex commercial ones.
These tools make it effortlessly easy to maintain your blades in pristine condition.
The flexibility allows you to settle for the brand and model that meets your preferences.
Since you have paid top dollar for your blade, it is only right that you maintain and care for it accordingly.
Ryan Leavitt
Hi my name is Ryan Leavitt a Marine Corps Veteran and currently an over the road trucker (Long Haul). I am no expert chef but am enjoying preparing my own meals on the road and testing all the different knives.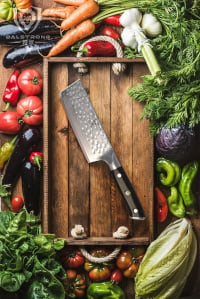 Want FREE Knives?
We give these knives a quick twirl and review, and then we pass them on to a few lucky home chefs!
By subscribing, you agree to get emails from me, Ryan Leavitt. I'll respect your privacy and you can unsubscribe any time.