One of the key separators between a high-quality and low-quality knife is what steel recipe was used.
Typically, steel is divided into three categories; high-end, mid-grade, and low-end steel.
For a high-quality knife, it's best to use high-end steel.
One of the most popular high-end steel recipes for knives is Elmax.
Many knife enthusiasts call in the "best all-around knife steel".
This is because Elmax is high in chromium, carbon, vanadium, and manganese.
All of these elements are important in creating steel that can withstand the abuse that a high-quality knife goes through.
While an Elmax steel knife would be a great choice for any enthusiast, it can also fetch a fairly high price tag.
In this Elmax Steel Knife review, we dissect this steel recipe and look at its features and properties.
And by the end, you'll know if it's the right material for your next knife.
Keep reading to learn more.
Related: The ultimate guide to knife steel
Basic Information
Elmax stainless steel deserves to be one of the perfect components for premium knives.
This steel is the invention of Bohler-Uddenholm. Since Elmax knives are in the high-grade section, they often come with high prices.
However, you will get what you pay for; the knives from Elmax are worth investments.
The Compositions
Bohler-Uddenholm creates this amazing stainless steel, so the brand wants to keep a few components of this steel for its exclusive right. This formula chart below just show some common substances:
| | | |
| --- | --- | --- |
| Substances | Ratio | Purposes |
| Carbon | 1.7% | Boosting the resistance to wear and the hardness. A high level of Carbon may reduce the knives' strength, so this level is perfect. Besides, this is the reason why this stainless steel is used for making high-end knives. Knives in low-end and mid-end are just manufactured with less than 1% of Carbon. |
| Chromium | 18% | Making the edge retention and strength more tensile while also improving the wear resistance |
| Manganese | 0.3% | Contributing to the stability of brittleness and hardness |
| Silicon | 0.8% | Improving the strength |
| Molybdenum | 1% | Boosting the machinability |
| Vanadium | 3% | Also for the wear-resistance improvement |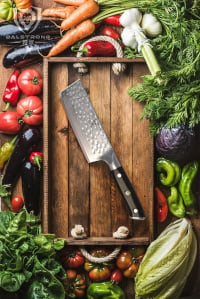 Want FREE Knives?
We give these knives a quick twirl and review, and then we pass them on to a few lucky home chefs!
By subscribing, you agree to get emails from me, Ryan Leavitt. I'll respect your privacy and you can unsubscribe any time.
Great Features
Let's check out some spectacular features of this material to see the reason why this material is the top-notch one for making knives:
Hardness
The Elmax steel offers a 62 HRC hardness. If you don't know what HRC is, we will explain it to you.
HRC stands for Rockwell Hardness C. To be specific, "Rockwell " is the name of two scientists Stanley P.Rockwell and Hugh M.Rockwell, who introduced the Rockwell testing method for hardness. The letter "C" is the 150 kg C scale, which is a measuring unit in the Rockwell method.
In the HRC hardness measurement, there are four categories:
| | |
| --- | --- |
| less than 20 HRC | Low-end steels |
| from 25-45 HRC | Medium steels |
| from 52-60 HRC | High-end steels |
| more than 62 HRC | Remarkably high-quality steels |
From this table above, you can imagine how great this Elmax's hardness is. Therefore, you can rely on any Elmax knives thanks to their excellent hardness.
Corrosion-resistance
This knife material will guarantee you an exceptional corrosion-resistance ability due to the high level of Chromium (18%). Moreover, this high ratio of Chromium can increase Elmax's ability to withstand high temperatures while using. As a result, the risk of temper embrittlement is almost eliminated in this high-end steel.
Wear-resistance
Commonly, a Carbon steel knife only contains 0.3 to 1.7% of Carbon. Yet, this type of material is made with 1.8% of Carbon. What is the advantage of a high level of Carbon?
The ratio of Carbon will decide the strength and the wear resistance. The more Carbon a knife comprises, the stronger it becomes.
Moreover, high-carbon steel can distribute Carbon to more spots of the knife, so the ability to resist wear is better. On the contrary, lower ratios of Carbon can only stress on some knives' parts, so they are easily prone to be worn.
Sharpening
Unlike other hard steel knives, these knives are effortless to sharpen. Therefore, your maintenance task can be carried out without any hindrance.
Toughness
In mechanics, toughness and hardness are different terms. While hardness mentions the ability to withstand abrasion, toughness is the feature to deal with fractures.
A low-end or medium steel knife can be considered a decent product if it possesses one of these two characteristics. Yet, it can balance toughness and hardness. For this reason, it's not a boast to regard Elmax as Wonderful Steel.
Elmax Steel Knife Review
We have shared with you the fundamental information about the outstanding knife steel, Elmax. Now, from our viewpoint, we will give you the recommendation of the best choice on the market. It's the Enzo Trapper 115.
Of course, every Elmax knife will have the outstanding features of the steel, so we will review the Enzo knife in terms of design, provided accessory, and price.
If you are looking for a perfect high-end blade, Enzo Trapper 115 can be a good option. This Enzo features a drop point blade of 115mm, which is not too long but suitable for carrying out outdoor activities.
The 33.5mm blade's thickness is not as adequate as other Elmax products, but it doesn't affect toughness at all. Some reviewers even reckon that this thickness can handle bullets. Plus, the medium thickness is an advantage for a survival knife.
Moreover, the Trapper 115 provides users with great ergonomics thanks to the green Micarta handle. For those with small and average hand sizes, there can't be any complaint when holding this Enzo in their hands.
So, is it unsuitable for people with big hand sizes? No, interestingly, you can customize this Enzo Trapper 115 before the brand delivers its knife to you. Hence, you will get an Elmax knife, which suits you best.
What's more, this Enzo is packed with a thick Spanish leather sheath. The cover not only protects your knife, but its high-quality outlook will make your item more stylish when being carried.
The price is reasonable. Yet, the term "reasonable" here is true only in the range of premium knives. It's still not a good choice for people with a tight budget.
Bottom Lines
Elmax stainless steel is the top-notch material for making knives. The review above has shared with you much crucial information about this material. Although the price for an Elmax knife is not affordable, you will get what you pay for.
Ryan Leavitt
Hi my name is Ryan Leavitt a Marine Corps Veteran and currently an over the road trucker (Long Haul). I am no expert chef but am enjoying preparing my own meals on the road and testing all the different knives.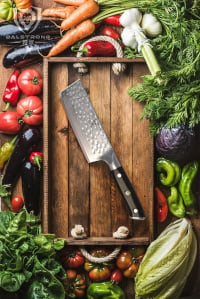 Want FREE Knives?
We give these knives a quick twirl and review, and then we pass them on to a few lucky home chefs!
By subscribing, you agree to get emails from me, Ryan Leavitt. I'll respect your privacy and you can unsubscribe any time.