While it may be true that the knife is the most important for any chef, no prep set up would be complete without a high-quality cutting board.
This is the surface where all slicing and cutting motions will end, so you have to choose the right one so you don't risk damaging your precious blades.
On top of that, this is also where most of your food will be prepped.
It is where you will be dicing onions, chopping vegetables, and slicing meat, so you'd also want a product that was sanitary and safe for food.
In this article, we're going to be talking about a couple of things you need to look out for when shopping for a cutting board.
So if you've been looking for the right one for your kitchen, you've come to the right place.
Read on to learn more!
Cutting Board Buying Guide
Material
The most important factor to consider is the material used to make the board, and we'll be going over some of the most popular materials in this section.
Wood
Wood is by far the superior choice for most people, and most chefs out there will recommend getting a wooden board for your kitchen.
This is because the material is durable, sanitary, and treats your knives very well.
On top of that, it's more friendly for the environment, especially if you opt for bamboo options.
This a surface best used for fruits and vegetables, but it would also be a great choice if you'll be prepping a lot of meat.
But the most important factor is that this material won't damage your knives as much as a lot of the other materials out on the market today.
Plastic
This would be the second-best option out there, and would actually be ideal for meat cutting boards.
This is because plastic isn't as porous as other materials, so oil and other residues from your ingredients won't seep into the board which can leave a pretty bad smell.
Plastic is non-renewable, so it isn't that good for the environment, but it is a durable material that can last you a very long time.
On top of that, it is also very kind to the edge of your blades, making it another great option for both professional and home kitchens.
Granite & Glass
These two materials are ones that should be avoided at all costs.
The only advantage they have is the aesthetic that these materials have.
Granite and glass products tend to have a very classy look to them, which is why a lot of people find them very appealing.
However, these products tend to be very expensive and since they are so hard can do a lot of damage to your blades.
Unless you're only getting one for decorative purposes, we don't recommend that you get a glass or a granite cutting board.
Size
The next thing you'll want to look at is the size of your cutting board.
This will all depend on your preferences and your setup in the kitchen.
If you plan on prepping a lot of ingredients, we recommend that you get models that have a wider surface area, which gives you more space to work with.
And if you're tall or you have a low counter to work on, consider getting a thick cutting board as that will help ease the workload and stress on your back.
Edge-Grain Versus End-Grain
When choosing between wooden options, you'll probably end up deciding on whether to get an edge-grain or end-grain model.
End-grain cutting boards have unique checkered patterns on them and are more durable and require more craftsmanship than edge-grain ones.
This also means that they are less harsh on edge of your knife, making it a great option for people with expensive cutlery collections.
That being said, end-grain is expensive, which is why it's more recommended for people who cook professionally or take gear very seriously.
Edge-grain is the budget option, but still works much better than most materials on the market today, and it gives people a cost-friendly yet highly functional option to choose from.
Have Multiple Cutting Boards
Another tip we can leave you is to have multiple cutting boards.
This will allow you to have a variety of options in the kitchen and give you a surface for prepping meat and protein, and one for chopping up fruits and vegetables.
A setup like this will really increase your workflow in the kitchen and allow you to utilize different types of cutting boards.
Conclusion
And that concludes our cutting board buying guide.
If you are getting your first one, then we recommend that you get a wooden option or a bamboo one.
These models are ideal if you only have one board, and can serve you for a very long time.
However, at the end of the day, what matters is what you're comfortable with.
So as long as you feel good and comfortable using a certain board, regardless of the size and material, then you already have the best cutting board for you!
Ryan Leavitt
Hi my name is Ryan Leavitt a Marine Corps Veteran and currently an over the road trucker (Long Haul). I am no expert chef but am enjoying preparing my own meals on the road and testing all the different knives.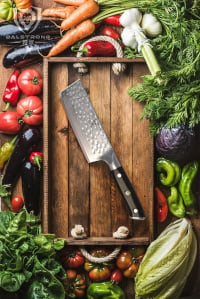 Want FREE Knives?
We give these knives a quick twirl and review, and then we pass them on to a few lucky home chefs!
By subscribing, you agree to get emails from me, Ryan Leavitt. I'll respect your privacy and you can unsubscribe any time.