You may be the most familiar one with the kitchen if you are a cook in your home. Though, the question is: are you already satisfied and content with your kitchen? If you want to brighten up your dull kitchen a lot more, here are the top 7 ways to easily improve your kitchen the way you want to.
Declutter Your Stuff
The kitchen can get packed with a huge amount of stuff, and this can make it feel like a huge job to declutter the room. Try to divide these tasks into several days, to make you feel less pressured and stressed about it.
Before anything else, you should first gather many boxes. There should be boxes designated for donation, there should be boxes for items you plan to sell, and a box for items that need to be relocated. The trick to decluttering the kitchen is to concentrate on one area at a time. Try to start with one cabinet or one drawer. 
Then, go through everything in it and decide whether it should stay in your kitchen or should it go already. If it's going to remain in the kitchen, just ask yourself where the best place should be. Keep going until every single thing in that drawer or cabinet has been processed.
Last, you should prepare some garbage and recycling bags for the last clean-up. You may be throwing out a lot of things than you expected.
Organize Your Kitchen Essentials
After decluttering comes organizing. The boxes of items for relocation are already prepared, and now, it is time to put them to their respective positions. Make use of your cabinets.
If you think that you are not using this tool or equipment daily, it is better to move it away inside the cabinet rather than letting it stay on the countertops. A clearer countertop will bring a nice feel to the kitchen, and there will be more space for you to work out on your preparation of meals.
You can also opt for adhesive hooks used for hanging kitchen utensils and the like for a more breathable space. The next thing is that you should have a place designated for cleaning materials in the kitchen area.
From microfibre cloths to natural cleaning products- make a place for them so that you will be able to reach them out easily after you are done with the kitchen. Do not leave the mess out there, as it will cause germs to linger around the kitchen.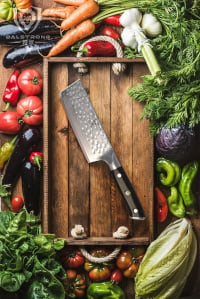 Want FREE Knives?
We give these knives a quick twirl and review, and then we pass them on to a few lucky home chefs!
By subscribing, you agree to get emails from me, Ryan Leavitt. I'll respect your privacy and you can unsubscribe any time.
Update The Countertops
Kitchen countertops appear to get really old and worn out over the course of time. So, you should update them once you have the budget for it. On the other hand, you can consider getting some touch-up kits.
By using touch-up kits, you can easily patch the damaged areas of your countertop. However, if you do not have the budget for it yet, simply cover the damaged areas by putting something on the spot if you are still saving up money for replacement or repair.
Paint It Out
Paint the walls and paint the cabinets- paint it out! Nothing gives a much brighter and brand new look than having that fresh coat of paint around. It is not surprising that your kitchen looks duller every time due to daily wear and tear cooking or preparing food brings. It can be from steams, oil splashes, and spices.
This can be happening a bit faster if you are not tending to the mess and cleaning it properly as soon as possible. If your kitchen walls and ceilings are deteriorating already, a fresh coat of paint will bring that sparkle back.
Also, for your cabinets, it will make them look new once again, especially if you can not afford to buy cabinets at the moment. A simple paint will do the trick and will certainly improve your kitchen.
However, you should always remember that if the place and the cabinets are too worn out, you should save for a remodel or a renovation instead. Nothing is more comparable than to treat yourself to a new kitchen, after all. You want only the best, so you have to give your best to get the kitchen improvisation you love.
Change Your Lighting
The thing is, lighting in your home is such a significant part of the style and environment, and it is no different in your kitchen. Maybe it has been a while since new light fixtures have been added to the place. You should know that lighting can greatly bring an impact to the atmosphere of the kitchen.
Moreover, you can express your style better and complement your decoration at the same time with lighting. Consider picking lights that can be dimmed so that the light can be adjusted according to your liking and time of day.
Change Your Faucet
Definitely, changing your kitchen faucet is one easy way of upgrading your kitchen. You do not know how changing your faucet can make a big difference in your kitchen. By simply replacing, it will bring a brand new look to your kitchen.
Perhaps, your faucet has been leaking for quite some time and you want to replace it already which will reduce the cost of your water bill. Or maybe you want to let the faucet blend with the style of your kitchen- whatever your decision is, it is recommended to replace it if you can afford it!
Show Off Your Collection
The last on the list- show off your collection. You can bring the beauty of the kitchen to its peak when you have the items and essentials on display. If you have shelves in the kitchen area, it is a good idea to put the spices there and other bottles that you use for cooking.
Or, if you want to take it to the next level, you can apply a light glass display to your top cabinets for a finishing touch to show off the magnificent plates and glasses. Perhaps, you have some antique tools that you have kept hidden in one of your cabinets, it is time to put them on display now.
Just bear in mind to incorporate and style them with one another- from the paint to the texture, and a lot more. Make them blend or make them contrast with each other- whatever that makes them look better and highlighted. With these seven ways, you can make your kitchen better than ever before.
Giving your kitchen a makeover is one of the things that can be highly exciting and fun. It is something individuals always consider, particularly because they spend a lot of time there in the kitchen.
It is very vital for your functional needs, after all. With these top seven ways to easily improve your kitchen discussed above, you will continue to find inspiration every time you work there due to its new look and you will be able to cook some delicious and salivating meals with a heart.
Ryan Leavitt
Hi my name is Ryan Leavitt a Marine Corps Veteran and currently an over the road trucker (Long Haul). I am no expert chef but am enjoying preparing my own meals on the road and testing all the different knives.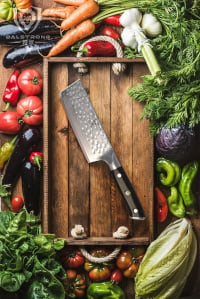 Want FREE Knives?
We give these knives a quick twirl and review, and then we pass them on to a few lucky home chefs!
By subscribing, you agree to get emails from me, Ryan Leavitt. I'll respect your privacy and you can unsubscribe any time.