The most effective ways to store chef knives are either in a knife roll, magnetic strip, or wooden block. These methods keep knives safe and sharp. Make sure to store knives in a cool and dry place to further prevent corrosion.
Having a proper set of kitchen knives is integral for any chef or home cook.
However, getting your hands on quality chef knives is just half the battle.
To make sure your chef knives stay sharp and functional, it's very important to store them properly.
And since many chef knives are fairly expensive, we want our knives to stay sharp and functional as long as possible.
Improper storage can lead to your knives losing their edge, rusting, and debilitating in quality overall.
There's a large debate in the world of kitchen cutlery regarding the best ways to store chef knives.
This can be very confusing to many people just looking to keep their blades safe and protected.
So today, we take a look at how to store chef knives properly.
Related:
Wooden block
This is the best storage option you can have for your kitchen.
Most cooks and chefs have a sturdy block in their kitchens for storing a wide variety of blades.
The best thing about a wooden block is that it keeps knives organized and allows for easy retrieval.
Additionally, these blocks are portable thereby making it effortless to move all your blades at once.
Most wooden blocks come with a waterproof finish that guarantees the best protection against water and moisture.
Also, these blocks are finely finished to rhyme perfectly with the rest of the appliances in the kitchen and the rest of your cutlery collection.
These blocks vary in size with large blocks accommodating more blades than smaller blocks.
As such, you choose your ideal block depending on the number of knives in your collection.
A knife block with a slot for storing shears is a great addition.
Pros:
Easy to organize your blades
Compact and portable
Unique design hence attractive
Allows for easy blade retrieval
Cons:
These blocks may harbor when not washed properly
Magnetic bar
If you have limited countertop space in your kitchen, you should consider using a magnetic holder for holding your blades.
It comes in handy if you have several blades that you use constantly in the kitchen during food preparation.
These strips come in different lengths and as such, it is easy to find the strip that can accommodate all your blades.
The best thing here is that they allow for easy access and retrieval of the blades.
A magnetic knife bar is a great choice for commercial kitchens.
It is a popular choice among professional chefs.
This magnetic strip just like a wooden block provides for the best edge protection of your chef knife.
The strips are easy to install and are also attractive as they display your collection.
Additionally, these strips add a stylish and modern appeal to your kitchen thereby enhancing the mood of the kitchen.
It is recommended that you only buy a magnetic strip that is designed and suited to hold the weight of your chef knife as well as the rest of your blade collection.
A magnetic stripe is a great option for keeping your blades out of a kid's reach.
Pros:
Space-efficient storage
Stylish and decorative display
Easy to install
Allows for easy access
Cons:
These strips can chip the cutting edge easily if mishandled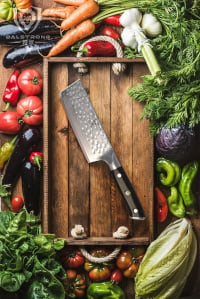 Want FREE Knives?
We give these knives a quick twirl and review, and then we pass them on to a few lucky home chefs!
By subscribing, you agree to get emails from me, Ryan Leavitt. I'll respect your privacy and you can unsubscribe any time.
Plastic edge guard
If you are shopping for an affordable option of storing your chef knife, you should consider buying plastic knife edge guards.
These guards are easy to use and provide the best protection to the cutting edge.
In addition to this, the edge guards ensure that the blades do not pose any safety hazards while the blades are in storage.
The only catch when it comes to using edge guards is that they come in specific sizes.
As such, you need to look for the size that your knife will fit in comfortably.
These guards also provide for easy transport of the blades as the cutting edges are completely concealed.
Pros:
Inexpensive storage option
Provides the best edge protection
Enhances safety when storing or carrying the blades
Durable and long-lasting
Cons:
Not ideal for a large collection
In-drawer storage
If you are in the market for a classy and stylish knife storage option, then you should opt for an in-drawer system.
This option is designed to accommodate a customized knife collection and allows for easy blade retrieval.
This storage option is only ideal for chefs and cooks with dedicated drawer space in their kitchens.
As such, for chefs whose kitchens are less spacious, this in-drawer knife storage is not the best choice for them.
The best thing here is that it protects the blade from all damaging effects including moisture and collision with other utensils.
Pros:
Classy and stylish storage option
Well organized storage option
Perfect for a large blade collection
Easy to customize
Cons:
Not ideal for less-spacious kitchens
Useful knife care tips
While storing your knives appropriately is one of the best ways of caring for the blades, you need to do a lot more to ensure that the blades remain in pristine condition.
Some of the tips on how to care for your blades include:
Hone regularly
Honing the cutting edge straightens it and ensures that the blade maintains its unique sharpness at all times.
Before you use your chef knife to cut through food items like meat or vegetables, you should take a few moments to hone both sides of the cutting edge.
Cut properly
Your mode of cutting using a knife can easily damage the blade.
As such, you should ensure that you use a chopping board at all times.
This is because contact between the cutting edge and hard surfaces dullens the blade easily.
Sharpen regularly
You should sharpen your blade immediately you notice that it is becoming dull.
Sharpening also helps in repairing nicks and dents that may be on the surface of the blade.
There are several sharpeners that you can consider using with your steel knife.
Some of these sharpeners include water stones, electric sharpeners, and sharpening steel rods.
Conclusion
To get the best cutting results when using your chef knife, you must maintain and store the blades accordingly.
Always settle for the knife storage option that works best for your kitchen and one that meets your needs.
Ryan Leavitt
Hi my name is Ryan Leavitt a Marine Corps Veteran and currently an over the road trucker (Long Haul). I am no expert chef but am enjoying preparing my own meals on the road and testing all the different knives.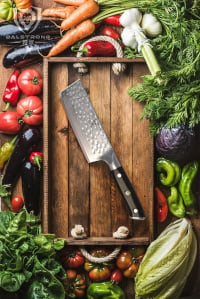 Want FREE Knives?
We give these knives a quick twirl and review, and then we pass them on to a few lucky home chefs!
By subscribing, you agree to get emails from me, Ryan Leavitt. I'll respect your privacy and you can unsubscribe any time.