Did you know?
This Imarku Pro chef knife combines the characteristics of a great chef's knife in one piece to bring efficiency to your kitchen. It gives your hand accuracy and agility you have not witnessed before.
What's more, the knife is capable of cutting all sorts of foods to make it an all-purpose cutting tool.
Read my review below for more info about this versatile knife.
Pros:
Durable high-carbon steel for the blade and long-lasting hardwood for the blade
Comfortable, ergonomically designed handle to prevent aches from extended use
A low-maintenance blade that resists staining, corrosion, and rusting
An ultra-sharp with a high edge retention capability
Excellent weight distribution for improved maneuverability and efficiency
Cons:
It may feel too weighty to an inexperienced user
We earn a commission if you make a purchase, at no additional cost to you.
A clean blade
The blade of the Imarku knife is almost maintenance-free.
The stainless steel it's built from doesn't stain or allow food particles to stick firmly to it.
It cleans in a second, either by washing it in water or wiping it with a dampened cloth.
The knife's blade is also rust-resistant. If kept in good condition, you will never have any rust spots on this knife.
See more:
A comfortable handle
The Imarku is designed to offer your hand the utmost comfort to enable you to work with it for extended times.
The handle is built to an ergonomic shape and size, so your palm doesn't ache after hours gripping it.
The handle is also made to give a knuckle clearance large enough to protect your fingers when working.
You can be certain that you won't be banging your fingers on the cutting board as you cut away at your foods.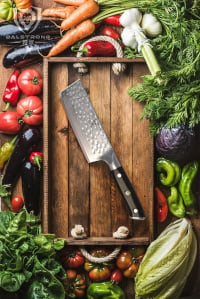 Want FREE Knives?
We give these knives a quick twirl and review, and then we pass them on to a few lucky home chefs!
By subscribing, you agree to get emails from me, Ryan Leavitt. I'll respect your privacy and you can unsubscribe any time.
A bolster for safety and weight balance
Weight balance is essential, especially for a long knife such as the Imarku.
To achieve a proper weight distribution, the knife features a bolstered handle.
It weighs down the handle so the knife doesn't feel awkward to use.
The bolder also clears your fingers away from the blade's edge for safety.
With this construction, you can work on your foods fast without the fear of accidentally cutting yourself.
A stylish and firm grip handle
If you have a taste for the beauty of wooden knife handles, you will instantly like this Imarku knife.
It features a beautifully crafted pakka wood handle.
The handle not only gives the knife a cool appearance, but the wood is also highly durable.
The wooden handle is made to provide a firm grip, enabling you to work efficiently and safely.
Your hand won't easily slide off the handle to endanger your fingers or cause damage to the food you're working on.
An ultra-sharp edge for efficiency
The Imarku cuts effortlessly, thanks to its super sharp edge.
The blade is made of high-carbon steel, making it easy to hone.
Using a simple sharpening tool, you will restore a dulled edge of the Imarku within minutes.
Plus, it retains the sharp edge for a length of time enough to allow you uninterrupted food preparation.
To ensure proper edge retention, you only need to store the knife where its blade will not come into contact with anything hard.
Also, wash it manually, as putting it in the dishwasher can cause the edge to bump on other pieces of cutlery and become dull.
Durable materials
The Imarku Pro Knife will last for long thanks to its premium materials that resist damage and wear.
The blade is stamped from a sheet of quality stainless steel.
The steel resists the wear that would result from repeatedly using the knife or the corrosion caused by acidic foods.
The handle is a sturdy hardwood known for its durability.
The wooden handle is also resin-treated to be impervious to water, making it resistant to the damage water would cause it.
Conclusion
For a knife that's moderately priced but with the versatility of a great chef's knife, the Imarku takes it all.
This knife doesn't disappoint when you have different sorts of foods to work on.
It skins, dices, slices, and even removes the meat off a bone without difficulty.
It's a cutting tool you will find useful as a chef.
Being an all-purpose knife, it makes your food preparation quick enough to save you time.
For agility in the kitchen, less damage to the food you cut, and for fatigue-free work, I would advise that you buy the Imarku Pro.
The knife will bring a noticeable change to the way you prepare food, both in the time you take and in the level of accuracy you achieve.
So, get it today and enjoy the benefits of this great knife.
Ryan Leavitt
Hi my name is Ryan Leavitt a Marine Corps Veteran and currently an over the road trucker (Long Haul). I am no expert chef but am enjoying preparing my own meals on the road and testing all the different knives.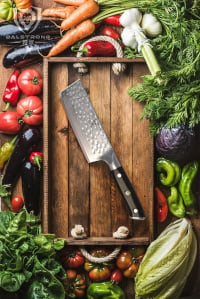 Want FREE Knives?
We give these knives a quick twirl and review, and then we pass them on to a few lucky home chefs!
By subscribing, you agree to get emails from me, Ryan Leavitt. I'll respect your privacy and you can unsubscribe any time.