The majority of people love seafood but many still believe that cooking seafood at home is a lot of hassle.
The great news is, it's really not.
What's more, both fish and shellfish are in fact, the most uncomplicated stuff to prepare, of course, if you have a decent recipe.
Here are some of the most interesting, scrumptious, and easiest dishes (even for absolute newbies) that can be ready in minutes, so from now on, you won't have to wait for the next restaurant visit to enjoy delicious seafood meals!
Instant Pot Shrimp Boil
If you're a happy owner of an Instant Pot, do not wait too long for trying this incredibly delicious recipe, which is arguably one of the easiest you have ever made.
Well, if you still do not have this amazing electric pressure cooker, consider getting one as life is so much nicer when you can enjoy the full benefits of healthy food ready to be served in minutes.
This particular shrimp boil is "snatched" from CorrieCooks, a favorite blog of many foodies, hence rest assured, the results will go far beyond your wildest expectations.
Just go with new potatoes, use large shrimps with the tail on, and follow these easy instructions.
You Will Need
1 lb shrimps
0.75 lb smoked sausage chopped
1 1/2 cup water
4 small potatoes chopped
2 ears corn chopped
1 bay leaves
1 onion chopped
1 lemon for serving
1 tbsp Old Bay seasoning
Salt to taste
How To Prepare
Place potatoes and onion into your Instant Pot, add water, bay leaves, and Old Bay seasoning.
The latter is a must for virtually everything with shrimps but if you don't have it at hand, you can make it yourself by combining ground bay leaves, celery salt, salt, pepper, nutmeg, red pepper flakes, ginger, cloves, cardamom, allspice, celery seeds, and dried mustard.
Close the lid and cook at high pressure for about 3 minutes. When cooking time ends, do a quick pressure release.
Now, it's the right time to add sausages, corn, shrimps, and salt. Cook at high pressure for another 2 minutes. When cooking time ends, perform a quick pressure release. Open the lid and serve your platter with lemon slices.
Baked Salmon
Salmon is arguably the world's most popular fish and for a good reason: it is heavenly delicious, very healthy, and yes, super easy to prepare.
Eating this fatty juicy fish on a regular basis comes with a plethora of benefits because it is so rich in protein, important vitamins, and minerals.
Including salmon in your diet helps improve heart health, supports the nervous system, facilitates proper thyroid function, and even repairs damaged tissues.
In addition to that, numerous studies have shown that salmon is good for your brain thanks to the fantastic abilities of omega-3 fatty acids.
Let's take a closer look not only at the simplest but also at the healthiest way to prepare salmon.
You Will Need
4 salmon fillets (make sure fish is really fresh, each fillet should be about 6 ounces)
2 tbsp. olive oil
1/4 tsp. cracked black pepper (finely ground is also fine but take just a pinch)
Salt to taste
2 tsp. garlic (minced)
1 tsp. Italian Herb seasoning (can be replaced by herbs de Provence or by your homemade blend: 1/4 tsp. of dried thyme, parsley, oregano, and basil)
1 lemon (medium)
How To Prepare
Preheat the oven to 400 degrees.
It's always better to use backing paper but you also can just thoroughly grease a baking pan. Nicely arrange your fillets and season them with salt and pepper.
Now, add herbs and garlic to olive oil, and squeeze the juice of half the lemon. Spoon the mixture over fillets and make sure to rub it all over, leaving no dry areas.
Slice the other half of lemon and place thin slices on top of the fillets.
Place in the oven and back for 15 minutes. You can add a couple of minutes but do not overbake because there is nothing more disappointing than dry salmon.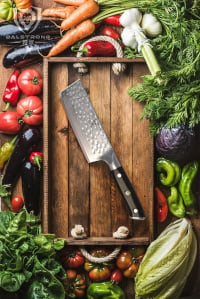 Want FREE Knives?
We give these knives a quick twirl and review, and then we pass them on to a few lucky home chefs!
By subscribing, you agree to get emails from me, Ryan Leavitt. I'll respect your privacy and you can unsubscribe any time.
Cozy Seafood Soup
Even though this may sound like a pretty complicated endeavor, this delicious seafood is ultimately easy to prepare.
The great bulk of the required time goes for chopping, dicing, and simmering to get that gorgeous taste and aroma that leaves no one unmoved.
The great thing about this soup is that you have all the freedom to use any type of fish you fancy.
Do not be afraid to toss in shrimps or even seafood leftovers, you just can't go wrong! All vegetables should be diced.
You Will Need
2 pounds fish (any fish you like)
1 cup onions
1 cup carrots
2 cup potatoes
1 cup zucchini
1 cup corn kernels
2 cups plum tomatoes (you can also use crushed)
2 quarts chicken stock
1 tbsp. Old Bay seasoning
1 tsp. sea salt
½ tsp. black pepper
1 tbsp. finely chopped fresh thyme
How To Prepare
Take a large pot, place it over medium heat, and add the olive oil, onions, and carrots.
Saute for about 3 minutes to see the onion getting nice golden color, then add all other vegetables except for tomatoes.
Cook for 7 minutes, then decrease the heat, letting your vegetables simmer for another 15 minutes. Now, add the stock, crushed tomatoes, and Old Bay, pepper, and salt. Bring everything to boil and immediately reduce the heat, leaving your soup to simmer for half an hour.
Taste with more salt and pepper (you can go for green pepper if you do not like it too spicy but want that adorable aroma) before serving and garnish with parsley. Serve with fresh bread of your choice.
You have to admit, these fantastic seafood dishes are really easy to prepare. More than that, they do not require exotic ingredients that can hardly be found at your local stores.
Just a heads up, when it comes to fish and shellfish, freshness is everything, therefore make sure to cook your fabulous dishes the same day you've bought salmon, shrimps, or other seafood.
Ryan Leavitt
Hi my name is Ryan Leavitt a Marine Corps Veteran and currently an over the road trucker (Long Haul). I am no expert chef but am enjoying preparing my own meals on the road and testing all the different knives.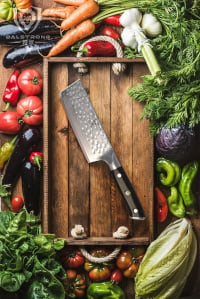 Want FREE Knives?
We give these knives a quick twirl and review, and then we pass them on to a few lucky home chefs!
By subscribing, you agree to get emails from me, Ryan Leavitt. I'll respect your privacy and you can unsubscribe any time.