K390 is a fairly new steel recipe developed by Bohler, but it has gained a lot of popularity in recent years.
This recipe is considered a high-end cold work tool steel.
With a high vanadium content, it is a very tough material with great wear resistance.
Manufacturers primarily use K390 in the knife industry, but it's also commonly found in cold forming operations and in tools.
One of the biggest benefits of using K390 for knives is that it will be incredibly resistant to wear.
A knife made out of K390 will generally last a very long while and can be used in a lot of different applications.
In this K390 review, we take a very close look at this steel recipe.
We dig into all the features, compositions, and uses for this material so you can easily figure out if this is the right steel for you.
Read on to learn more.
Related: Types of knife steel (ultimate guide)
Composition
After the general definition of it, we will take a closer look to see the properties that make up K390 steel and its outstanding features.
Carbon – 2,47%: We all know that carbon is the material that will improve steel products' hardness. Besides, it also increases resistance against wear or corrosion.
Chromium – 4,25%: Chromium helps to enhance tensile strength. The key function of this element is that it improves the edge reliability of the edge. Besides, chromium is corrosion-resistant and water-resistant.
Molybdenum – 3,8%: For strength and machinability.
Manganese – 0,4%: More manganese helps to increase the brittleness and hardness.
Silicon – 0,55%: For hardness and strength
Vanadium – 9%: Increases the hardness for the products. Besides, Vanadium is wear-resistance.
Cobalt – 2%: This element is added to increase the effect of other chemical elements
Tungsten – 1%: Tungsten also helps to increase the hardness and wear resistance.
As we can see, K390 contains a variety of quality properties. That is the reason behind the excellent hardness and resistance.
Steel Features
First, we have to affirm that the K390 possesses many outstanding features, especially hardness.
According to the manufacturer, the hardness of K390 can reach up to 65HRC. However, the best hardness is not the most qualified. To evaluate the quality of steel, we have to consider many other factors such as edge retention, corrosion resistance, sharpness, toughness.
This part will include all these factors to provide you with a deeper look into it.
Edge Retention: this is the factor that makes the knives made from the K390 much more durable. A knife with insufficient edge retention will quickly fail when used to cut hard objects. Thanks to the high rate of Carbon, Chromium, Vanadium, and Molybdenum, K390 has perfect edge retention.
Corrosion resistance: With a high rate of chromium, about 4.25%, it is resistant to rust at a good level, but not the best. More precisely, you can consider this as semi-stainless steel.
Wear Resistance: Vanadium is known as a chemical element that is extremely wear-resistant. With 9% of it, it is very hard and can be used for years.
Sharpness: Includes many hardening substances that make it strong. In terms of sharpness, this is the downside because it will be difficult to sharpen a knife made of it.
Machinability: It has a high presence of Molybdenum (3,8%), increasing good machinability.
Toughness: If you read this far, you probably know that it has extremely high hardness. However, too much hardness will make it brittle. So in terms of toughness, 390 is not good.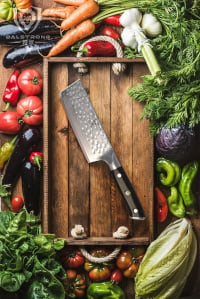 Want FREE Knives?
We give these knives a quick twirl and review, and then we pass them on to a few lucky home chefs!
By subscribing, you agree to get emails from me, Ryan Leavitt. I'll respect your privacy and you can unsubscribe any time.
Can It Be Used To Manufacture Knives?
The answer is definitely yes. With good rust resistance, corrosion resistance, and especially extreme hardness, it is perfectly suited for making high-quality knives.
And on the market today, there are many models of knives made from it as they are ideal for cutting hard objects. With good edge retention, you can assure that the knife will last for a very long time.
Comparison With Other Types of Steel
Vs K390
In many respects, S90V is the steel with many similarities with K390. First, both contain 9% vanadium, so they both have the same hardness and edge retention.
Second, through many tests, we jump to the conclusion that the wear resistance of S90V is equal to K390.
Third, both steel is at the same price level, in the high-end segment.
However, S90V proved to be superior to K390 in terms of corrosion resistance. However, the difference is not large.
Vs K390
In this part, we are going to put the K390 in comparison with the other steel, that is M390. We use a scale from one to ten to evaluate four factors: Toughness, corrosion resistance, sharpness, edge retention.
Speaking of toughness and edge retention, both K390 and m390 have the same points, respectively 6 and 8.
When it comes to the ease of sharpness, it is harder to sharpen when compared to m390. However, the distance is not much, with 4 for K390 and 5 for m390.
But in corrosion resistance, m390 is much superior to k380 with 8 points, while for K390, the point for this factor is only 3.
In a Nutshell
It is never easy to go deep into the steel world to determine whether steel is good or bad. So with the K390 steel review, we have given you the definition and features and compared it with other steel. To sum up, it is high-end steel and is completely suitable for making top-quality knives.
We hope that you have gained the necessary knowledge about this product.
Thank you for your time!
Ryan Leavitt
Hi my name is Ryan Leavitt a Marine Corps Veteran and currently an over the road trucker (Long Haul). I am no expert chef but am enjoying preparing my own meals on the road and testing all the different knives.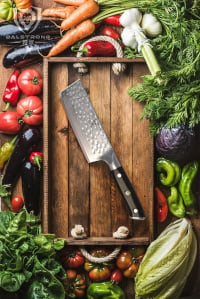 Want FREE Knives?
We give these knives a quick twirl and review, and then we pass them on to a few lucky home chefs!
By subscribing, you agree to get emails from me, Ryan Leavitt. I'll respect your privacy and you can unsubscribe any time.