Some people say that Asian knives are must-haves in the kitchen since they are sharper and lighter, ergo a joy to use.
Two modern Asian cutlery brands that have deep roots in the old ways of bladesmiths are Kamikoto and Shun.
But which is better?
Most chefs recommend the Shun brand, as Shun knives are known worldwide for being some of the best blades in the market.
Shun boasts a wide range of different models, giving chefs many choices when shopping.
However, Kamikoto knives offer certain benefits that make them great for other cooks.
If you can't decide between these two brands, you've come to the right place.
In this Kamikoto vs Shun comparison, we'll compare these two brands head to head to help you decide the right one for your kitchen.
| | | |
| --- | --- | --- |
| | Kamikoto | Shun |
| Price | $$ | $$$ |
| Construction | Forged | Forged (sometimes Damascus steel) |
| Are there box sets available? | Yes | Yes |
| Sharpness | 15-degrees on either side | 15-degrees on either side |
| Design | Japanese style | Japanese style |
| Are they handmade? | Yes | Yes |
Kamikoto: Keeping Honshu's Tradition Alive
One knife often believed to hail from Japan is Kamikoto.
This company is owned by the Chinese and operated in Yanjiang, China.
However, they honor and have decided to observe the tradition of Japanese knife making.
Compared to other more well-known products, there isn't a whole lot of information about its founding history.
They let their products speak for them.
As of the moment, there are just a few series and fewer kinds of blades in the entire Kamikoto line.
Their Kanpeki, Kuro, and Kumo sets, for instance, only have three knives.
Creating the Knife
Kamikoto follows a 19-step knife-making process.
The whole procedure is so thorough, it takes quite a long time to complete one piece.
Again, they have adopted traditional methods so their blades are individually forged, cooled down, and polished to amazing sharpness by hand.
Although the factory is in China, the steel they use is supposedly mined from Honshu, Japan.
These are the 420J2 (HRC 53), SLD (HRC 62), and the YSS (HRC 60).
All of these are extremely hard stainless steel, resistant to corrosion and even abrasion.
Essential Features
Kamikotos are quite tasteful in their simplicity.
Except for the ebony-colored blades of the Kuro variant, most of their knives have the same look:
The thickness of the knife (from the spine) depends on the kind of knife you have (Santoku vs cleaver), but some say this is almost as heavy as its German counterparts.
It has a full tang, extending out of the handle.
The bolster is thick but does not extend down to the heel, allowing you to sharpen the whole length of the edge.
The heel and the butt (the end of the handle) are flat.
The cylindrical Kamikoto handles are made of G10 fiberglass and then coated with a special resin.
This material is resistant to water, moisture, mold, and rust.
It doesn't go soft or brittle compared to regular plastic or natural wood.
This brand is not cheap, with pieces going as high as $300.
But besides the offered lifetime warranty, your purchase comes with a nice box and a whetstone.
Pros:
No frills, just functional knife
The handle is made of a long-lasting material
Sets are packaged beautifully with useful add-ons like a Toishi whetstone
Cons:
HRC of 53 in most knives means you need to re-sharpen often (probably why a whetstone is given for free)
A bit overpriced, according to some
Best Selling Variant: The Kuro Series
This three-piece set includes a Santoku, Nakiri, and Utility knife – everything you need in the kitchen.
The black Zirconium dioxide steel is not just hard ensuring a long-lasting edge sharpness, it is also very beautiful.
The whole set comes in an Ashwood box.
Shun: The Japanese Powerhouse of Blade Forging
When the legendary and formidable katanas only became artifacts in history, the swordsmiths turned to cutlery instead.
And because the Japanese are nothing but committed, these talented craftsmen put all the traditional knowledge they knew into their new task at hand.
One of them is Saijiro Endo, the founder of Shun.
His modest shop in 1908 has grown into an illustrious company worldwide, creating outstanding knives that have garnered awards as soon as it was introduced in the West and is raved about by professionals and home cooks all over.
Related: Best Shun knives & knife sets
Creating the Knife
Shun makes use of different kinds of steel blends: ASU10A, AUS8A, and VG10, just to name a few.
The newest blend of super steel, and exclusively used by the company, is VG Max.
Worked into their top variants, it isn't just strong, durable, and sharp.
It is also flexible so that it won't break so easily.
While they are true to their heritage, they don't shy away from technology to speed up production and ensure accuracy.
However, they still make sure that most of the 100-step process is done manually, particularly polishing and honing the blades.
Essential Features
Shun blades are unmistakably Japanese: the spine is thinner, the belly more linear, and the edge sharper (16-degree angle on both sides).
The length of the tang depends on the series: entry-level Shuns have a rabbet tang while high-end variants often have a full-composite.
All have thick, half bolsters.
The narrow or columnar handles are made of various materials – basic TPE, PakkaWood, or Tagayasan.
The price and the warranty vary.
Again, this depends on what series you're getting.
But what sets Shun apart from its competitors is its free sharpening service for all variants.
Pros:
Tough but won't break so easily
Long-lasting edge
The entry-level series (Kai, Sora) is cheap
Free sharpening service
Cons:
All the other Shuns are too expensive
Best Selling Variant: Classic Blonde Santoku
Made of VG Max core and layered numerous times with micro-thin stainless steel, this Damascus-style blade is artistry and function in one.
With its strength, this works both as a chopping knife and a cleaver.
The cylindrical handle is made of light-colored PakkaWood, giving it a light and airy look.
And with its amazing balance, it feels light and airy too.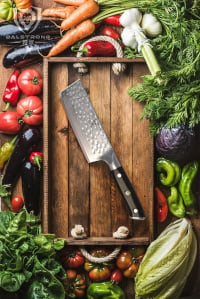 Want FREE Knives?
We give these knives a quick twirl and review, and then we pass them on to a few lucky home chefs!
By subscribing, you agree to get emails from me, Ryan Leavitt. I'll respect your privacy and you can unsubscribe any time.
In Summary
It is undeniable that both the Kamikoto and Shun offer beautiful blades that can withstand the test of time.
However, these two have also been called out for being a tad overpriced.
If you're short on budget, buy one all-purpose knife – a Deba or a Santoku, perhaps, instead of squandering on a set.
If you're hard-pressed to choose just one, go for a Shun.
Their blades tend to be sharper and, in case these get dull, you can send it back for re-sharpening without paying extra.
And to be honest, that's a great deal.
Ryan Leavitt
Hi my name is Ryan Leavitt a Marine Corps Veteran and currently an over the road trucker (Long Haul). I am no expert chef but am enjoying preparing my own meals on the road and testing all the different knives.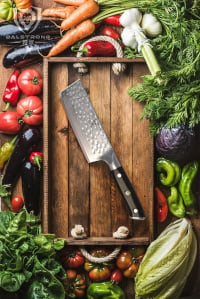 Want FREE Knives?
We give these knives a quick twirl and review, and then we pass them on to a few lucky home chefs!
By subscribing, you agree to get emails from me, Ryan Leavitt. I'll respect your privacy and you can unsubscribe any time.