The Kiritsuke vs Gyuto matchup causes regular debates and conversations between professional chefs.
Both knives have premium finishes while also being incredibly useful kitchen tools.
So, which one is better for your kitchen?
For most chefs, the Gyuto is the best pick as it is basically the Japanese version of the chef knife, making it much easier for most chefs to use.
The Kiritsuke knife is a very sharp and useful tool, but it can be very hard to use, which is why it's usually reserved for professional chefs.
And in this article, we present a detailed comparison of these two knives to see which one is the better fit for your kitchen.
| | | |
| --- | --- | --- |
| | Kiritsuke | Gyuto |
| Size | 9"-13" | 7"-10" |
| Handle | Wa-style handle | Wa-handle and Western handle` |
| Edge | 10-15 degrees per side | 15-degrees per side |
| Bevel | Single-bevel | Double-bevel |
| Do professionals use the knife? | Yes (traditionally, only executive chefs use the kiritsuke) | Yes |
Kiritsuke vs Gyuto in Great Details
Things in common
It is apparent notice that these two knives share a general intent. Their utmost function is to serve as an all-purpose cutting tool with exquisite performance and optimal sharpness.
Japanese knives' classic function is to deal with fresh fish rather than red meat because of its typical cuisine. However, our two selected knives are made to include more Western features than others.
So they lend themselves to a broader range of foods and cutting surfaces.
Typical Features
In order to cater to users' demands, both knives have been upgraded with many versions and designs. In this article, we only identify the most typical characteristics of each one for your easy separation.
Let's take a close look at each unit to see their strengths and down points.
Kiritsuke Knife
When it comes to slicing, Kiritsuke can guarantee perfect slices with a super flat-profile structure.
The knife's typical blade is a single bevel edge, featuring a smooth straight line from the heel section onto its tip. It is intended for specific tasks that require distinguished skills to work around, such as filleting and deboning.
The other double bevel edge type shall come with a slight curvature and a wider range of functions. Yet, in general, the common look of both types is very flat and long.
With its unique reverse tanto tip, the knife is tailor-made for both pull and push cutting. The close contact with the cutting surface brings beautiful slices of fish fillets and fresh meat. That explains why it is a top-notch choice for sashimi or sushi preparation.
Another outstanding feature of this unit is its cool appearance. The blades are 8-10 inches or even more, resembling a sword. If you love sleek and professional-looking cutlery, this appealing knife can uniquely complement your kitchen.
On the downside, the knife's design somehow limits its versatility. This flat unit is not an ideal option for typical Western cooks whose recipes are virtually attached to rock-chopped food.
Pros:
Perfect for precision slicing and tip-work

Cool-looking blade

Super long to cut large meat and vegetables

Close contact with the board for potent push-cutting
Cons:
Not suitable for rock-chopping
Gyuto Knife
Unlike its competitor, the Gyuto deserves to be a knife for all cooks with its incredible versatility and effortless operation. This heavy-duty unit is identified by a curved blade and rounded belly, naturally connecting the heel to its pointed tip.
The knife's curvature allows it to move with the user's rocking motion flexibly. Its lightweight handle helps you to adjust the balance point towards the knife's tip, allowing more precise cutting.
Thanks to the structure similar to home cooks' regular knives, this option is a popular pick of the majority. The blade measuring between 8 and 12 inches creates an ideal length, to proceed with typical meat and veggies.
The knife's pointed tip can cover lots of tasks. From nimble small cutting, meat fat removing to shells opening, it can cooperate with the thin blade to tackle them all. This optimal multifunction in one single unit is the best thing that any cook can wish for.
It is the natural curvature that enables the knife to nail both slicing and cutting effectively. It can handle the same tasks as a Kiritsuke does, but no vice-versa. 
At the same time, this latter candidate is also on offer with more add-on factors. You can find it with more options for handles, steel materials, and designs, which are relatively limited in flat-profile knives.
If there is one minus to say about this capable guy, it will be the knife's lower performance in delicate slicing as it is not specially designed for that single task. However, under the hands of a skillful user, this option can still give out spectacular slices.
Pros:
Great versatility

Superior rock-chopping blade

More popular and more options

Heavy-duty

Multi-purpose tip
Cons:
Which One Will Better Align With Your Need?
The table below summarizes the most superior benefits of these two products and gives a tick for the one that overweighs the other in that aspect. Accordingly, you can match your needs and likings to the categories and make a final decision.
| | | |
| --- | --- | --- |
| Aspect | Kiritsuke | Gyuto |
| Slicing | ✓ | |
| Push cutting | ✓ | |
| Rocking motion | | ✓ |
| Tip-work | ✓ | |
| Versatility | | ✓ |
| Variety and availability | | ✓ |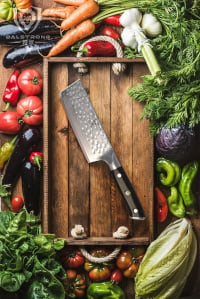 Want FREE Knives?
We give these knives a quick twirl and review, and then we pass them on to a few lucky home chefs!
By subscribing, you agree to get emails from me, Ryan Leavitt. I'll respect your privacy and you can unsubscribe any time.
Japanese Knives Buying Guide
Unlike ordinary cutleries, knives from Japan are made with second-to-none features to elevate users' cutting experience. Simultaneously, they only achieve the best performance on being handled by owners who know them well.
There are several criteria you need to reckon with before investing in a Japanese knife.
Construction
A knife's ideal performance mostly depends on its blade design. A flat-profile knife will undeniably lend itself to perfect slicing and filleting. While the straight edge and flat heel section effectively eliminate messy cutting, the knife's clip-point tip allows super precision.
On the other hand, a knife with a flat construction will be less suitable for rock-chopping. In this case, a gradual curving blade shall accommodate much more versatile chopping as it can adjust itself to perform any rocking motion.
Material
Besides construction, the material is the crucial factor that decides a knife's quality and sturdiness. It is essential to know that the higher a knife's hardness and cutting performance are, the more difficult it is to sharpen.
The stainless steel blade is a perfect choice if you give priority to easy maintenance. This material can strongly resist corrosion and protect its sleekness against the test of time. But it also makes sharpening quite a steep learning curve.
In contrast, carbon steel knives come with effortless sharpening and better edge retention. Their biggest minus is a low level of sturdiness, which means they are easy to get rusted and discolored.
Your Cutting Technique
Even though all knives are almost the same in their functions, choosing the right pick will make your cooking time much faster and enjoyable.
There won't be anything to worry about if you are a professional chef who has mastered advanced cutting skills. In this case, all you need to do is to go for a unit that offers edge retention, sharpness, and performance as you desire.
However, don't risk your fingers if you are only a novice in the kitchen. Some specific types of knives require certain techniques and experience to handle. Keeping an eye on this aspect will save you from both money-wasting and unexpected incidents.
You can learn about a knife's cutting performance from its official description and specifications. Or else, you can also infer the knife's distinction from its overall look and structure.
Your Budget
There are many Japanese knives on the market, covering all prices from relatively cheap to super expensive. While this broad availability extends your purchase range, it also requires a careful calculation to match the unit's quality with your finance.
An expensive knife will offer much better cutting performance and quality. It is also backed by a longer service life and cooler adds-on. If your individual needs to stick to a Japanese knife for years, don't hesitate to invest in premium units.
However, if you are an entry-level cook or only want to enjoy a fresh experience with a new type of blade, a costly option shall be a waste of money.
Reputable Sellers
High-quality Japanese knives require a complicated making process. Especially in handcrafted blades, experienced artisans have to put a lot of effort into every single unit that stands for their creativity and passion.
You will want to look for sellers or distributors with high legitimacy in the industry. Not only will they provide quality-committed products, but their customer services are also more beneficial and last longer.
Wrap-up
Your cutting habits and using demands shall determine the winner of this Kiritsuke vs Gyuto competition. Though it is challenging to give an exact recommendation for an ideal knife set, the versatile Gyuto shall be our pick if we must go for an absolute choice.
The other one also promises a wise bet if you want to experience a real chef's professional techniques. It is also a classy showpiece to elevate your kitchen space's modernity.
Please leave a comment to tell us which unit is going to occupy a place in your kitchen!
Ryan Leavitt
Hi my name is Ryan Leavitt a Marine Corps Veteran and currently an over the road trucker (Long Haul). I am no expert chef but am enjoying preparing my own meals on the road and testing all the different knives.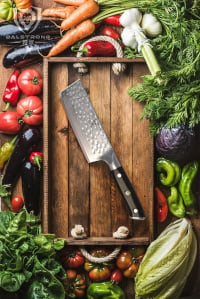 Want FREE Knives?
We give these knives a quick twirl and review, and then we pass them on to a few lucky home chefs!
By subscribing, you agree to get emails from me, Ryan Leavitt. I'll respect your privacy and you can unsubscribe any time.