Did you know?
This knife set from Mercer combines versatility, comfort, and efficiency to make your work in the kitchen a breeze.
It consists of 8 pieces, including a sharpening steel metal and a nylon roll for storage.
It's a knife set you can use even when on the go.
Read on to find out the benefits that come with using the Mercer Millennia knife set for all your food preparations.
Pros
Textured finger points for enhanced safety
High carbon Japanese steel that sharpens and cleans easily
Comes with a sturdy nylon roll for secure storage and to allow you to use it on the go
Ergonomic handles that allow you to use the knives for extended periods without feeling numb
Propylene and Santoprene handles for extra comfort, hygiene, and longer life
Cons
Lightweight handles that require you to use more force
Not dishwasher friendly
We earn a commission if you make a purchase, at no additional cost to you.
Ergonomic and Durable Handles
You can cut away with the Mercer Millennia knives all day, thanks to their ergonomically designed handles.
The design prevents the fatigue that results from using a knife for extended periods.
If you're involved in the kitchen for long hours, the ergonomic handle is a feature you will find indispensable.
For more comfort, the handles are Santoprene, a material that feels soft to your hands.
With the soft feel, heavy-duty chopping work will not strain your hand as to cause numbness.
Santoprene also cleans easily, allowing you to sanitize the handles with ease.
The propylene material used on the handles improves durability, allowing you to use the knives for long.
Related collections:
High-Carbon Japanese Steel Blade
Maintaining a knife that doesn't sharpen easily or that is prone to rusting can be a nightmare.
Not so with the knives in the Millennia 8-piece set; they're made out of high carbon steel that sharpens easily and resists stains.
It takes you a minute or two to give the blade of a Millennia knife a razor-sharp edge.
What's more, the set comes with sharpening steel to help you keep the knives sharp all the time.
The high-carbon Japanese steel used to make the blades means you won't have to worry about them rusting or staining.
The steel is stain and rust-resistant.
It doesn't even matter if the blades remain wet all through your food preparation process.
All you need to do is wash and wipe them dry for storage.
The blades of the knives in the Millennia set are also one piece.
It means you can use the knives without worrying about them snapping.
The construction produces a stable, high-strength, corrosion-resistant, and durable blade you can use for any cutting work in the kitchen.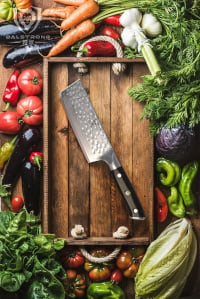 Want FREE Knives?
We give these knives a quick twirl and review, and then we pass them on to a few lucky home chefs!
By subscribing, you agree to get emails from me, Ryan Leavitt. I'll respect your privacy and you can unsubscribe any time.
Textured Finger Points
The Mercer Millennia knives feature a handle with textured finger points for your safety.
With the textured points, you are able to work much more quickly without worrying that your fingers will slip and get in the line of the knife's blade.
The handles also feature a finger guard to avoid cases where you accidentally cut yourself.
Heavy Duty Storage Roll
Storing the knives in the Mercer Culinary Millennia set is no hassle.
The package comes with a sturdy nylon roll with seven pockets for each item.
Apart from providing for safe storage, the nylon roll allows you to use the knives on the go.
You only need to slip each knife into its slot, tuck up the roll and carry it anywhere with you.
For portability, the nylon roll even incorporates a shoulder strap.
The strap is detachable so you only use it when you need to carry the knife set with you.
The roll is strong enough to withstand abrasion, so you need not worry about it wearing out too soon and leaving you without storage for your knives.
Conclusion
The Mercer Millennia 8-piece is an affordable knife set with quality culinary tools.
It makes your work smooth, effortless, and efficient.
Featuring, a paring knife, an eight-inch chef knife, a boning knife, a Santoku knife, a bread knife, a carving knife, and sharpening steel, it makes a powerful set you cannot afford to lack.
Being portable with a carrying and storage case, you can use the Millennia set anywhere.
The materials used to make it are quality.
Maintaining the knives is no big deal, being easy to clean and sharpen.
It's a knife set you will find useful if you're looking for a versatile, easy-to-maintain, and easy-to-use knife set.
Get one today, and make your food preparation comfortable smooth, and efficient.
Ryan Leavitt
Hi my name is Ryan Leavitt a Marine Corps Veteran and currently an over the road trucker (Long Haul). I am no expert chef but am enjoying preparing my own meals on the road and testing all the different knives.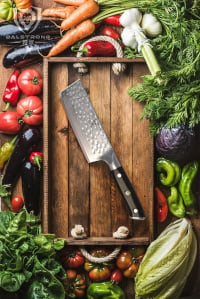 Want FREE Knives?
We give these knives a quick twirl and review, and then we pass them on to a few lucky home chefs!
By subscribing, you agree to get emails from me, Ryan Leavitt. I'll respect your privacy and you can unsubscribe any time.