Everyone would go for a Wusthof Classic in a flash if the cost was not an issue. The good thing is that there are brands like Mercer that are as great but won't break the bank.
Renaissance of Mercer and Classic of Wusthof are both high-quality knives that are esteemed by top chefs and connoisseurs all over the world. Some may say that the former is way more affordable than the latter, making it a better choice. But the devil, as they say, is in the tiny little details which everyone should take into consideration.
Mercer Renaissance
Wusthof Classic
Place of Origin
East Setauket, New York, USA
Solingen, Germany
Factory Location
Taiwan
Solingen, Germany
Steel Used
X50CrMoV15
X50CrMoV15
Construction Method
Forged
Forged
Blade Profile and Edge
Polished, 15-degree on each side
Polished, 14-degree on each side
Bolster
Half bolster
Full
Tang
Exposed full tangs

Full and exposed
Handle
Black Delrin

Contoured and Triple-riveted

Black POM

Contoured, triple-riveted

Price
Incredibly affordable
Quite expensive
See how Mercer holds up against Wusthof below…
Mercer Culinary Renaissance Overview
Mercer Culinary has always been known for delivering high-quality kitchen cutlery at an affordable price.
This philosophy is seen very clearly in their Rennaisance collection.
As the name implies, it is a rebirth of one of their most classic knives.
In this light, the Rennaisance collection features classic chef knives designs.
One thing that stands out about these blades is that they are made from high-quality German steel.
On top of that, these are forged blades.
This isn't something you'll commonly find in the Renaissance's price range, making it a favorite of chefs on a budget.
Wusthof Classic Overview
The Wusthof Classic line is one of the most famous collections from the brand.
Wusthof is one of the oldest brands in the knife game, supplying chefs with high-quality kitchen cutlery since the 1800s.
The Classic collection features very high-quality blades made of German steel.
As is expected in its price range, Wusthof Classic blades are forged from a single piece of steel.
The handles are known for being very long and have the blade run throughout the entire thing.
This makes it a full-tang knife, known for having a superior balance over partial-tang counterparts.
The Classic collection is one of the more expensive ones out there, but it is definitely worth its high price point.
It comes from a very respected brand, is used by a lot of professional chefs, and is made out of high-quality materials.
Related: Best Wusthof knife sets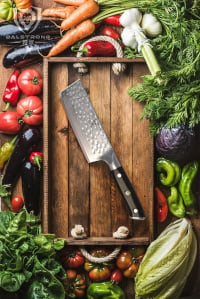 Want FREE Knives?
We give these knives a quick twirl and review, and then we pass them on to a few lucky home chefs!
By subscribing, you agree to get emails from me, Ryan Leavitt. I'll respect your privacy and you can unsubscribe any time.
Mercer Rennaisance Vs. Wusthof Classic: What's Different?
Construction
The first thing we'll be looking at is the construction of these models.
One thing that stands out is that while they are available at very different price points, the construction is pretty similar on these knives.
Both are full-tang, which gives users great balance when cutting, slicing, and dicing.
They are also both forged in construction, which makes for a much sturdier blade that can hold its edge much longer than usual.
While they both use German steel, they are different types of steel.
The Classic collection utilizes X50CrMo14.
This is a high-carbon stainless steel that has an HRC rating of 56.
The hardness of the blade allows it to hold its edge for a very long time while remaining relatively easy to sharpen while also being resistant to chips and breaks.
There is hardly any information about the exact steel used by Mercer Rennaisance, but it is known for having balanced qualities.
All Mercer knives use high-carbon stainless steel, which allows them to hold their edge for a very long time.
Edge
Typically, a Wusthof Classic knife will have an edge of around 14 degrees right out of the box.
It is ground on both sides, making it a double-beveled edge.
This is very sharp and is one of the reasons the brand is so popular among professional chefs.
It is hard to find the exact angle wherein Rennaisance knives are sharpened, but it is commonly accepted that it is between 15 and 20 degrees on each side.
This is not as sharp as the Wusthof edge but is definitely very sharp for its price.
If you've never had a high-quality set of knives before, you'll probably find that these Mercer models will have one of the sharpest edges in your kitchen.
And since they are both made of high-quality German steel, you can expect the edge to stay sharp for a fairly long time.
Usage
Both of these collections would be a great pick for your kitchen.
With that said, the Wusthof Classic line utilizes handles that are much longer than usual.
This contributes to its signature look but can get in the way if you aren't used to it.
If you aren't used to the longer handle, the balance may feel off at first.
But after some getting used to it, it should be relatively easy and comfortable.
The Mercer Rennaisance line utilizes a very classic design.
This allows chefs to easily get the hang of the blade and use it right away in the kitchen.
However, both of these collections have full-tang knives which can make a huge difference for those who have never tried it before.
Price
Now, it's time to get into the starkest difference between these collections.
Most of these Mercer knives would cost you less than $100 each to buy.
On the flip side, Wusthof Classic knives usually cost upwards of $120.
Generally, Wusthof knives are of higher quality and are forged in Solingen, Germany.
This is one of the major reasons why their knives cost so much, aside from the fact that they are one of the most trusted brands in the culinary world.
Mercer knives, while they use German steel, are manufactured in Taiwan, which makes them more affordable to make.
However, Mercer blades, especially the ones in the Rennaisance collections are great blades to have in any kitchen.
In fact, they hold up pretty well when compared to the Wusthof Classic line, which is more than twice its price!
Conclusion
And with that, our comparison of these two great collections comes to an end.
Now, if you're looking to invest in a very high-quality set of knives from one of the most reputable brands in the game, then we recommend you shop from Wusthof.
Their knives are forged in Germany and made with close attention to detail.
But if you're looking for something that's more budget-friendly, then we recommend the Mercer Rennaisance.
They are made of high-quality German steel, are full tang, and forged from a single piece of steel.
If this is your first set of high-quality knives, you'll find that they will be better than most blades you already have in your kitchen.
At the end of the day, the right choice for you will largely depend on your needs.
So, before you head out shopping, make sure to ask yourself what you need in your kitchen, and from there, it will much easier to choose the right collection.
Ryan Leavitt
Hi my name is Ryan Leavitt a Marine Corps Veteran and currently an over the road trucker (Long Haul). I am no expert chef but am enjoying preparing my own meals on the road and testing all the different knives.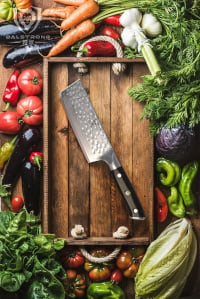 Want FREE Knives?
We give these knives a quick twirl and review, and then we pass them on to a few lucky home chefs!
By subscribing, you agree to get emails from me, Ryan Leavitt. I'll respect your privacy and you can unsubscribe any time.