If you're wanting Japanese artistry and German engineering in your knives, there's only one brand that you should go for: Miyabi.
The only similarity between Kaizen and Birchwood is that they're both Miyabis which means the pieces went through the same basic process of construction. The steel which is a blade's core and the style from tip to tang are completely different. There's also the matter of the cost – Birchwood is way pricier than Kaizen. The better blade depends on the user. But whichever you choose, you're getting a Miyabi. And that's a good thing.
Let's zoom in on these two variants:
Miyabi Kaizen
Birchwood
Place of Origin
Seki, Japan
Seki, Japan
Steel Used
VG 10
SG2 core + 100 layers of micro steel
Construction Method
Forged, hand-made
Forged
Blade Profile and Edge
Flowery Damascus pattern
Flowery Damascus pattern
Bolster
Half, round
Half bolster
Tang
Full tang
Full tang
Handle
Linen Micarta

Round, with stainless steel cap

Karelian (Masur) Birch

Round, flared at the steel cap

Price

Expensive
Extremely expensive
An Overview Of Miyabi
The term Miyabi means courtly elegance when translated into English.
However, it's more well-known for meaning happiness in this day age.
And while all Miyabi knives are manufactured in Seiki City, Japan, they actually aren't a Japanese brand.
Miyabi is owned by the Zwilling company, who is more known for German kitchen cutlery than Japanese cutlery.
Miyabi fuses German engineering with traditional Japanese knifemaking techniques to produce incredibly sharp and well-made knives.
They currently have a wide catalog of different blades, all of which have their own set of advantages.
The brand is known for using an ice-hardening technique for its blades, which makes the blades much harder and durable.
So, if you've been on the hunt for a quality set of Japanese kitchen knives, Miyabi might just have the right model for you.
An Overview Of The Kaizen Collection
In English, the term "Kaizen" can be translated to improvement or change for the better.
This collection fuses modern engineering concepts with traditional techniques to bring a unique and modern knife to the table.
The blades are made of high-carbon VG10 steel and are made using the Damascus technique.
The Damascus technique is a traditional practice that involves hammering multiple layers of steel over a tough core to make for a very durable blade.
This also results in a beautiful Damascus pattern on the face of the blade, which is a highly sought-after feature for most chefs and cooks.
These are handcrafted and hand-honed in Seiki City, Japan, a place that has a rich history and tradition of knifemaking.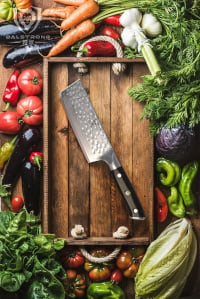 Want FREE Knives?
We give these knives a quick twirl and review, and then we pass them on to a few lucky home chefs!
By subscribing, you agree to get emails from me, Ryan Leavitt. I'll respect your privacy and you can unsubscribe any time.
An Overview Of The Birchwood Collection
Miyabi's Birchwood collection is considered by many to be a work of culinary art.
It features a Damascus construction, so it has a beautiful pattern on the face of the blade.
The core is made of G2 micro-carbide powder steel, which is a very tough material that is well-received by the culinary community.
It utilizes an ice-hardening process, which allows for the blade to be much more durable and be able to withstand regular heavy use.
The name of the collection comes from the material used in the handle.
The handle is made out of Japanese Birch and offers a beautiful light aesthetic to the knife.
This is a well-crafted and beautifully designed knife that would be a great fit in many different kitchens.
Miyabi Kaizen Vs. Birchwood – Which Is The Better Pick For Your Kitchen?
Construction
The first feature of these collections we'll be comparing is the construction.
While they both feature a Damascus construction, there are some slight differences between these two blades.
For starters, the Birchwood collection has more layers of steel hammered on top of the core.
Birchwood blades have 101 layers of steel.
This offers a beautiful pattern on the face of the blade while also making it very durable.
The Kaizen collection on features 64 layers, but is still very aesthetically pleasing and can withstand regular use.
Both of the knives use an ice-hardening process in their construction.
This involves heating up the blade, quenching it in water to bring it down to room temperature.
But after that, it is frozen and hardened at a temperature of -190C.
The result of this process is a very hard blade that can hold its edge for a very long time.
Materials Used
The Kaizen collection uses VG10 steel.
VG10 is a very popular choice for Japanese knife makers as it can hold a precise edge for a very long time.
On the Birchwood collection, the core is made out of G2 micro-carbide powdered steel.
This is top-tier steel that is ideal for knives because it is hard and durable.
G2 steel is generally much harder than VG10.
The Kaizen collection has an HRC of 60, while the Birchwood line has an HRC of 63.
This makes Birchwood the harder set of knives but not by too much.
On the Kaizen collection, you'll find a black Micarta D-shaped handle.
This offers a very classic aesthetic and also allows for a very comfortable grip.
Birchwood knives feature a similar handle shape but use different material.
As we mentioned earlier, Birchwood knives have a handle made out of Japanese Birch.
This gives the knives a unique aesthetic that is hard to find with other brands.
The Edge
One of the highlights of both these blades is the edge.
Miyabi is known for always sharpening its knives to incredibly precise and sharp edges.
So, your Miyabi blade will be able to glide through just about any ingredient right out of the box.
All Miyabi knives are hand-honed using the traditional 3-step Honazuki method.
This allows for the craftsmen to sharpen each blade to an angle between 9.5-13 degrees.
This is much sharper than any Western-style chef knife out there and is a defining feature of a piece of Japanese kitchen cutlery.
Price
Both of these collections are fairly expensive.
This is because they are made with close attention to detail and quality craftsmanship.
However, the Kaizen collection is a bit more affordable than the Birchwood.
Typically, a Kaizen knife will cost you between $150-$250, depending on the specific model you get.
Birchwood models, on the other hand, can cost you between $200 and $460, which is significantly more expensive.
Conclusion
Both of these collections would fit just about any chef very well.
The Kaizen collection is a bit more affordable and features more familiar designs and features.
The Birchwood collection is an eye-catcher, made with higher quality materials, and features a very unique design.
If you're shopping on a budget, we recommend going for the Kaizen collection.
However, if you're an experienced chef who needs truly top-quality blades for their kitchen, you might want to invest in the Birchwood collection.
At the end of the day, the choice is completely up to you, and as long as you know what you need in your kitchen, making the choice will be much easier.
Ryan Leavitt
Hi my name is Ryan Leavitt a Marine Corps Veteran and currently an over the road trucker (Long Haul). I am no expert chef but am enjoying preparing my own meals on the road and testing all the different knives.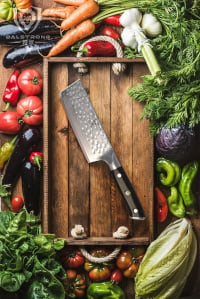 Want FREE Knives?
We give these knives a quick twirl and review, and then we pass them on to a few lucky home chefs!
By subscribing, you agree to get emails from me, Ryan Leavitt. I'll respect your privacy and you can unsubscribe any time.