Miyabi's Kaizen and Shun's Classic look very much the same when compared side by side. The difference is in the materials used and specific design elements in the construction.
Kaizen has VG10 core + 32 layers for the 9-degree sharpened blade and dark Micarta handle. Classic has VG Max core + 34 layers on the 16-degree sharpened blade and black pakkawood handle. Both are great pieces but what sets Miyabi apart is that it is handmade from start to finish.
It's always difficult to choose from two Seki greats, particularly our featured items because they seem very much the same but the devil, as always, is in the details…
Miyabi Kaizen
Shun Classic
Place of Origin
Seki, Japan
Seki, Japan
Steel Used
VG 10
VG Max core with

68 micro-layers of stainless steel

Construction Method
Forged

Completely handmade

Forged
Blade Profile and Edge
Flowery Damascus pattern
Wavy Damascus patter
Bolster
Half, round bolster
Half bolster
Tang
Full tang
Full tang
Handle
Linen Micarta

Round, with stainless steel cap

Ebony Pakkawood

Round, with stainless steel cap

Price
Expensive
Expensive
Miyabi Kaizen Overview
Miyabi is known for handcrafting their knives, and the Kaizen collection is no exception.
From the first look, you can tell that someone's heart and soul were poured into creating one Kaizen knife.
The term, "Kaizen" literally translates to "continuous improvement".
The name comes from the fact that the collection combines modern breakthroughs in knife crafting techniques along with traditional Japanese techniques.
The collection boasts a Damascus construction, ergonomic handle, and incredibly sharp edge.
The Kaizen is one of the most premium knives that you can have in your collection, making them ideal for the professional chef.
Shun Classic Overview
The Shun Classic line is one of the brand's most popular collections.
It features a Damascus construction and uses a VG-MAX cutting core, which is an ideal material for kitchen cutlery as it allows for the edge to stay sharp for longer.
These knives are handcrafted, but it should be noted that it's more an automated handmade process rather than a traditional one.
The Shun Classic collection features a bunch of incredibly sharp and useful blades, and are ideal picks for both home and professional kitchens.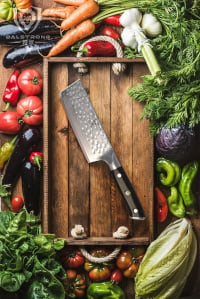 Want FREE Knives?
We give these knives a quick twirl and review, and then we pass them on to a few lucky home chefs!
By subscribing, you agree to get emails from me, Ryan Leavitt. I'll respect your privacy and you can unsubscribe any time.
Miyabi Kaizen Vs. Shun Classic – Which Is The Better Pick?
Product Range
The Shun Classic range offers a more varied collection than the Kaizen.
Not only does it feature traditional Japanese kitchen cutlery like the Santoku and Nakiri, but it also has Western knives like a cook's knife, cleaver, and boning knife.
While they are Western designs, these blades still use the traditional Japanese techniques that put Shun on the map.
So, if you want to experience the superior sharpness of Japanese kitchen cutlery but still want to use Western knives, then this would be a great collection for you.
The Kaizen collection is more limited and more focused on traditional Japanese blades.
You can find santoku and nakiri knives, along with classic cook's knives in this collection.
So, if you need something that's closer to a traditional set of Japanese blades, the Kaizen collection might be the one for you.
Construction
Both of these knives feature a Damascus construction.
This technique involves hammering multiple layers of thin steel over a tough core to create the blade.
This results in a very hard and durable knife that also sports a beautiful pattern on its face.
On the Shun Classic knives, you will find a total of 68 layers of steel on the knives.
The Miyabi Kaizen collection, on the other hand, features 64 layers of steel.
At first glance, the pattern on Kaizen blades is more prominent, but that is because the craftsmanship on these blades is a bit better than what you'll find on Classic ones.
Another addition to the construction process that's found on the Miyabi blades is an ice-hardening process.
This is something seen on most Miyabi models and involves heating up the blade, quenching it in water, and then freezing and hardening it at a temperature of -190C.
This process results in a very hard blade with an HRC rating of 60.
The Kaizen blades are significantly harder than the Classic blades, so that means they will hold their edge for longer.
Kaizen blades are hand-honed to an angle between 9.5 and 13 degrees, which is way sharper than a lot of other models on the market.
Shun Classic models, on the other hand, aren't as sharp but still sharpened to a respectable angle of 16 degrees on either side.
Materials
When it comes to the materials, these knives are actually pretty similar.
Classic models utilize VG-Max steel, while Kaizen ones use VG-10.
VG-10 is considered the gold standard for a lot of kitchen cutlery, as it is very hard, resistant to corrosion, and can hold its edge for a long time.
And while VG-Max isn't as hard, it is still a very good choice for kitchen cutlery.
On Kaizen blades, you'll find a black micarta handle.
This is a sleek material that not only gives a professional aesthetic but is very durable and can last you a long time in the kitchen.
Classic blades use a PakkaWood handle, which is a material made of real wood and resin.
This results in a very rustic look that a lot of chefs and cooks love.
So, Kaizen blades will inherently be harder and more durable than Classic ones because of the steel they use, but not by too much.
When it comes to the handle, either one of these materials would work well in the kitchen.
So, the better pick out of the two handles will largely depend on your own personal preferences.
Price
Since the Kaizen models are generally of higher quality than the Classic ones, they are more expensive.
Generally, a Kaizen knife will cost you between $150-$250.
This is much more expensive than an average kitchen knife, and this is because it is designed for professionals who are looking for a top-quality blade.
Shun Classic knives are more affordable than Kaizen ones but are still going to cost you more than a normal kitchen knife.
Shun Classic knives are available at a price between $100-$200.
If you are looking for high-quality Japanese blades for your kitchen, and you're willing to invest in them, then we recommend getting a Miyabi Kaizen knife.
These are very high-quality blades that will be very sharp right out of the box.
However, for those shopping on a budget, you can still get your hands on great Japanese kitchen cutlery for a cheaper price by going for the Shun Classic range.
Conclusion
So, while both these knives would be a great addition to your tool kit, the Miyabi Kaizen models are the better option for most.
However, they are fairly expensive which is why they are more recommended for professional chefs and cooks.
If you're a home cook looking to try out Japanese knives and don't want to spend too much money on them, then we recommend shopping the Shun Classic line.
And as long as you know what your needs and preferences are when it comes to kitchen tools, figuring out which brand or collection to buy will be very easy for you!
Ryan Leavitt
Hi my name is Ryan Leavitt a Marine Corps Veteran and currently an over the road trucker (Long Haul). I am no expert chef but am enjoying preparing my own meals on the road and testing all the different knives.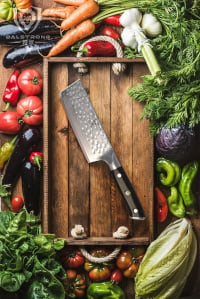 Want FREE Knives?
We give these knives a quick twirl and review, and then we pass them on to a few lucky home chefs!
By subscribing, you agree to get emails from me, Ryan Leavitt. I'll respect your privacy and you can unsubscribe any time.