Miyabi's Mizu and Artisan, at first glance, look very much the same with its micro carbide SG2 core steel, the Tsuchime or hammered finish, and the dark-colored handle.
Aside from the fact that the former is now discontinued (although still available in some shops), the two have very distinct differences.
Our similar-looking series: Mizu and Artisan are made by Miyabi, the Seki-based cutler which is also a subsidiary of Zwilling JA Henckels.
Check out their common denominators and what makes each unique.
Mizu
Artisan
Place of Origin
Seki, Japan
Seki, Japan
Steel Used
SG2 Micro-carbide powder steel
SG2 Micro-carbide powder steel
Construction Method
Forged
Forged
Blade Profile and Edge
Tsuchime 'hammered' finish
Tsuchime 'hammered' finish
Bolster
Half bolster
Half bolster
Tang
Full tang
Full tang
Handle
Dark Micarta

Round, with stainless steel cap

Cocobolo Pakkawood

D-shaped, with stainless steel cap

Price
Slightly expensive

Nearly $200 apiece

Incredibly expensive

Over $200 apiece
Miyabi Artisan Overview
The Miyabi brand is owned by the Zwilling company, which is one of the top brands for kitchen cutlery in today's market.
So, you know that the same attention to detail and quality control used in Zwilling knives can be seen in Miyabi ones.
The Artisan collection is no exception to this.
As the name suggests, it's an artisanal knife, so it may be one of the most beautiful blades you will ever see.
It uses Miyabi's famed ice-hardening technique for the blade, which results in a very hard and durable blade.
The models in the Artisan collection are made of micro-carbide SG2 steel, which is very hard so it will retain its edge very well.
The construction is completed with a beautiful hammered tsuchime finish, which makes for a beautiful aesthetic as well as a functional blade.
It has a PakkaWood handle that allows for a rustic aesthetic, which can last chefs a long time.
And while it might be on the pricier side, this collection is definitely worth the investment.
Miyabi Mizu Overview
A reason the Mizu and Artisan collection is often compared is that they are actually pretty similar to each other.
They both utilize an SG2 steel core, which makes for a very tough and hard blade.
It also uses the signature ice-hardening technique of Miyabi, which is why this is such a popular collection.
Just like all Miyabi blades, they come out of the box incredibly sharp.
They are typically sharpened between 9-12 degrees on either side, which makes for a very precise edge that can handle just about any ingredient you throw at it.
It features a Micarta handle, so it is synthetic.
However, the handle is designed in a way that mimics the texture and aesthetic of wood, which gives the knife a beautiful aesthetic.
So, if you've been on the hunt for a classy and sophisticated Japanese chef knife, this could be the one for you.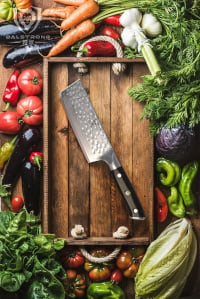 Want FREE Knives?
We give these knives a quick twirl and review, and then we pass them on to a few lucky home chefs!
By subscribing, you agree to get emails from me, Ryan Leavitt. I'll respect your privacy and you can unsubscribe any time.
Miyabi Mizu Vs. Artisan – Which Is The Better Pick?
Knife Steel & Edge
As we mentioned earlier, both of these knives use the same steel core.
This is micro-carbide SG2 steel, which is known for its exceptional hardness and durability.
It has 1.45% carbon, 2.2% vanadium, 15% chromium, and 3% molybdenum.
These are all great qualities for knife steel and make for a high-quality blade overall.
Of course, these numbers may vary, but only by a little bit, so keep in mind that these are all estimates.
Most Miyabi knives are sharpened to the same edge.
Japanese kitchen cutlery is known to be much sharper than its Western counterparts, and this remains true for the most part.
Out of the box, both the Mizu and Artisan blades will have an edge between 9 and 12 degrees on either side.
This will make for an incredibly sharp blade that can glide through just about any ingredient.
And as mentioned earlier, the knife steel used is very hard, so this edge will stay sharp for a very long time.
Construction
When it comes to construction, these two collections are similar as well.
They both utilize a Damascus construction.
This is a unique process that involves hammering multiple thin layers of steel over a hardcore.
The process allows for the blade to have an HRC rating of 63, which is much tougher than a lot of blades on the market.
However, this also means that the blade is harder to sharpen, which is an important factor to keep in mind.
Another thing shared by these two blades is the way the knives are finished.
Both blades utilize a hammered tsuchime finish.
This gives a wave-like pattern on the blade and also ensures that food won't stick to it when it's being used.
Both collections make full-tang knives, which is just about expected at this price point.
The key difference between these two blades is the handle.
The Artisan collection features a D-shaped PakkaWood handle.
This is a very ergonomic design and would make it easier for users who have never tried Japanese kitchen cutlery to get used to the feel.
The Mizu, on the other hand, uses a more traditional rounded handle made of Micarta.
This might feel awkward at first, but will be very functional after getting used to it.
The right handle for you will largely depend on your own preferences, so make sure to really think about this quality as it can make a huge difference in the kitchen.
Both handles have a single rivet on them, which adds a touch of class and brand recognition.
Regardless of the collection you choose, rest assured that you'll be getting high-quality and well-crafted blades.
Price
Both of these collections are in the same general price range.
They will cost you less than $200 for a chef knife, which is a great deal for a blade of this quality.
However, the Mizu collection will cost you a little more than the Artisan, but not by much.
When shopping for Japanese kitchen cutlery, it's expected that you'll be spending a fair amount.
This is because you pay for the top-grade materials and expert craftsmanship that is put into making these knives.
So, while this might not be the best collection for beginners, they are great for chefs who are finally ready to invest in a top-quality collection of blades.
Conclusion
The differences between these two collections are sparse, but they can make a big difference in the long run.
But as we mentioned earlier, both of the collections offer great knives that can make life easier for about any chef out there.
They have razor-sharp edges and are made from some of the best knife materials on the market today.
So, once you decide which handle shape and design suits your style and needs better, making the choice between the two will be very easy.
And before you know it, you'll be holding your very own Miyabi in your own hands!
Ryan Leavitt
Hi my name is Ryan Leavitt a Marine Corps Veteran and currently an over the road trucker (Long Haul). I am no expert chef but am enjoying preparing my own meals on the road and testing all the different knives.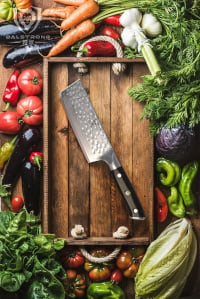 Want FREE Knives?
We give these knives a quick twirl and review, and then we pass them on to a few lucky home chefs!
By subscribing, you agree to get emails from me, Ryan Leavitt. I'll respect your privacy and you can unsubscribe any time.