The Nakiri and Usuba knives are two very useful and similar kitchen tools.
In fact, they are so similar that some chefs even confuse the two.
With that said, there are slight differences between these two knives, particularly what chefs use them for.
So, between the Nakiri and Usuba, which is the better pick for your kitchen?
Most chefs and home cooks would find the Nakiri easier to use, making it the better option for most people.
Nakiri knives are double-beveled, which makes them easier to use for most chefs.
Usuba knives, on the other hand, are single-beveled and take a lot of practice before chefs can use them with ease.
In this Nakiri vs Usuba comparison, we take a look at the key features of both knives so you can figure out the better option for your kitchen.
| | | |
| --- | --- | --- |
| | Nakiri | Usuba |
| What is it used for? | Slicing and cutting vegetables | Making fine cuts and slices in hard vegetables |
| Bevel | Double-beveled | Single-beveled |
| Blade shape | Rectangular | Rectangular |
| Size | 5"-7" | 7"-9" |
| Handle | Wa-handle | Wa-handle |
Nakiri
It comes with a straight blade with a flat front. It is exclusively utilized for veggies chopping vertically. You will not need to push, pull, just chop and chop. Like many other Japanese-style knives, it sports a thin yet very hard blade that needs small effort when utilized.
Regarding the design, it is a good performer for a similar kind of cut on different items. Regularly, a thicker-blade knife could break veggies and fruits while chopping instead of slicing. Yet this chopper could get them clean and deliver smooth cuts without getting any veggies broken.
The cutting edges of the blade also have a flawless plan when you need to cut vegetables. Though it is persistent today, it is, when it's made for the first time, not common predominantly. Also, due to being a two-bevel knife, it allows a directly slicing motion. It's easy to replicate. Probably is it a much easy-to-use knife that patterns for the optimal task when chopping meat using butter cleavers.
Commonly do nakiri knives come in 5-7 inches in length. Their shape is great for chopping as it lets apple room for knuckles. Thus, they do not get smashed. That said, it seems not to be ideal for heavy-duty chopping or working around bones. In this case, you will need a Japanese-style meat cleaver.
Related: The best nakiri knives for your money
Usuba
The front and blade of this type of knife are similar to those of the nakiri. In Japanese, usuba means "thin blade", which you guess how it looks like. Moreover, this knife is also uniquely sharpened on only one side of its blade. We could call it "a single-bevel knife". This blade is common on a great sushi knife.
That's why it is an ideal knife for right-handers and lefties. Also, they don't cut straight with no training. Left-handed knives could pull to the right and vice versa. So only those with skills could use this knife instead of regular home cooks.
Types
There are two kinds of Usuba knives, ranging from 180 mm – 240 mm generally. They include Kanto and Kamagata
Kamagata
This kind of knife originated from Osaka's Kansai. With a pointed tip, it allows additionally added precise work. Accordingly, it will let you make complex cuts, carvings, and arrangements for fruits and veggies. Once, professional chefs for royal ancestors used it to prepare exotic spreads as well as ornate fit for imperial families.
Kanto
This chopper features a blade with a square tip. It might vary with the blade sometimes. Thus, it is available on rectangular and semicircular appearance. And it fairly looks like a meat knife irrespective of being slightly small in size.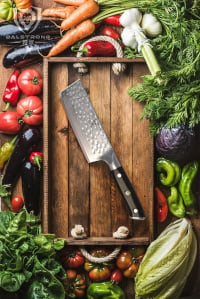 Want FREE Knives?
We give these knives a quick twirl and review, and then we pass them on to a few lucky home chefs!
By subscribing, you agree to get emails from me, Ryan Leavitt. I'll respect your privacy and you can unsubscribe any time.
What Are The Similarities?
First, we will see how they look like each other. Well, the first point is that they are both Japanese-style kitchen knives to accomplish certain food as well as prep tasks. They are designed for slicing veggies with sturdy handles made of wood. Besides, their materials are also durable and of high quality with a similar blade profile.
Both feature straight, wide, and flat blades. Their length is from 8 to 12, which is ideal for you to slice veggies. Meanwhile, the thin ultra-sharp blade could glide through thick veggies without destroying them.
Any else? The straight edge of the blades could ensure you to get a clean and fine food cut. They could cut through veggies with ease and accuracy. Also, they let you cut paper-thin vegetable slices and ensure proper cutting.
That's how these two choppers are in common. Now let's see what makes them different in the following part.
Differences Between The Two
As we mentioned earlier, while these two knives look similar to each other, they still have some differences. So they could not be utilized by similar kinds of people. Let's see how they are different.
Firstly, the nakiri knife comes with a thin blade while the usuba sports a heavy spine. And as mentioned above, the usuba is a single-bevel knife that requires cooking skills. Meanwhile, home cooks would prefer it because of its double-bevel blade.
The double-bevel knife also wins the heart of veggies for its great ability for up and down chopping. It is safe to say this well-rounded knife is suitable for all kinds of people who want to find a good knife to cut vegetables. About the single-bevel blade knife, it seems to be a difficult knife to use, which is only suitable for experts.
It sports an ultra-shape and delicate blade edge, which we believe will deliver excellent chopping and cutting results. That said, one downside of this knife is that you have to choose the left or right hand and have additional skills to sharpen its blade. If you are a brand-new cook, you could use the nakiri as its blade is quite easy to sharpen. And it is also superior when you want to deal with a large number of vegetables.
Another notable difference between these two knives lies in their price. The latter is much more expensive than the former. But believe us, the quality of the usuba will not let you down. So based on your needs, if you are seeking an excellent knife and budget doesn't matter to you, you could consider the usuba.
Otherwise, you could go for the nakiri knife for regular use and more budget-friend cost. To give you an overview of the differences, we have comprised a list as follows.
Nakiri characteristics
Perfect for chopping (up and down)
Thin blade
Well-rounded knife
Suitable for all kinds of cooks
Double-bevel blade
Ease to sharpen the blade
Affordable price
Usuba characteristics
Ultra-sharp blade edge
Single-bevel knife
Heavy spine
For professional cooks only
Must choose left or right hand
Need additional skills to sharpen its blade
Expensive
Which One Is Better?
Well, this is quite subjective and relies on who is asking. The nakiri knife is perfect for chopping veggies as it is perfect for this kind of job. It's safe and easy to utilize, affordable, and quite unique. So what does the usuba fit well?
It is an ultra-sharp blade and hand-dependent knife. With thin cuts and hand-held work, it is probably dangerous if you use it with the wrong hands. You could watch the following video to see how amazing a chef uses an usuba knife.
As you could see, the chef has to practice many times to achieve his skill. He is super careful when roto peeling. And you also see how it could be dangerous if you do not know what you are doing. So the usuba should be placed in the kitchen of a professional chef.
One more thing, the nakiri is lighter than the usuba of a similar length because of the general blade thinness. It weighs 40 percent less than the usuba of the same blade length. And if you are seeking a budget-friendly knife, it is a better choice. In case, you have to process big chunks of vegetables, this kind of knife is quite rewarding. This knife will let you try your hands at katsuramuki and sengiri.
So the answer is based on what you need from the knife. Take your time and think about them.
Wrapping Up
When you utilize the right knife for prepping food tasks, you could get the best results. Thus, before going for any veggies knife, remember to check your strength to avoid buying one that you couldn't handle.
And whether you buy the nakiri or usuba knives is determined by your own preferences and demand. In a nutshell, Usuba knives are the best if you prefer heavy blades.
Otherwise, if you want to use light knives, the double-bevel blade knife might be the ideal choice. That's all about our comparison of nakiri vs usuba. We hope it is useful for your consideration. Anyway, if you have any further questions, do not hesitate to let us know.
Further reading:
Japanese Knife Styles
Ryan Leavitt
Hi my name is Ryan Leavitt a Marine Corps Veteran and currently an over the road trucker (Long Haul). I am no expert chef but am enjoying preparing my own meals on the road and testing all the different knives.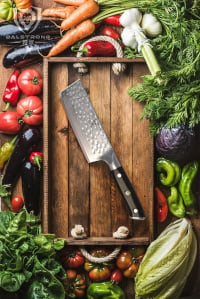 Want FREE Knives?
We give these knives a quick twirl and review, and then we pass them on to a few lucky home chefs!
By subscribing, you agree to get emails from me, Ryan Leavitt. I'll respect your privacy and you can unsubscribe any time.