Wusthof is one of the most respected names in the cutlery industry, backed by over a 200-year history of bladesmithing in Solingen, Germany.
Pampered Chef, on the other hand, is 40-years young, and is more known for its marketing strategies like door-to-door sales and in-home cooking demos.
Many say that buying knives will always boil down to personal choice but connoisseurs and top chefs agree that Wusthof offers real value for money.
Does high price = high quality?
And can new brands match the long history of more established ones?
Find out by getting to know Pampered Chef and Wusthof even better.
Pampered Chef
Wusthof
Headquarters
Addison, Illinois
Solingen, Germany
Steel Used
German steel: X45CrMoV15
X50CrMoV15
knife collection

Just one forged set to choose from

Industry reputation

Incredibly long history

High-quality pieces

Price Point
Fair-priced
Real value for money
Overview Of Pampered Chef Knives
Pampered Chef is a brand that has been around since the 80s.
When they were starting out, they weren't known for their blades.
Instead, they sold cookbooks, food products, cookware, small appliances, and kitchen tools.
The brand was founded by Don Christopher, an educator and home economist with a dream of providing kitchens everywhere with reliable and high-quality kitchen tools.
It was only in 2006 when the brand launched their first line of cutlery, but they have gained a lot of popularity since.
These knives were known for being very high-quality despite their price.
They feature classic designs, well-made blades, and affordable price tags making them ideal for the home cook.
Overview Of Wusthof
Wusthof has a long history.
This German brand can trace its roots all the way back to the 1800s in Solingen, Germany, which is a town that is very well-known for its rich history in blade crafting.
In fact, Solingen is actually nicknamed, "The City of Knives" because of all the great blades that come out of the city.
A lot of chefs define Wusthof products as the quintessential German kitchen knife.
They are forged out of high-quality steel, feature very classic designs, and are used by some of the most famous and popular chefs in the world.
Wusthof models go through a rigorous 40-step sharpening process that ensures all their blades will be razor-sharp right out of the box.
Because of their high quality, Wusthof blades do not come cheap.
In fact, the brand is known as one of the more expensive ones on the market.
But if you're a professional chef, culinary student, or a home cook who takes their gear seriously, then you might want to consider investing in a high-quality set of Wusthof blades made to last you years upon years.
Related: Best Wusthof knife sets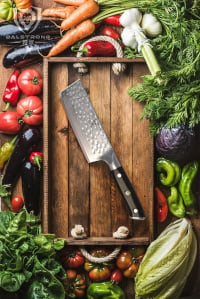 Want FREE Knives?
We give these knives a quick twirl and review, and then we pass them on to a few lucky home chefs!
By subscribing, you agree to get emails from me, Ryan Leavitt. I'll respect your privacy and you can unsubscribe any time.
Which Is The Better Pick For Your Kitchen?
Construction
The first feature of these two brands that we'll be comparing is the construction.
This might come as a surprise to some, but both brands' products are forged.
Commonly, forged knives will be fairly expensive, which is why it's a pleasant surprise that the more affordable knives from Pampered Chef are forged as well.
These blades will be made out of a single piece of high-carbon steel which is then heated, hammered, treated, and hones into a quality blade for the kitchen.
Wusthof models, after being forged, go through an intense 40-step sharpening process to ensure the blades are razor-sharp right out of the box.
In fact, most Wusthof blades will be sharpened to an angle of around 15 degrees on either side right out of the box.
Pampered Chef, on the other hand, sharpens their blades down to a 17-degree angle.
This is not as sharp as Wusthof, but it is more than sharp enough to handle most ingredients you'll be dealing with in the kitchen.
Notable Collections
Wusthof has released a wide array of notable knife collections over the years.
However, their most popular one is arguably the Classic collection.
This collection features forged blades made out of high-quality stainless steel.
These are some of the best Western chef knives on the market, which is why they are very popular in the culinary world.
This collection features a very classic kitchen cutlery look with triple-riveted black handles, full-tang blades, and incredible craftsmanship.
Pampered Chef, on the other hand, doesn't have as much variety as Wusthof, as they only have their standard collection and coated one.
However, this simplified catalog can come in handy when you're having a hard time narrowing down your options.
Pampered Chef's blades are known for being on the more affordable side of things while still being very high-quality.
Usage
In the kitchen, Wusthof knives are definitely the better ones to use.
They are crafted with more attention to detail, made out of better materials, and are simply much easier to use.
Their incredibly sharp edges make them a favorite among chefs, and if you've never had a Wusthof model before, get ready to have your whole perspective on knives change.
This is because first-time users really notice a huge difference between Wusthof blades and other cheaper cutlery brands.
And while Pampered Chef knives aren't as good as Wusthof ones, they are still more than usable in the kitchen.
Since they are full-tang, forged, and very sharp, they will probably already be one of the better knives in a home kitchen setup.
On top of that, Pampered Chef blades come with a lifetime guarantee, which is a huge plus for home cooks who don't want to be constantly replacing unsatisfactory sets of knives.
Price
When it comes to price, Pampered Chef takes the cake.
While their blades are very high-quality and very nice to use they stay at a very affordable price.
In fact, you can get your hands on a top-quality models from this brand for just below $50.
Wusthof blades are much more expensive.
This is because they use more premium materials, have a better construction process, and will be much sharper and comfortable overall.
However, that means spending anywhere between $120 to $250 for a single blade!
Wusthof is a brand more recommended for professionals looking to invest in a set of cutlery rather than amateur cooks since they are so expensive.
Conclusion
So, there you have it.
From an objective standpoint, Wusthof models are considered the "better" pick.
They are sharper, more durable, have sturdier construction, and come from a more trusted brand overall.
However, all these premium features come with a pretty steep price tag, which is why this brand is best for professional and culinary students.
If you're looking for a set of blades that can perform really well in your home kitchen and want to save some money, Pampered Chef would suit your needs better.
When shopping for knives, it's imperative that you figure out your own personal needs and preferences in the kitchen.
That way, when it comes time to buy, the process will be much simpler and easier for you!
Ryan Leavitt
Hi my name is Ryan Leavitt a Marine Corps Veteran and currently an over the road trucker (Long Haul). I am no expert chef but am enjoying preparing my own meals on the road and testing all the different knives.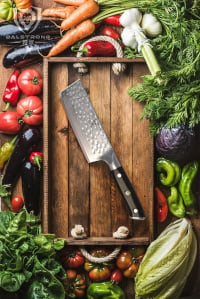 Want FREE Knives?
We give these knives a quick twirl and review, and then we pass them on to a few lucky home chefs!
By subscribing, you agree to get emails from me, Ryan Leavitt. I'll respect your privacy and you can unsubscribe any time.