Many people shell out hundreds of dollars for a Wusthof because they are assured of its awesome quality. But there are newer names in the industry that shouldn't be ignored like Rhineland Cutlery of Melbourne, Florida.
Rhineland Cutlery from the USA makes knives that are reportedly just as high in quality as the respected and envied Wusthof. Those are also nearly as pricey, with a Santoku going as high as $100. In comparison, add just $50 to that and you'll get a Wusthof!
See if Rhineland can match the quality that Wusthof offers?
Read on to get to know these two brands even more…
Rhineland Cutlery
Wusthof
Headquarters
Melbourne, Florida, USA
Solingen, Germany
Steel Used
X50CrMoV15
X50CrMoV15
Knife Construction
Two variants forged, one stamped
Mostly forged, a few stamped
Premier Series
Pro
Classic
Best Asset
Steel used in construction

Industry reputation

Incredibly long history

High-quality pieces

Price Point
Quite expensive
Real value for money
Rhineland Cutlery – An Overview
When it comes to the world of kitchen cutlery, Rhineland Cutlery is a fairly young company.
They have only been around for roughly 25 years, but in that time, they have made a respectable name for themselves as quality knife manufacturers.
The brand is most famous for its knife sets, which include 13-piece and 2-piece knife sets.
They aren't exactly a budget brand, but they make blades that can hold their own against knives that are much more expensive.
The brand claims that they use top-quality German steel in their manufacturing, which allows their blades to have a superior cutting edge and durability.
Rhineland Cutlery is also famous for its weight-balance point, which makes for a very comfortable knife to use for hours on end.
The company releases very ergonomic tools, designed to reduce the risk of blisters and callouses from repeated use.
So, if you've been on the hunt for an ergonomic set of blades, this might just be the right brand for you.
Wusthof – An Overview
For many professionals in the culinary world, Wusthof needs no introduction.
The brand has been making knives for more than 200 years and is known as one of the best brands in the market today.
Wusthof blades are used by some of the best and most popular chefs in the culinary world such as Gordon Ramsay and Jamie Oliver.
They are based in Solingen, Germany, also known as the "City of Knives" as the region has a rich history in making blades.
Wusthof models can be defined as the quintessential Western kitchen knife.
It uses top-quality steel and is sharpened to very precise and fine edges.
A lot of the models go through a 40-step sharpening process before being sold, which ensures that you will have an incredibly sharp edge that will last you a long time.
And while most of their knives may cost you a fair amount of money, it is a worthwhile investment for a collection that can last you many years.
Related: Best Wusthof knife sets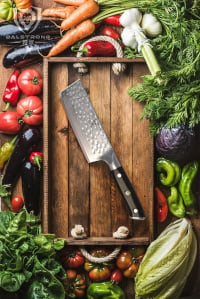 Want FREE Knives?
We give these knives a quick twirl and review, and then we pass them on to a few lucky home chefs!
By subscribing, you agree to get emails from me, Ryan Leavitt. I'll respect your privacy and you can unsubscribe any time.
Rhineland Cutlery Vs. Wusthof – Which Is The Better Pick?
Materials Used
As with most knives, the steel that is used will largely depend on the model you're getting.
However, Rhineland Cutlery is known for using high-quality German steel in its construction.
The exact steel recipe that they use isn't known, but customers have reported that their blades are very strong and will retain their edge for a very long while.
The handles are usually made of synthetic materials that will last a while even with regular use and fit very well in the hand.
Wusthof, since they are a German brand also use top-quality German steel in their knives.
Primarily, their blades are crafted from X50CRMOV15, which is known in the knife world as a great material for blades.
This steel formula allows for a very hard and fine edge that will last for a long time.
However, it isn't too hard that the blade becomes brittle and prone to chips.
Wusthof uses a variety of materials for their knives, some using African Blackwood (as seen on their Ikon models), while others will be made of synthetic materials built to last.
Design & Construction
When it comes to the design of their knives, Rhineland Cutlery remains relatively consistent.
Their signature feature is their ergonomic design.
It has a smooth bolster and spine as well as a counterweight balance point on the handle.
This ensures that you will have a balanced grip without sacrificing any control.
It also makes for a very classy aesthetic.
The handles feature a D-shape, which is designed to fit into the hand naturally and allow chefs to work with the utmost comfort.
For Wusthof, their knives take on a very classic Western kitchen cutlery design.
And since the company has been doing this for centuries, they have basically perfected it.
Their knives are forged from a single piece of steel, which results in a much sturdier and durable construction.
As mentioned earlier, their handles are either made from wood or a synthetic composite material.
All handles are designed to comfortably fit in any chef's hand.
Both brands make full-tang blades, which is why they feel very comfortable in the hand.
Usage
If you need an ergonomic set of blades, then you cannot go wrong with choosing Rhineland Cutlery.
Their knives are specifically designed to be regularly used without feeling uncomfortable or hurting the hands.
They have modern D-shaped handles and would be a great fit in a home and professional kitchen.
Wusthof models, on the other hand, are a better fit for professional kitchens.
While they would easily be the sharpest knives in a home kitchen, they might be a bit too expensive for home cooks.
And since they won't be used as much as they will in a professional setting, it might not be worth the investment.
Price
As you can tell, Wusthof blades are more expensive than Rhineland Cutlery.
However, the price difference isn't too big.
Generally, a chef knife from either brand will cost around $150, but Rhineland Cutlery has more options that include multiple knives, which could help save money in the long run.
Since Wusthof has been around so long, they have generally considered the better brand.
After all, they proved themselves with flying colors over the past two centuries.
So, if you want to invest in a high-quality knife set from a top brand, then Wusthof would be your best bet, but if you're looking to save money, you're better off with Rhineland Cutlery.
Conclusion
And there you have it.
With that, our in-depth comparison of these two brands comes to an end.
Both brands are known to make great kitchen knives that can make your life much easier.
However, they are made for different types of chefs.
So, before choosing which brand to buy, make sure to ask yourself what you really need in the kitchen.
And from there, figuring out the right brand will be much, much easier!
Ryan Leavitt
Hi my name is Ryan Leavitt a Marine Corps Veteran and currently an over the road trucker (Long Haul). I am no expert chef but am enjoying preparing my own meals on the road and testing all the different knives.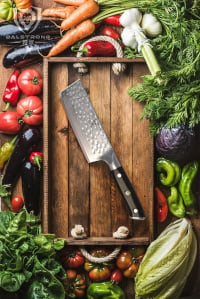 Want FREE Knives?
We give these knives a quick twirl and review, and then we pass them on to a few lucky home chefs!
By subscribing, you agree to get emails from me, Ryan Leavitt. I'll respect your privacy and you can unsubscribe any time.