One of the hardest choices any chef will have to make in their career is whether to get a Japanese-style chef knife or a Western-style chef knife.
And in this East vs West debate, two knife collections that are often brought up are the Shun Classic and Wusthof Classic.
While both brands offer great knives, which is the better pick?
If you're used to German-style chef knives, the Wusthof Classic is the better pick as most chefs will be used to the feel.
However, the Shun Classic collection offers a unique feel that some chefs might prefer.
In this article, we're putting the Shun Classic up against the Wusthof Classic to help you figure out which knife style is ideal for you and your cooking.
Read on to learn more.
| | | |
| --- | --- | --- |
| | Shun Classic | Wusthof Classic |
| Price | $$$ | $$$ |
| Are there box sets available? | No | Yes |
| Knife steel | VG-MAX | High-carbon German stainless steel |
| Construction | Damascus steel | Forged |
| Handle Material | PakkaWood | Polyoxyethylene |
A Brief Overview Of Shun
Most people only know the Shun Cutlery brand as a newcomer that only launched in 2002.
And while that's true, the parent company of the brand, the KAI Group, has been around for much longer.
Shun can trace its roots all the way back to 1908, when the KAI Group was established in Seiki City, Japan.
The company was founded by Saijiro Endo, who wanted to create high-quality knives and kitchen cutlery in Japanese tradition.
For almost a century, the company had been supplying people from all over with some of the best kitchen cutlery on the market, and in 2002, the Shun Cutlery brand was created and launched in the West.
And since then, they have released incredibly knife collections that worked for professionals and home cooks alike.
A Brief Overview Of Wusthof
This brand can be traced all the way back to 1814.
It was founded by Johann Abraham Wusthof in Solingen, Germany, and it started out as a steel and ironworks factory.
However, it was only in 1836, when the founder's son, Eduard, introduced pocket knives to the company's catalog.
And from there, the ball did not stop rolling.
Up until today, Wusthof is known for being one of the best brands out there for German-style kitchen cutlery and is still owned by the same family.
Their knives are still manufactured in Solingen to this day, which is considered one of the best places to find knives on the planet.
In fact, the company's biggest rival J.A. Henckels can also be found in the same city, which is just a testament to the quality of the products that come from there.
Related: Best Wusthof knife sets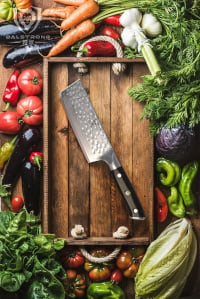 Want FREE Knives?
We give these knives a quick twirl and review, and then we pass them on to a few lucky home chefs!
By subscribing, you agree to get emails from me, Ryan Leavitt. I'll respect your privacy and you can unsubscribe any time.
Shun Classic Vs Wusthof Classic – A Head To Head Comparison
Construction
First, we're going to talk about the construction of the knives.
Both of these brands use forging and stamping techniques in their products.
Depending on the collection you're shopping from, you'll either get a blade forged from a single piece of steel or one that is laser cut or "stamped" out of a large sheet of steel.
Normally, forged knives are considered to be the more premium option, but technological advancements have made the difference between the two barely noticeable.
The Shun Classic line features a VG-MAX cutting core and a swirly Damascus pattern that results in a beautiful finish and is sharpened to a very fine edge.
This is great for Japanese or Asian cuisine, where you need to make precise cuts in ingredients.
On top of that, it has a PakkaWood handle, which is a combination of real wood and resin.
The result of this combination is a material that has the comfort of real wood with added durability.
It also has a Japanese-style octagonal handle which a lot of chefs find more comfortable than the regular Western handle designs.
The Wusthof classic, on the other hand, is made with very high-quality stainless steel.
It is made using a 40-step process that Wusthof is known for worldwide.
The result is a very sharp, yet durable blade with a comfortable polyoxyethylene handle.
These models are great for those who are used to the feel and weight of German knives and would be a great tool for just about any kitchen.
Usability
Since the Shun Classic blades are Japanese-style, they are sharper and more precise.
This is ideal if you need high-precision in your slicing, which is usually needed in Asian cooking.
They feel very comfortable in the hands, but if you're used to Western-style knives, you might have a slight learning curve to get over at first.
Wusthof knives are classic German chef knives.
They are hefty, durable, and razor-sharp.
They are a bit more durable than Shun knives since they have more weight and body to them, but you will be missing some precision when cutting and slicing.
These blades are more ideal if you're cooking Western recipes or if you're looking for a tougher tool in the kitchen.
Conclusion – Which Is The Better Option?
So there you have it, a direct comparison of two top-quality collections from two top brands in the market today.
The right one for you will all depend on what you're cooking in the kitchen, as well as your own needs as a chef.
But regardless of which option you choose, as long as you're comfortable with the knife and it can handle all the kitchen tasks you can throw at it, then you've definitely chosen the right collection for you and no one can tell you otherwise!
So if you think you've figured out which collection is better for your cooking style, then the only thing left to do is go out and get your hands on one yourself!
Ryan Leavitt
Hi my name is Ryan Leavitt a Marine Corps Veteran and currently an over the road trucker (Long Haul). I am no expert chef but am enjoying preparing my own meals on the road and testing all the different knives.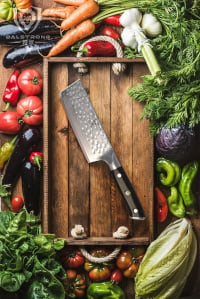 Want FREE Knives?
We give these knives a quick twirl and review, and then we pass them on to a few lucky home chefs!
By subscribing, you agree to get emails from me, Ryan Leavitt. I'll respect your privacy and you can unsubscribe any time.