With a very long history of making magnificent katanas for the legendary samurai warriors, it's no wonder why Japan is acclaimed as a country of amazing cutlers.
One of the most distinguished brands is the century-old Shun.
While they have expanded to Tokyo and other cities all around the world, their talented craftsmen are still based in Seki – a town rich in the raw materials needed for blacksmithing.
Today, Shun offers ten different collections, but most people find themselves choosing between just two: the Classic and Kanso.
For most, the Kanso is the better option.
It is cheaper, offers great aesthetics, and is made with expert craftsmanship.
However, the Classic may still be the better option for some because of its beautiful Damascus steel pattern on the blade.
If you're still on the fence when it comes to which one is the better pick for your kitchen, you've come to the right place.
In this Shun Classic vs Kanso review, we dive deep into the features and benefits of each collection.
| | | |
| --- | --- | --- |
| | Shun Classic | Shun Kanso |
| Price | $$$ | $$ |
| Construction | Damascus steel | Forged |
| Knife steel | VG MAX core | AUS10A |
| Are there block sets available? | No | Yes |
| Sharpness | 16-degrees on either side | 16-degrees on either side |
Shun Classic at a Glance
Pros:
Affordable
One solid steel from blade to tang
Well-balanced
Simple, rustic design won't look unpleasant as it ages
Lifetime warranty and free re-sharpening
Cons:
The scraped design on the Tagayasan wood handle is rough and difficult to clean
Shun Kanso at a Glance
Pros:
Made from VG Max core and 68 layers of stainless steel
A simple and elegant overall look will suit most people
Well-balanced knife
Lifetime warranty and free re-sharpening
Cons:
A bit too pricey compared to brands similar to it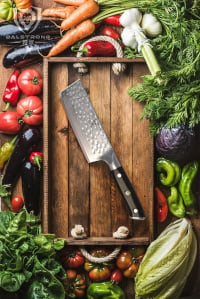 Want FREE Knives?
We give these knives a quick twirl and review, and then we pass them on to a few lucky home chefs!
By subscribing, you agree to get emails from me, Ryan Leavitt. I'll respect your privacy and you can unsubscribe any time.
Shun Blades Overview
The Japanese word 'Kanso' is a zen principle that signifies natural simplicity.
This is exactly what this Shun variant is all about: a ruggedly beautiful knife that serves as a long-wearing workhorse in the kitchen.
In comparison to other Shun variants, the Kanso line is mid-priced.
A basic chef's knife, for example, is priced at less than $100.
The Classic line, as the term suggests, has a more traditional look and feel.
But don't be fooled by its plainness.
This is one of the most reliable variants under the brand.
In 2003, a year after Shun was introduced in the United States, the 7-inch Classic Santoku won Blade Show's kitchen knife of the year.
This is at the higher end of Shun's mid-range knives.
Steel Construction
The Kanso is made using solid AUS10A – a type of high-carbon steel fortified with Vanadium.
This makes the blade strong, durable, and resistant to corrosion.
Vanadium purifies the steel so the edges can be filled with amazing sharpness.
On the other hand, the Classic has a VG Max core and is layered with 34 layers of stainless steel on both sides.
This is Shun's very own steel formulation which has more of everything: Carbon for strength, Chromium to minimize wear, Molybdenum for corrosion resistance, and Vanadium and Tungsten for enhanced sharpness.
The layered steel lends that variegated, wavy pattern on the blade's face while the Vanadium and Tungsten alloys give that dark tint on the bevel.
This gives the whole knife a striking appearance.
Longevity of Sharpness
Both the Kanso and the Classic have a 16-degree edge angle on each side, making these quite sharp.
These two do not require sharpening for a long time.
Some say that their blades can slice tomatoes into thin sheets even after six months of continued use.
Of course, the addition of Tungsten on the latter's steel recipe helps make the edge last longer.
The company admits that daily honing does the blade a lot of good, keeping the edge sharp for a long time.
Also, using a specific knife properly will prevent immediate dulling.
For instance, if it's for boning and filleting, try not to use it for chopping hard vegetables.
But just in case your Shun goes blunt, simply bring it to them for re-sharpening.
After all, they offer this service for free!
Design Elements and Functional Features
The rustic simplicity of the Kanso is its beauty.
Because it is made of one solid steel, this knife has a full tang without a bolster.
The heel is gracefully curved. Two pieces of Tagayasan – the wood traditionally used for katana handles – sandwich the tang and are held by two rivets.
A part of the tang is exposed at the butt of the handle and has a triangular hole on it – probably for hanging the knife.
The Classic, on the other hand, has a full composite tang and a welded bolster.
Since the blade is forged with numerous layers of steel, they fused the bolster and tang which is made from one solid steel only to it instead.
Unlike the Kanso, it has a square heel and flat butt.
A cylindrical ebony Pakkawood covers the tang.
The variegations caused by the steel layering on the Classic are amazing.
The dark shades, particularly on the bevel, match the black handle and gives the whole knife a simple yet elegant appearance.
The Kanso blade doesn't have that extra embellishment.
But it doesn't look as plain as it does.
Given a 'heritage' finish, it adds to the old, rough, and worn feel which will only look better as time goes by.
Many have said that deeper scratches just give it more character instead of making it look damaged.
Price and Warranty
Both are mid-range Shuns when it comes to price.
The smallest Kanso – the 3.5-inch paring – is just a little over $50, depending on where you get it.
The largest one – the 8-inch Chef's – is under a hundred bucks.
No one will argue that that's a great deal for a sharp kitchen blade.
The Classic is the priciest in Shun's mid-range variants (or the least expensive in the high-end options).
Knives under this series can cost you $100 to $200, depending on where you get it.
Both have a limited lifetime warranty and can be sent back to Shun for free re-sharpening.
The Final Verdict
If you're a first-time Shun buyer, any of these two variants would be a good option.
The company thought of performance and aesthetics when they designed this.
To be honest, the Kanso and the Classic are at par with each other.
Sure, the Damascus-like pattern on the latter is attractive and the rough handle of the former can be uninviting for some.
But if you're assessing these two based on their function – the weight, balance, and sharpness – the two are the same.
Also, the Kanso is way cheaper.
For a lot, this is a no-brainer.
The Kanso wins.
Ryan Leavitt
Hi my name is Ryan Leavitt a Marine Corps Veteran and currently an over the road trucker (Long Haul). I am no expert chef but am enjoying preparing my own meals on the road and testing all the different knives.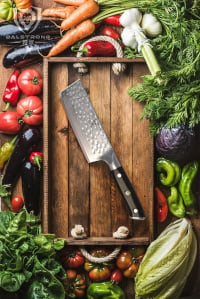 Want FREE Knives?
We give these knives a quick twirl and review, and then we pass them on to a few lucky home chefs!
By subscribing, you agree to get emails from me, Ryan Leavitt. I'll respect your privacy and you can unsubscribe any time.