If you've been looking for Japanese-style kitchen knives, then chances are you've stumbled upon the Shun brand once or twice.
And two of the most popular collections from Shun are the Shun Classic and Shun Premier.
Both offer a great selection of knives, but which one is the better choice for your kitchen?
Most chefs recommend investing in the Shun Premier collection, as it is a premium set of knives designed with elegance and performance in mind.
However, the Classic line still offers some benefits that make it attractive to many cooks.
And if you're still unsure which collection is right for you, you've come to the right place.
We're going to be taking a close look at their similarities and differences to help you figure out which collection is right for you.
| | | |
| --- | --- | --- |
| | Shun Classic | Shun Premier |
| Are there box sets available? | No | Yes |
| Price | $$ | $$$ |
| Construction | Damascus Steel | Damascus Steel |
| Knife steel | VG-Max | VG-Max |
| Handle material | PakkaWood | PakkaWood |
| Sharpness | 16-degrees per side | 16-degrees per side |
Shun Classic Pros & Cons
Pros:
More affordable than the premier
Razor-sharp
Simple yet professional design
Beautiful Damascus finish on the face of the blade
Comfortable D-Shaped handle
Cons:
The knives may not be as comfortable for left-handed users
Shun Premier Pros & Cons
Pros:
Premium knives
Come with a rustic handle
Unique finish on the blade
Razor-sharp
It will retain its edge for a long while
Cons: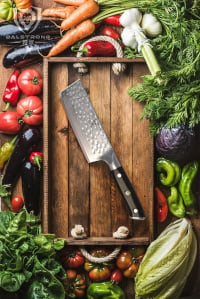 Want FREE Knives?
We give these knives a quick twirl and review, and then we pass them on to a few lucky home chefs!
By subscribing, you agree to get emails from me, Ryan Leavitt. I'll respect your privacy and you can unsubscribe any time.
Shun Classic Vs Shun Premier – An In-Depth Comparison
Similarities Between The Two Collections
Before we take a look at what makes these two knife collections different, we first have to learn about their similarities.
Construction
All the knives in these two collections have a forged Damascus construction.
That means that there are 67 layers of high-carbon stainless steel layered together to form a tough, durable, and razor-sharp blade.
Forged knives tend to be more respected in the world of kitchen cutlery because of how well they work in the kitchen and how much more durable they are as compared to stamped blades.
On top of that, both of these knives are sharpened to a 16-degree angle on either side, which makes them razor-sharp right out of the box.
And due to the way they were built, the knives will retain their edge for a while before needing to before sharpened.
The knives are also full-tang, meaning the blade runs throughout the entire knife, giving you more balance when cutting and slicing.
Materials Used
Another shared feature of these two lines is the materials used in making them.
Both of them have PakkaWood handles, which have become one of the signature features of Shun knives.
This material is a combination of real wood and resin, giving it added strength and durability while also making it comfortable to grip.
The Premier and Classic lines also both use VG-Max steel as their cutting core, which will ensure that your knife will survive the stress of a working kitchen.
Warranty
Another shared feature between the two is their warranty, which is expected since they do come from the same brand.
Shun's lifetime warranty policy ensures that your products will arrive at you in pristine condition and perform as advertised when properly used and maintained.
However, the warranty does not cover the damage that will be sustained by regular wear and tear, abnormal use, or abuse.
This is why you have to make sure to properly take care of these products when you get your hands on them.
Differences Between The Two Collections
Now it's time to see what the differences between the Classic and Premier actually are.
Price
The first difference one will notice is the price.
While both of the collections are relatively expensive, the Premier collection is significantly pricier.
This is because the Shun Premier line is one of the top collections released by the brand and it also has more premium features (which we'll be diving into later).
That being said, the differences in price will vary depending on where you are, where you're buying from, and what exact knife set you're buying.
Blade Finish
Another very significant difference between the two collections is the finish on the blade.
Shun products are known for being very beautifully designed, and that's true with both of these collections.
However, you'll notice that the Classic models will have a Damascus finish on them.
It's a unique pattern on the blade that comes from the way the knife is built.
On Classic knives, you'll find that the lines are fairly straight horizontal lines and it has a matted glow to it.
Premier blades, on the other hand, have a swirly Damascus finish towards the end of the blade, and on top, it has a hammered finish.
This is a pretty unique look, which is why these products are sought after by a lot of chefs.
Having a hammered finish makes the blade non-stick, so you won't have to worry too much about food getting stuck to it when doing prep, which could speed up productivity a lot in the kitchen.
While both of the collections feature beautiful finishes on the blade, the hammered aesthetic on the Premier has a more practical use, which is why this is the collection recommended for professional chefs.
Handle Design
The last difference between these two lines isn't as obvious as the other two that were previously mentioned.
While the handles of both collections are made of PakkaWood, there are a couple of slight differences that set them apart from each other.
Classic handles are fashioned into a D-shape, which is fairly common with Japanese-style kitchen cutlery.
This makes gripping the knife very easy, especially for right-handed people.
These handles are available in two finishes: an ebony finish and a blonde one.
Both are very easy on the eyes, so figuring out which one you want will depend on your own tastes.
The handles of Premier knives are more contoured than the Classic ones, which could be a lot more comfortable for some people.
They also come in a walnut finish, where the grains are more distinct, making for a more rustic look overall.
The butt of the knife is fitted with a steel band that wraps around it and the end of the handle has a silver cap with the Shun logo engraved.
This is very classy and professional and elegant looking, which is why this collection is very popular amongst chefs that work in high-end restaurants.
A Brief History Of Shun Knives
Shun knives were only made available to the Western market in 2002, but their roots go back way deeper than that.
The Shun brand is actually owned by the KAI group from Seiki, Japan, and they have been manufacturing kitchen cutlery since 1908.
The company was founded by Saijiro Endo, who put up the KAI Group in Japan at the beginning of the 20th century.
Since its launch in the Western market, Shun has been growing in popularity because of its ability to consistently produce knives that are functional, well-designed, and have a signature Japanese aesthetic.
Up to this day, all Shun knives are manufactured in Seiki, which they have been doing since 1908.
Our Verdict
So there you have it, an in-depth comparison of two of Shun's most popular product lines.
So which is the better choice?
Well, that will largely depend on you.
If you're looking to save on some money but you still want a very well-made set of blades, then the Classic collection might serve your needs better.
However, if you're looking for top-quality knives, an elegant and rustic design, and a unique finish on the blade, then you might be better off with the Premier.
That being said, be ready to pay a premium price for a premium product.
Regardless of which collection or brand you choose, the most important thing to remember is that the best knives for you are the ones that you enjoy you using, feel comfortable with, and can handle all your needs in the kitchen!
Ryan Leavitt
Hi my name is Ryan Leavitt a Marine Corps Veteran and currently an over the road trucker (Long Haul). I am no expert chef but am enjoying preparing my own meals on the road and testing all the different knives.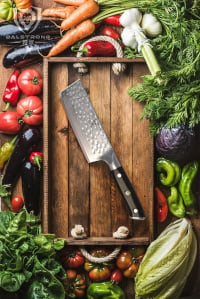 Want FREE Knives?
We give these knives a quick twirl and review, and then we pass them on to a few lucky home chefs!
By subscribing, you agree to get emails from me, Ryan Leavitt. I'll respect your privacy and you can unsubscribe any time.