If you've ever talked to a knife connoisseur about the best brands out there, chances are they mentioned Shun.
While they've only been around since 2002, the brand has consistently produced knives that have climbed to the highest tier of the knife market.
And in this Shun Dual Core Kiritsuke review, we'll be taking a close look at one of the brand's award-winning knives.
It won Knife Of The Year in 2014 at The Blade Show and remains one of the best models in the entire catalogue.
If you want to know what makes this knife so special, keep reading.
Shun Dual Core VG0017 8-Inch Kiritsuke Knife
8-inch Kiritsuke is known as a master's knife in Japan; Kiritsuke knives are the only true multipurpose knives in Japanese cutlery
71 alternating micro layers of VG10 & VG2, high-carbon, high-chromium stainless steel
Dual Core construction; both steels go all the way to the edge; wear at different speeds to create micro serrations
We earn a commission if you make a purchase, at no additional cost to you.
Pros:
Made of unique combination of VG10 and VG2 Steel
Very sharp edge
Durable
Comfortable octagon-shaped Pakkawood handle
Light and thin
Cons:
Features Of The Shun Dual Core Nakiri Knife
The Steel
One of the premier features of this model is the steel that was used in making it.
It's also one of the main reasons it won Knife Of The Year in 2014.
The Dual Core technology is a reference to the two different sheets of steel used in constructing the knife, VG10, and VG2.
These two materials are some of the most sought after metals for blades because they are high-carbon and high-chromium.
To make the knife, Shun combined 71 alternating microlayers of the two materials to make a solid, sharp, and very light blade.
And since these two materials wear at different speeds, over time, you will have micro-serrations on the blade that will make cutting even easier.
On top of all that, the edge is sharpened to a very fine and sharp edge which allows you to use it right out of the box.
The Design
Having all those microlayers of different steel on top of each other produces a beautiful finish on the blade.
In fact, it's one of the most unique finishes you can find because Shun was the very first company to company the two materials.
The full tang knife also has a beautiful Pakkawood handle that's shaped like an octagon.
This is a traditional Japanese design, and it allows for a very comfortable grip when using the knife.
On top of that, it gives it a very classy aesthetic.
This is an 8-inch Kiritsuke, which is a tool that is traditionally used for cutting fruits and vegetables for Japanese cuisine.
But because of it's superior construction, this also makes for a very good blade for cutting a bunch of other ingredients.
And since it has a large, 9-inch blade, it also makes for a great all-around knife in the kitchen.
Despite it being a fairly expensive Kiritsuke, it's such a functional and useful blade that this can work as one of the core knives of a collection.
It's also a very-professional model that would fit great in a personal knife roll or bag.
And if you're willing to make the investment, it can also be a great way to spruce up one's home blade collection and cut the time it takes to do prep work in the kitchen.
Other Customer Reviews
As you'd probably expect, this knife has gotten a whole lot of positive reviews from other customers around the world.
They applauded the superior combination of materials used in the blade, and how it makes for a very sharp tool.
It was also mentioned that the sharpness is further complemented by the comfortable handle that makes cutting and slicing a breeze.
This is a true premium knife that any professional or amateur would love.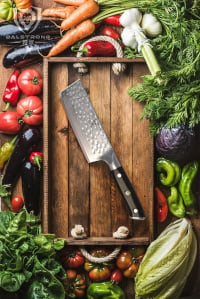 Want FREE Knives?
We give these knives a quick twirl and review, and then we pass them on to a few lucky home chefs!
By subscribing, you agree to get emails from me, Ryan Leavitt. I'll respect your privacy and you can unsubscribe any time.
Conclusion
This may not be the best option for those shopping on a budget, but it's an investment that's worth every single penny.
It's a very comfortable, sharp, and durable knife that would be a dream to use in the kitchen.
So if you're looking for a premium option that will last you years to come, we highly recommend checking out the Shun Dual Core Kiritsuke.
And if you find that it suits your need like how it did for so many other chefs, then the only thing left to do is get your hands on one yourself!
Further reading
The Best (and Safest!) Way to Clean Your Hard-Working Knives
Ryan Leavitt
Hi my name is Ryan Leavitt a Marine Corps Veteran and currently an over the road trucker (Long Haul). I am no expert chef but am enjoying preparing my own meals on the road and testing all the different knives.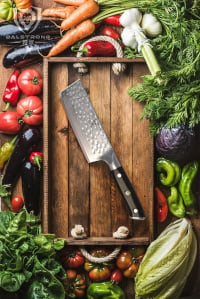 Want FREE Knives?
We give these knives a quick twirl and review, and then we pass them on to a few lucky home chefs!
By subscribing, you agree to get emails from me, Ryan Leavitt. I'll respect your privacy and you can unsubscribe any time.