Shun is arguably one of the best Japanese knife brands out there.
They have consistently provided customers with some of the best kitchen cutlery on the market since their inception, and it doesn't look like they're slowing down anytime soon.
And two Shun collections that are often compared to each other are the Shun Fuji and Shun Hiro collections.
Like any Shun knife, these blades will be razor-sharp and ready for heavy use, but which is the better option for your kitchen?
Most chefs recommend the premium Hiro collection, as these knives are made with incredible craftsmanship and attention to detail.
They are a true premium collection of knives and will be very worth the investment.
But if you still aren't sure as to which collection is right for you, you've come to the right place.
We put these collections up head to head in this Shun Fuji vs Hiro comparison.
| | | |
| --- | --- | --- |
| | Shun Hiro | Shun Fuji |
| Price | $$$$ | $$$ |
| Are there box sets available? | No | No |
| Construction | Damascus Steel | Damascus Steel |
| Core | SG2 steel | VG10 steel |
| Handle material | Wood | Wood |
A Brief History Of Shun
Shun is a brand founded by the KAI Group, a Japanese company that can trace its roots back over a century.
The company was founded by Saijiro Endo, in the Seiki City of Japan in 1908.
For almost a hundred years, the KAI Group supplied the Asian market with some of the best kitchen cutlery and knife tools available.
And in 2002, they created the Shun brand and launched their products for the Western market.
Since then, they have made huge waves in the game, impressing home cooks, knife enthusiasts, and professional chefs alike.
And now, they are considered one of the most respected brands when it comes to Japanese kitchen tools.
If you shop Shun products today, you'll find that they have seven different knife collections that vary in materials, construction, and price.
This is because they are all designed for different types of chefs and cooks, making it fairly easy for anyone to find the right products for them.
Related: Best Shun knives & knife sets
Shun Fuji Vs Hiro – A Head To Head Comparison
Knife Steel & Handle
The Shun Fuji collection is made of some of the most premium materials out there.
The knife is made out of a combination of VG10 and high-carbon stainless steel.
You'll find the VG10 at the core of the knife, and it's considered one of the best materials for blades available on the market today.
It's very tough but it won't chip like other blades, making it ideal for blade cores.
The handle of these knives is made out of dark wood.
This gives it a very rustic look that will look great in any modern kitchen and also provides for a very comfortable grip.
It also helps that the handle has a very smooth finish that won't irritate your hands even if you're spending hours on end prepping in the kitchen.
The Hiro models, on the other hand, are made with a Japanese SG2 steel core, a material that is very tough but not as brittle as VG10.
On top of the SG2 core is high-carbon stainless steel that makes the blade very sharp and durable.
These blades come with a PakkaWood handle, which is a mix of real wood and resin, providing for a very good grip.
The handle has a dark charcoal finish that has a very classy yet rustic look, which is one of the reasons this knife is a favorite for a lot of professional chefs out there.
Construction
Both of these knives are forged in construction, which is one of the main features of any Shun knives.
On top of that, they both also have a Damascus construction.
That means that multiple layers of high-carbon steel are laid on top of the tough core to create the knife.
The result of this process is a blade that will be very durable, sharp, and have great edge-retention.
On top of that, it also gives the blades a very beautiful swirly aesthetic that will catch just about anybody's eye.
However, Shun Hiro models also feature a hammered tsuchime finish towards the top of the blade.
This is a traditional Japanese knife-making technique that creates little indentations on the blade so food will slip right off of it while also making it a bit more durable.
Price
Both of these collections will cost you a fair amount of money.
But that's because they are very premium products that come with a premium price tag.
All of their models are handcrafted with close attention to detail and can last you years in the kitchen, which is why they are well worth the investment.
That being said, if you're looking to save a little money, the Shun Fuji costs a bit less than the Hiro, but you will lose the beautiful hammered tsuchime finish by making this compromise.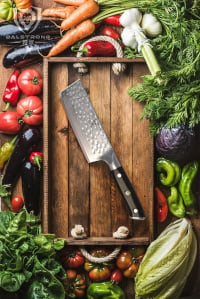 Want FREE Knives?
We give these knives a quick twirl and review, and then we pass them on to a few lucky home chefs!
By subscribing, you agree to get emails from me, Ryan Leavitt. I'll respect your privacy and you can unsubscribe any time.
Conclusion – Which Is The Right Pick For You?
If you're looking for the most premium and functional product, then we highly recommend the Shun Hiro collection.
These knives combine complex and beautiful knifemaking techniques to produce great blades.
However, they are pretty expensive.
Shun Fuji blades are also very high-quality but lack the hammered tsuchime finish.
However, that also means that these blades will be much more affordable than the Hiro.
Either way, it's important to make sure that the knife you choose is a comfortable product you enjoy using, and that way no one can tell you that you don't have the best knife for you!
Ryan Leavitt
Hi my name is Ryan Leavitt a Marine Corps Veteran and currently an over the road trucker (Long Haul). I am no expert chef but am enjoying preparing my own meals on the road and testing all the different knives.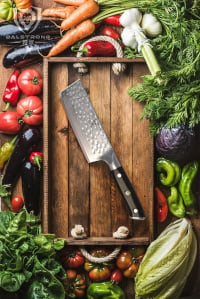 Want FREE Knives?
We give these knives a quick twirl and review, and then we pass them on to a few lucky home chefs!
By subscribing, you agree to get emails from me, Ryan Leavitt. I'll respect your privacy and you can unsubscribe any time.