Shun is one of the most popular Japanese knife brands out there.
When shopping for Japanese style kitchen cutlery, most chefs shop from Shun's catalogue.
And two popular collections from Shun are the Hikari and Premier.
So, which one is the better fit for your kitchen?
While both are premium collections, the Hikari is considered the best of the best when it comes to Shun knives.
So, if you're looking to invest in one of the best knife sets out there, we highly recommend the Hikari.
However, the Premier collection still has some benefits that make it attractive to some chefs.
And in this Shun Hikari vs Premier comparison, we dive into the details of these two collections to help you decide on the right pick for you.
| | | |
| --- | --- | --- |
| | Shun Hikari | Shun Premier |
| Price | $$ | $$$ |
| Are there box sets available? | No | No |
| Construction | Damascus Steel | Damascus Steel |
| Edge | 16-degrees on either side | 16-degrees on either side |
| Knife steel | VG Max | VG2 & VG10 |
| Tang | Full composite tang | Full composite tang |
Shun Hikari at a Glance
Pros:
The 'hornet's nest' blade pattern is unique, hardly found in other brands
Extremely sharp, very durable
The curve on the handle makes it easy to grip
Has a lifetime warranty
Cons:
This variant has fewer kinds of knives
PakkaWood knives are generally not dishwasher-safe
Very expensive
Shun Premier at a Glance
Pros:
This variant consists of a dozen kinds of knives
The hammered finish is both beautiful and functional
Extremely sharp, very durable
Has a lifetime warranty
Cons:
PakkaWood knives are generally not dishwasher-safe
Quite pricey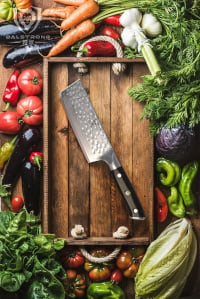 Want FREE Knives?
We give these knives a quick twirl and review, and then we pass them on to a few lucky home chefs!
By subscribing, you agree to get emails from me, Ryan Leavitt. I'll respect your privacy and you can unsubscribe any time.
Shun Knife Series Overview
The Premier is one of Shun's more high-end series.
There are over a dozen different knives under this variant including the Kiritsuke, Nakiri, and Santoku, just to name a few.
This can also be bought as a set, starting with a two-piece carving pack to an 8-piece professional block.
When it first came out in 2010, it won the Kitchen Knife of the Year award in the prestigious Blade Show.
Hikari is the Japanese word for illumination.
And that is the perfect name for the crème de la crème in the Shun line, second only to their big-ticket Fuji series.
Like the Premier, this has won the same award in the 2016 Blade Show.
While this can be had for a set, it is best to choose the specific style you need because it doesn't come cheap.
Steel Construction
Constructed with 69 layers of Shun's proprietary super steel VG Max (HRC 61), The Premier promises long-lasting edge sharpness and corrosion resistance.
The blade's face is given that Tsuchime or hammered finish which is both rustic yet elegant-looking.
The Hikari, on the other hand, has 71 micro-layers of alternating VG2 and VG10 (HRC 60).
This high carbon and high chromium stainless steel blend lend that woven-like 'hornet's nest' pattern from the spine to the edge.
Both are handmade from forging to polishing.
Longevity of Sharpness
These two series are extremely sharp, with a 16-degree angle on each side.
Compared to the smoother bevel of the Premier, the Hikari has micro-serrations up to the belly which is supposed to make the sharp edge last longer.
According to Shun, and corroborated by many users, these variants can hold their edge for years without re-sharpening.
Daily honing would help with your daily chopping chores, though.
Design Elements and Functional Features
The Damascus style on both these variants isn't just embellishments.
The hammered-out finish on the Premier and the crisscross pattern on the Hikari prevents drag while slicing, keeping the food off the blade.
Premier and Hikari both have full composite tangs which are quite distinctive of many Shun blades.
This means that the tang goes all the way to the end of the handle but is made of two parts that were only welded together.
But don't worry since this still provides a good handling balance just like a regular full tang would.
The two have thick bolsters that do not go all the way down to the heel.
When it comes to the heel, Premier's is straighter while Hikari's is curved.
That particular design choice also matches the look of the handle.
The former is more cylindrical, its embossed head cap at the end of the handle straight and flat.
The latter has a slight curve in the inner side of the handle and its head cap is slanted.
The handles of most Shuns are made of PakkaWood, a wood and resin composite that is durable, impervious to heat, cold, and moisture, and resistant to bacterial growth.
The Premier has a walnut color while the Hikari has the lighter birch one.
The form and function of specific Premier or Hikari knives will depend on what kind it is – a Deba looks completely different from a Santoku; hence, individual knife styles – especially the shape of the blade – were not discussed.
Price and Warranty
As hinted at earlier, Premier and Hikari are two of Shun's more expensive variants.
Let's take the basic chef's knife, for example, you can get the former for a little over $100 while you would have to shell out twice that amount for the latter.
But you're getting a lot for your money.
Except for their entry-level variants like Sora, Kai, and Haru, all Shun knives are covered by a limited lifetime warranty.
Also, they offer cutlery re-sharpening for free! If you're near a Shun store, you can bring your knife over, wait for them to finish, or pick it up the next day. If you're not, you can ship it back to them.
The Final Verdict
Shun is a good brand.
Most designs they conceptualize – the Premier and Hikari included – get awards as soon as these are made public.
Perhaps the biggest thing that turns people off, or at least makes them turn towards other brands, is the price tag.
And no one is arguing this isn't hefty.
However, it's worth every penny.
If you can't afford the whole block, choose just one piece first.
Most people go for a Deba (chef's knife) or a Santoku since these can cut practically anything – soft fruits, hard vegetables, tough meat, you name it.
Whether that's a Shun Premier or Hikari – will be a great addition to your kitchen.
Ryan Leavitt
Hi my name is Ryan Leavitt a Marine Corps Veteran and currently an over the road trucker (Long Haul). I am no expert chef but am enjoying preparing my own meals on the road and testing all the different knives.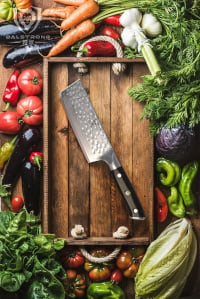 Want FREE Knives?
We give these knives a quick twirl and review, and then we pass them on to a few lucky home chefs!
By subscribing, you agree to get emails from me, Ryan Leavitt. I'll respect your privacy and you can unsubscribe any time.