Two of the most well-known brands, hailing from Japan's City of Blades Seki, are Shun and Miyabi.
The Hiro and the Birchwood are Shun's and Miyabi's premier series, respectively. The steel used for both is the same SG2 core but everything else differs. It's hard to say which is the better option but the fact that Miyabi is handmade from start to finish makes it worth the hundreds of dollars you're spending.
Shun Hiro
Miyabi Birchwood
Place of Origin
Seki, Japan
Seki, Japan
Steel Used
SG2 core + 32 layers of

nickel silver and stainless steel

SG2 core + 100 layers of steel
Construction Method
Forged
Forged
Blade Profile and Edge
Top half has large splotchy pattern, bottom half has delicate Damascus swirls
Dark swirling Damascus pattern, lightens towards the edge
Bolster
Half, round
Half, round
Tang
Full

Full
Handle
Charcoal Pakkawood

Round with ergonomic curvatures

Cream birchwood

Round

Price
Quite expensive
Extremely expensive
We'll pit their Hiro and Birchwood against each other to see which deserves a spot in your kitchen.
All About Shun
In the early 1900s, Saijiro Endo opened up a cutlery shop in Seki, making and selling razors primarily.
This is what he would focus on over the years, although he did add a few other tools in his product line as time went by.
In the following decades, Shun would be popular all over the country.
His grandson decided that it was time to expand to the rest of the world and by 2002, he introduced his line of J-lines to the United States.
The risk turned into a huge success. Just one year later, Shun's Classic Santoku was awarded the best knife of the year by an influential industry magazine.
Today, they have several variants, many of which are offered in various shops all over the world.
They also have exclusive knife series which are only available in authorized dealers. Hiro is one of the latter.
Related: Best Shun knife sets for your kitchen
Formulating the Steel, Crafting the Knife
Unlike other top cutlery companies that only utilize a specific alloy, Shun prepared a specific blend for every single variant.
Hiro is made with an SG2 core and 32 layers of nickel silver + stainless steel cladding on either side, resulting in amazing edge retention and a beautiful Damascus pattern.
All Shun knives undergo a 100-step process which is still pretty close to the traditional forging and cooling methods of yore.
Although they take advantage of 21st-century technology to ensure uniformity and assure quality, their talented craftsmen still oversee every step of the process or manually work on it.
Design Elements and Functional Features
This variant is not just a functional piece; it's also an unforgettable one.
When a basic Hiro Chef's knife is placed in a line of other Chef's knives, you'll keep coming back to this.
• Damascus pattern on the blade: hammered from the spine to the center, spotted in the middle, and smooth and tapered in the bevel.
• The double-beveled edge is sharpened to a total of 32 degrees. It is flat ground from the spine towards the edge, which makes slicing and dicing a breeze.
• It has a partial bolster, shaped in a simple, circular manner that follows the handle.
• It has a full composite tang. This means that the tang runs from the bolster to the end of the handle but it is made from a different material from (usually of lesser quality than) the blade.
• The Wu (traditional round) handle is made of brownish Pakkawood. It has a slight bump in the belly, near the bolster which aids in better grip. The end is made of nickel silver that is mirror polished.
• A mosaic crest is inlaid in the middle, a unique design addition that distinguishes the Hiro from other Shun series.
Pricing and Warranty
At $400 or so apiece, this is one of the most expensive knives out there.
Professionals and connoisseurs are usually the ones who would spend that much money on this because it can do 24/7 slicing and dicing without obvious wear and tear.
Also, Shun is quite generous with incentives when you buy a piece from them. Aside from the lifetime warranty, they also offer free re-sharpening services.
All About Miyabi
Miyabi is a Japanese aesthetic ideal that is usually translated as refinement or elegance.
This is what Zwilling had in mind with their brand of J-knives.
Yes, you read that right. German powerhouse Zwilling JA Henckels is the company behind one of the best brands when it comes to Asian-style blades – Miyabi.
In 2004, the company acquired a factory in Seki, employing local craftsmen who are experts in the traditional forging methods and introducing Solingen's technology to them.
German innovation + Japanese craftsmanship = Miyabi
This is one of the best examples of East meeting West. And its result is undeniably one of the greatest.
Formulating the Steel, Crafting the Knife
Miyabi's Birchwood is one of Zwilling's finest.
This is made of high carbon stainless steel SG2 – the very same steel alloy that Shun's Hiro is made of. It is also clad with Damascus steel, except this one has 100 layers on both sides.
The company is not exaggerating when they say that the whole construction process for a single piece takes 42 days.
While the cutting of the steel, the heating, and the freezing (CRYODUR) are sped up with machinery, several stages in the 130-step procedure are manually done. Yes, even the hammering part.
And imagine this: the honing is done twice. By hand.
If that isn't commitment, then no one knows the meaning of the word.
Design Elements and Functional Features
Miyabi is one of the few brands with the simplest design, truly faithful to the name they gave themselves.
And Birchwood has that raw elegance down pat.
• This has a light grey damask pattern on the blade which fades down to the middle. The tapered edge is given a matte finish.
• The double-beveled edge is hand-sharpened to an amazing 9.5 to 12 degrees.
The spine and the heel are rounded off for safety.
• It has a thin partial bolster.
• It has a full tang, sheathed in the handle but ends in an exposed butt.
• The Wu handle, narrower at the bolster and slightly flaring to the end, is made of Karelian Birch.
Pricing and Warranty
This is just as pricey as its counterpart above, priced at $400 or so. And just like the Hiro, this is usually bought by professionals and connoisseurs.
While all products under Zwilling have good warranty deals, Miyabi is not as generous as Shun when it comes to re-sharpening services.
But do check their sharpening tools because these are must-haves.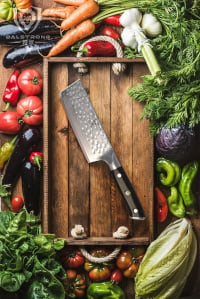 Want FREE Knives?
We give these knives a quick twirl and review, and then we pass them on to a few lucky home chefs!
By subscribing, you agree to get emails from me, Ryan Leavitt. I'll respect your privacy and you can unsubscribe any time.
In Conclusion
If you are willing to spend nearly $500 for a single knife, Hiro by Shun and Birchwood by Miyabi are the best among the rest.
It is quite hard to say which of the two is the better option though. Except for the steel that was used in the construction, these are two completely different pieces.
Hiro is darker, more somber with its hammered finish and dark brown Pakkawood handle.
Birchwood is lighter with its delicate damask waves and fine cream-colored handle.
Go for which suits your style better.
But more importantly, go for what feels great in your hand. Both are excellent pieces anyway.
Ryan Leavitt
Hi my name is Ryan Leavitt a Marine Corps Veteran and currently an over the road trucker (Long Haul). I am no expert chef but am enjoying preparing my own meals on the road and testing all the different knives.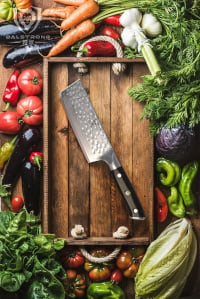 Want FREE Knives?
We give these knives a quick twirl and review, and then we pass them on to a few lucky home chefs!
By subscribing, you agree to get emails from me, Ryan Leavitt. I'll respect your privacy and you can unsubscribe any time.