Any professional chef or hobbyist trying to get into Japanese cuisine would need a quality Nakiri.
This is a knife that is designed to chop, cut, and slice vegetables to be used in cooking or different meals.
And a great place to start your journey into Japanese kitchen knives is the Shun Kanso model.
We'll be taking a deep dive into the features of the blade in this Shun Kanso Nakiri review.
Shun Kanso 6.5-Inch Hollow-Ground Nakiri; Japanese Vegetable Knife; Razor-Sharp, High-Performance Steel Blade, Rustic Heritage Finish; Full-Tang Construction for Optimal Control; Tagayasan Wood Handle
The Nakiri, Japanese for "vegetable knife," is a must-have kitchen blade; chefs around the world consistently choose this superior, extremely useful knife for fruit and vegetable preparation
With its straight edge, blade and spine, Nakiri swiftly slices through vegetables with precise push cuts; blunt end provides safety while dicing, chopping, slicing, mincing, cutting, and more
Hollow-ground indentations along base of blade help food release more easily; dice onions, chop salad ingredients, slice up stir fry vegetables, mince herbs and more with precision, speed and ease
We earn a commission if you make a purchase, at no additional cost to you.
Pros:
Relatively affordable
Razor-sharp edge
Hollow-ground blade is non-stick
Made of AUS10 Steel
Handcrafted in Japan
Cons:
The handle could be made better
Key Features Of The Shun Kanso Nakiri
The Blade
First things first, we'll be looking at the blade of the knife.
It's made of AUS10 steel, which isn't the most premium material out there, but it's one of the best you can get in the price range.
All the blades are handcrafted by expert artisans in Japan, and the result is a beautiful blade with a solid and sharp cutting edge.
It has a sandy finish that gives the knife a very rustic aesthetic, which could be a great plus for chefs looking an interesting-looking knife.
The blade is also hollow ground near the edge, which is why there are indentations on the blade.
This is to make sure food doesn't stick when you slice through it.
This can make prepping food in the kitchen much easier and could do a great deal when it comes to speed up one's workflow.
Once the blades are forged, they are then sharpened to a very precise 16-degree angle.
For comparison's sake, a lot of other Western-style knives are only sharpened to around a 20-degree angle.
This makes the Shun model much sharper than a lot of other blades right out of the box, which is a great feature for a knife in this range.
The Handle
Next up we'll be looking at the handle of this knife.
It is made of Tagayasan wood, which gives it a great aesthetic, but it may not be the most comfortable material on the market.
The wood is also known as iron sword wood, which is a durable, water-resistant, dense, and beautiful material that works great for knife handles.
That being said, it may not be comfortable for some chefs out there.
It has an angled design, which actually adds a bit of comfort if you're used to the classic chef's grip on your knife.
This handle may be comfortable for some and uncomfortable for others, so whether or not this is the right material for you all depends on your personal preferences as a cook.
Warranty
Another great thing about Shun knives is the warranty.
All products will come with a limited lifetime warranty (unless stated otherwise).
This means any manufacturing error you see in the knife, you can send it back and get a good replacement.
Shun also offers free sharpening of their knives by professionals.
All you have to do is mail it to Shun for servicing and pay the shipping fees, and you'll have your knife feeling brand new and professionally sharpened.
Other Customer Reviews
All around, customers have been satisfied with this product.
They praise how well it cuts right out of the box, how much value it has for the money, and despite some complaints about the handle, a lot of users report a comfortable slicing experience.
It was mentioned that this knife isn't exactly a professional's blade, but it's a great place to start building a Japanese cutlery collection.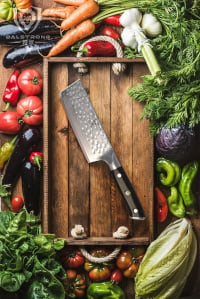 Want FREE Knives?
We give these knives a quick twirl and review, and then we pass them on to a few lucky home chefs!
By subscribing, you agree to get emails from me, Ryan Leavitt. I'll respect your privacy and you can unsubscribe any time.
Conclusion
So there you have it, an in-depth look at one of the best middle-of-the-pack options Shun has to offer.
This is a great knife for those starting out their culinary journey or professionals beginning to explore the world of Japanese cuisine.
If you found that the features of this knife are to your liking, then we highly recommend that you get out and try one for yourself.
You won't regret it, and who knows, you might end up getting a Shun Kanso Nakiri for your very own kitchen!
Further reading
How to Properly Use a Chef's Knife Tutorial
Ryan Leavitt
Hi my name is Ryan Leavitt a Marine Corps Veteran and currently an over the road trucker (Long Haul). I am no expert chef but am enjoying preparing my own meals on the road and testing all the different knives.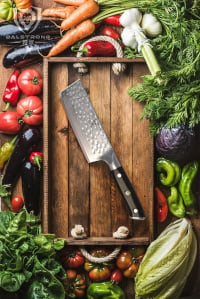 Want FREE Knives?
We give these knives a quick twirl and review, and then we pass them on to a few lucky home chefs!
By subscribing, you agree to get emails from me, Ryan Leavitt. I'll respect your privacy and you can unsubscribe any time.