Any chef or home cook out there needs a reliable set of knives.
But not everyone has the luxury of investing in a top tier set coming from Wusthof or Shun.
Knives from those brands are usually of the highest quality, which is why they demand a high price.
And while that is truly the case for most of their collections, the Shun Sora line is a standout as it's one of the most affordable chef knife sets you can get.
In this Shun Sora review, we'll be taking a close look at the features of the collection to figure out why it's so much more affordable than other Shun products.
Read on to learn more details.
We earn a commission if you make a purchase, at no additional cost to you.
Pros:
Affordable
Made with VG-10 steel
All knives are handmade
Razor-sharp right out of the box
Stain-resistant blade
Cons:
The handle could be of better quality
A Review Of The Shun Sora Knife Line
The Knives
Before we dive deep into the features and intricacies of the Sora line, first we have to check out the knives that are offered.
And the best way to do this is to look at the 6-piece set.
It contains a 3.5" paring knife, 6" utility knife, 8" chef's knife, shears, honing steel, and a bamboo block.
This is a very adequate collection of blades that you can use to accomplish most kitchen prep jobs.
You can slice meat, chop vegetables, and much more with the set, and you can even hone the blades with the steal and store it properly.
While it isn't the most complete set you can find, it's more than enough for the home cook or the chef starting out.
But now that we've had a brief overview of the collection, it's time to get into the details.
Construction
When talking about how a knife was built, one of the most important things to look at is the steel that was used.
The blades in the Sora line all have a VG-10 steel core, which isn't the most premium steel but is still one of the best options out there.
Having this core makes the blades very hard and tough.
On top of the core are two layers of stainless steel which are a bit softer and allow the blade to be very sharp.
This method is called the san-mai method and was originally used for swords.
All of the models from this line were handcrafted by expert artisans in Japan, and close attention to detail is given to every single piece.
The blades are sharpened to a very precise 16-degree angle, which is much sharper than most other Western chef knife options.
The reason the knives can be sharpened to such a fine edge is that the blades were made in ways that give it a lot of durability despite being ground so fine.
Design
The models that come in the Sora line all have a classic look that you'll commonly associate with Japanese knives.
The blades have a slight curve to them, the handle has a single rivet, and the Shun logo is placed on the surface of the blade.
You won't get a Damascus finish with these models, but that's to be expected in this price range.
You will, however, get a classy and elegant shine on the blades that will look great in any kitchen.
While the design isn't the loudest one out there, it's simple and straight to the point, which is exactly what certain people look for in their kitchen tools.
The Handle
This is probably one of the downsides of this collection.
The handles on the blades aren't wooden, which could be a downside for some.
However, it's understandable that the handles are made of a PP/TPE blend since these are fairly affordable knives.
That being said, it's still a fairly good-looking handle, with a textured black finish that gives you a really comfortable grip.
It's also water-resistant, which can mean a lot when it comes to keeping your knife clean and in tip-top shape.
The single rivet on the handle gives it a very simple and elegant look, but it might also mean that it isn't as durable as the other triple-riveted models that come from Shun.
But again, it's important to remember that this is a budget-friendly option that allows you to get your hands on high-quality blades without busting the bank.
Overall Customer Reviews
As expected, the other Shun Sora reviews out there contained very pleasant and satisfying reviews.
Customers loved how the knives that came in the set were all very sharp and had a great look to them.
They did understand that the line does have some shortcomings, but that's to be expected considering how much you can save when going for Shun Sora models.
But aside from that, there was all praise for one of Shun's best budget knife lines out there.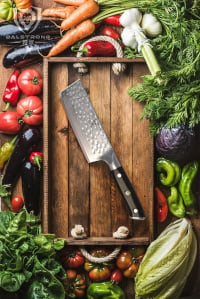 Want FREE Knives?
We give these knives a quick twirl and review, and then we pass them on to a few lucky home chefs!
By subscribing, you agree to get emails from me, Ryan Leavitt. I'll respect your privacy and you can unsubscribe any time.
Conclusion
This collection isn't exactly made for professionals out there looking for the best knives available.
Instead, it's designed for home cooks and beginners looking to get better kitchen tools without spending too much money.
So if you've been trying to find the best option for kitchen knives on a budget, you'll definitely want to check out this Shun collection.
And who knows, you might be slicing away in the kitchen using these blades sooner more than later!
Further reading
How to Properly Use a Chef's Knife Tutorial
Ryan Leavitt
Hi my name is Ryan Leavitt a Marine Corps Veteran and currently an over the road trucker (Long Haul). I am no expert chef but am enjoying preparing my own meals on the road and testing all the different knives.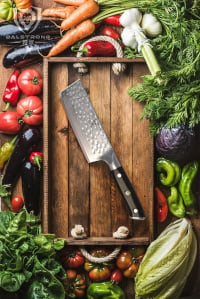 Want FREE Knives?
We give these knives a quick twirl and review, and then we pass them on to a few lucky home chefs!
By subscribing, you agree to get emails from me, Ryan Leavitt. I'll respect your privacy and you can unsubscribe any time.