Much amazing innovative technology hail from the land of the rising sun and Japanese knives are definitely on top of the list.
If you don't have one yet, you're frankly missing out on a lot.
And one of the best brands for Japanese chef knives is Shun.
Two of their collections that are usually compared to each other are the Sora and the Classic.
Most chefs recommend the Shun Sora collection as the knives are made out of more premium materials and the blades perform better in the kitchen.
However, for some cooks, the Classic line offers some benefits that make them the better pick.
In this Shun Sora vs Classic comparison, we put these two collections up head to head for you to learn more about the two and decided which one is the better fit for your kitchen.
| | | |
| --- | --- | --- |
| | Shun Sora | Shun Classic |
| Price | $$$ | $$$$ |
| Cutting core | VG-10 | VG-Max |
| Construction | Damascus Steel | Damascus Steel |
| Sharpness | 16-degrees on either side | 16-degrees on either side |
| Tang | Partial tang | Full-tang |
Shun Sora at a Glance
Pros:
Quite cheap for a high-quality product
Made from a good steel blend – VG10 outer core and a stainless steel exterior
It is a forged knife.
Cons:
The handle is essentially made of plastic.
It has a 10-year warranty only, compared to other lines in the Shun brand.
Shun Classic at a Glance
Pros:
Made from VG Max
It is a forged knife with 34 layers of steel.
It has a full-tang that extends up to the bottom.
The handle is made from ebony PakkaWood.
Cons: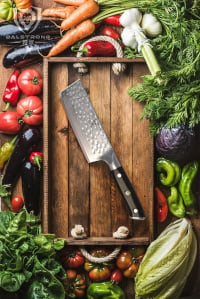 Want FREE Knives?
We give these knives a quick twirl and review, and then we pass them on to a few lucky home chefs!
By subscribing, you agree to get emails from me, Ryan Leavitt. I'll respect your privacy and you can unsubscribe any time.
Brand Overview
In Japanese, the word sora means 'sky.'
You're definitely getting sky-high quality for a meager price because this is the brand's entry-level budget line.
It includes paring, utility and chef's knives, shears, and honing steel, among others.
The Classic, on the other hand, is sort of in the middle ground when it comes to quality and value.
This series has basic kitchen implements, but they added Santoku and Honesuki as well.
Related: Best Shun knives & knife sets
Steel Construction
Sora is made of Japan-manufactured VG10 – the gold standard in crafting blades.
With an HRC rating of 61, it is a really durable metal. Interestingly, a layer of stainless steel is wielded over the VG10 hence the wave pattern.
This practice is traditionally done on the sword.
The blend makes the tools in this line hard but resistant to corrosion.
Classic is made of VG Max, which is slightly harder (although still rated HRC 61), so it holds the edge longer.
But unlike other high-carbon blades, this is more resilient with the addition of more chromium and vanadium.
To ensure durability, it is processed using 34 layers of steel hence that Damascus style.
Both are forged, and this is something that pros really love about Shun.
Longevity of Sharpness
Both are given a 16-degree cutting angle from the factory.
But just like any other blades, expect that the low-cost option will need honing daily and possibly re-sharpening in six months.
The more expensive series are pretty much low-maintenance in this regard.
Design Elements and Functional Features
Shun's Sora only has a rabbet (partial) tang.
It's still pretty long, but it doesn't extend all the way to the butt.
Like how katanas were made, this rabbet style is supposed to give more balance to the knife.
And like samurais, this doesn't have a bolster that extends from the spine to the belly.
The handle is made of a polymer blend, which makes it easy to clean.
It is more cylindrical than flat and slightly weighted for a more closed, stable grip.
It does have that interesting steel rivet-like material at the butt of the handle.
With the brand logo etched on it, it's more decorative than functional.
Shun Classics have a full tang.
However, these are composite as in the sharp blade, and the tang is from two different metal plates and was only welded together.
Still, the slight heaviness on the handle helps with chopping.
Like the Sora, this doesn't have that thick bolster, but the tang does extend to the butt.
Its handle is made of ebony Pakkawood.
This is compressed and resin-infused hardwood so that it can last longer.
It's hard to find something so beautiful and low-maintenance – but those two traits are in this sought-after knife.
Price and Warranty
As aforementioned, Sora is an entry-level series, so that you will pay much less than the Classic.
For example, their paring blades have about $40 difference between them while their traditional Chef's knives have at least $100.
Also, Classic has a lifetime warranty.
On the contrary, the company only gave Sora 10 years.
But you'll be glad to know that all Shun products have a 'lifetime sharpening' for free.
If you think this is required, send it back to them.
This, at least, saves you loads of cash because professional, manual sharpening these days costs $5 per inch of blade.
The Final Verdict
The Shun Classic is made from better, more lavish materials, which naturally drives the price up.
However, Shun Sora is manufactured innovatively so it can match in function.
Both series get high scores in form and function when it comes down to being a good knife.
The real difference between the two is cost.
But it isn't that hard to choose, now that you understand everything about it now.
If you have money to spare, feel free to splurge on a whole block set of the Classic.
If you consider yourself an amateur cook and want to have a decent tool in your hand, one Sora Chef's knife really is all you need.
In Japan, Shun is that exact time when a certain food is most fresh and delicious – when an apple is at its sweetest or a tomato at its ripest.
This is precisely what Shun Cutlery wants to embody when they carefully craft their knives.
Whichever you choose, you can be sure you're still getting one of the best made.
Ryan Leavitt
Hi my name is Ryan Leavitt a Marine Corps Veteran and currently an over the road trucker (Long Haul). I am no expert chef but am enjoying preparing my own meals on the road and testing all the different knives.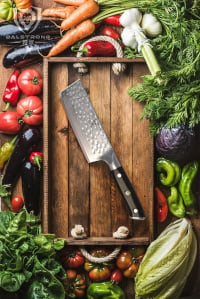 Want FREE Knives?
We give these knives a quick twirl and review, and then we pass them on to a few lucky home chefs!
By subscribing, you agree to get emails from me, Ryan Leavitt. I'll respect your privacy and you can unsubscribe any time.